TSOS-256-500
Threaded Standoffs for Sheets as Thin as .025" – Types TSO, TSOA, TSOS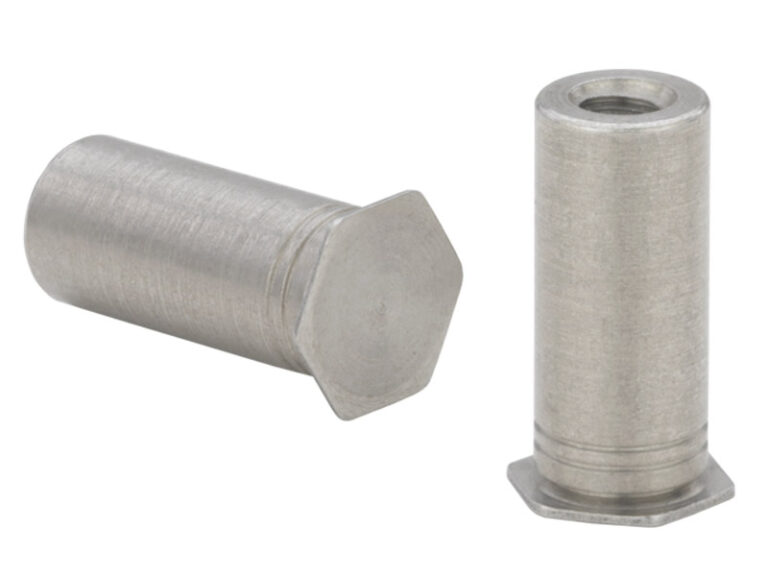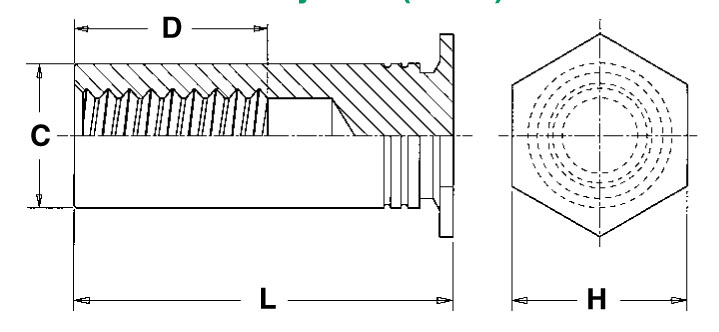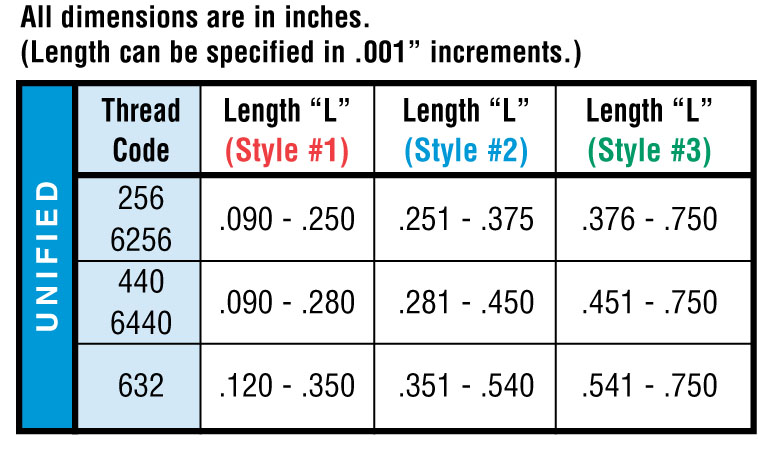 TSOS-256-500
Threaded Standoffs for Sheets as Thin as .025" – Types TSO, TSOA, TSOS
These standoffs, which use the proven self-clinching design, install with a squeeze in properly sized round holes – and become permanently mounted in the thin sheet.
Types TSO, TSOS, and TSOA self-clinching threaded standoffs provide permanent threads in sheets as thin as .025".
If you require a standoff which we do not offer in this bulletin, please contact us. We will be happy to work with you to satisfy your special need.
规格
Thread Code

256

螺纹尺寸

.086-56 (#2-56), #2-56

螺纹规格

2B, ANSI B1.1, Internal

紧固件材质

300系列不锈钢

Material Code

S

标准表面处理

Passivated and/or tested, Passivated and/or tested per ASTM A380

For Use in Sheet Hardness

HRB 70 / HB 125 or Less

Length Code

500

风格

#3

Product Category

Threaded Standoffs for Sheets as Thin as .025" – Types TSO, TSOA, TSOS

CADPartID

103732

品牌

PEM

L Len Pm 003英寸/08毫米

.500in, 0.5in

PEM产品系列

SO

产品类型

螺柱

技术类型

自扣紧

单位(公制/英制)

公制
C + .000 – .005_in

.165in

D – Min. Thread Depth_in

.200in

H Nom._in

.187in

Hole Size in Sheet + .003 – .000_in

.166in

Min. Dist. Hole C/L to Edge_in

.23in

Min. Sheet Thickness_in

.025in
安装&性能数据
so-dsos-dso-metric
| TYPE | THREAD CODE | MAX. REC. TIGHTENING TORQUE FOR MATING SCREW (in. lbs.) | TEST SHEET MATERIAL | INSTALLATION (kN) | PUSHOUT (N) | TORQUE-OUT (N-m) | PULL-THRU (N) |
| --- | --- | --- | --- | --- | --- | --- | --- |
| DSOS, DSO | M3 | 0.44 | 1 mm 5052-H34 Aluminum | 3.1 | 223 | 1.1 | 1422 |
| DSOS, DSO | M3 | 0.44 | 1 mm Cold-rolled Steel | 4.9 | 334 | 1.1 | 1587 |
so-dsos-dso-unified
| TYPE | THREAD CODE | MAX. REC. TIGHTENING TORQUE FOR MATING SCREW (in. lbs.) | TEST SHEET MATERIAL | INSTALLATION (lbs.) | PUSHOUT (lbs.) | TORQUE-OUT (in. lbs.) | PULL-THRU (lbs.) |
| --- | --- | --- | --- | --- | --- | --- | --- |
| DSOS, DSO | 440 | 3.8 | .040" 5052-H34 Aluminium | 700 | 50 | 10 | 320 |
| DSOS, DSO | 440 | 3.8 | .040" Cold-rolled Steel | 1110 | 75 | 10 | 357 |
so-so-sos-soa-bso-bsos-bsoa-standoffs-metric
| TYPE | THREAD CODE | STANDOFF MATERIAL | MAX. REC. TIGHTENING TORQUE FOR MATING SCREW (in. lbs.) | TEST SHEET MATERIAL | INSTALLATION (kN) | PUSHOUT (N) | TORQUE-OUT (N-m) | PULL-THRU (N) | | |
| --- | --- | --- | --- | --- | --- | --- | --- | --- | --- | --- |
| SO,SOS,SOA,BSO,BSOS,BSOA | M3 | Steel | 0.55 | 1.5 mm 5052-H34 Aluminum | 4.9 | 710 | 1.24 | 1245 | | |
| SO,SOS,SOA,BSO,BSOS,BSOA | M3 | Stainless Steel | 0.44 | 1.5 mm 5052-H34 Aluminum | 4.9 | 710 | 1.24 | 996 | | |
| SO,SOS,SOA,BSO,BSOS,BSOA | M3 | Aluminum | 0.33 | 1.5 mm 5052-H34 Aluminum | 4.9 | 710 | 1.24 | 747 | | |
| SO,SOS,SOA,BSO,BSOS,BSOA | 3.5 M3 | Steel | 0.55 | 1.5 mm 5052-H34 Aluminum | 7.6 | 1330 | 2.82 | 1375 | | |
| SO,SOS,SOA,BSO,BSOS,BSOA | 3.5 M3 | Stainless Steel | 0.44 | 1.5 mm 5052-H34 Aluminum | 7.6 | 1330 | 2.82 | 1100 | | |
| SO,SOS,SOA,BSO,BSOS,BSOA | 3.5 M3 | Aluminum | 0.33 | 1.5 mm 5052-H34 Aluminum | 7.6 | 1330 | 2.82 | 825 | | |
| SO,SOS,SOA,BSO,BSOS,BSOA | M3.5 | Steel | 0.91 | 1.5 mm 5052-H34 Aluminum | 7.6 | 1330 | 2.82 | 1375 | | |
| SO,SOS,SOA,BSO,BSOS,BSOA | M3.5 | Stainless Steel | 0.73 | 1.5 mm 5052-H34 Aluminum | 7.6 | 1330 | 2.82 | 1100 | | |
| SO,SOS,SOA,BSO,BSOS,BSOA | M3.5 | Aluminum | 0.55 | 1.5 mm 5052-H34 Aluminum | 7.6 | 1330 | 2.82 | 825 | | |
| SO,SOS,SOA,BSO,BSOS,BSOA | M4 | Steel | 2 | 1.5 mm 5052-H34 Aluminum | 10.7 | 1780 | 5.08 | 2575 | | |
| SO,SOS,SOA,BSO,BSOS,BSOA | M4 | Stainless Steel | 1.6 | 1.5 mm 5052-H34 Aluminum | 10.7 | 1780 | 5.08 | 2060 | | |
| SO,SOS,SOA,BSO,BSOS,BSOA | M4 | Aluminum | 1.2 | 1.5 mm 5052-H34 Aluminum | 10.7 | 1780 | 5.08 | 1545 | | |
| SO,SOS,SOA,BSO,BSOS,BSOA | M5 | Steel | 3.6 | 1.5 mm 5052-H34 Aluminum | 10.7 | 1780 | 5.08 | 2575 | | |
| SO,SOS,SOA,BSO,BSOS,BSOA | M5 | Stainless Steel | 2.88 | 1.5 mm 5052-H34 Aluminum | 10.7 | 1780 | 5.08 | 2060 | | |
| SO,SOS,SOA,BSO,BSOS,BSOA | M5 | Aluminum | 2.16 | 1.5 mm 5052-H34 Aluminum | 10.7 | 1780 | 5.08 | 1545 | | |
| SO,SOS,SOA,BSO,BSOS,BSOA | M3 | Steel | 0.55 | 1.5mm Cold-Rolled Steel | 9.8 | 1000 | 2.15 | 1465 | | |
| SO,SOS,SOA,BSO,BSOS,BSOA | M3 | Stainless Steel | 0.44 | 1.5mm Cold-Rolled Steel | 9.8 | 1000 | 2.115 | 1172 | | |
| SO,SOS,SOA,BSO,BSOS,BSOA | M3 | Aluminum | 0.33 | 1.5mm Cold-Rolled Steel | – | – | – | – | | |
| SO,SOS,SOA,BSO,BSOS,BSOA | 3.5 M3 | Steel | 0.55 | 1.5mm Cold-Rolled Steel | 14.7 | 1860 | 3.95 | 1690 | | |
| SO,SOS,SOA,BSO,BSOS,BSOA | 3.5 M3 | Stainless Steel | 0.44 | 1.5mm Cold-Rolled Steel | 14.7 | 1860 | 3.95 | 1352 | | |
| SO,SOS,SOA,BSO,BSOS,BSOA | 3.5 M3 | Aluminum | 0.33 | 1.5mm Cold-Rolled Steel | – | – | – | – | | |
| SO,SOS,SOA,BSO,BSOS,BSOA | M3.5 | Steel | 0.91 | 1.5mm Cold-Rolled Steel | 14.7 | 1860 | 3.95 | 1690 | | |
| SO,SOS,SOA,BSO,BSOS,BSOA | M3.5 | Stainless Steel | 0.73 | 1.5mm Cold-Rolled Steel | 14.7 | 1860 | 3.95 | 1352 | | |
| SO,SOS,SOA,BSO,BSOS,BSOA | M3.5 | Aluminum | 0.55 | 1.5mm Cold-Rolled Steel | – | – | – | – | | |
| SO,SOS,SOA,BSO,BSOS,BSOA | M4 | Steel | 2 | 1.5mm Cold-Rolled Steel | 17.8 | 2490 | 8.47 | 3110 | | |
| SO,SOS,SOA,BSO,BSOS,BSOA | M4 | Stainless Steel | 1.6 | 1.5mm Cold-Rolled Steel | 17.8 | 2490 | 8.47 | 2488 | | |
| SO,SOS,SOA,BSO,BSOS,BSOA | M4 | Aluminum | 1.2 | 1.5mm Cold-Rolled Steel | – | – | – | – | | |
| SO,SOS,SOA,BSO,BSOS,BSOA | M5 | Steel | 3.6 | 1.5mm Cold-Rolled Steel | 17.8 | 2490 | 8.47 | 3110 | | |
| SO,SOS,SOA,BSO,BSOS,BSOA | M5 | Stainless Steel | 2.88 | 1.5mm Cold-Rolled Steel | 17.8 | 2490 | 8.47 | 2488 | | |
| SO,SOS,SOA,BSO,BSOS,BSOA | M5 | Aluminum | 2.16 | 1.5mm Cold-Rolled Steel | – | – | – | – | | |
so-so-sos-soa-bso-bsos-bsoa-standoffs-unified
| TYPE | THREAD CODE | STANDOFF MATERIAL | MAX. REC. TIGHTENING TORQUE FOR MATING SCREW (in. lbs.) | TEST SHEET MATERIAL | INSTALLATION (lbs.) | PUSHOUT (lbs.) | TORQUE-OUT (in. lbs.) | PULL-THRU (lbs.) | | |
| --- | --- | --- | --- | --- | --- | --- | --- | --- | --- | --- |
| SO,SOS,SOA,BSO,BSOS,BSOA | 440 | Steel | 4.75 | .060" 5052-H34 Aluminum | 1100 | 160 | 11 | 280 | | |
| SO,SOS,SOA,BSO,BSOS,BSOA | 440 | Stainless Steel | 3.8 | .060" 5052-H34 Aluminum | 1100 | 160 | 11 | 224 | | |
| SO,SOS,SOA,BSO,BSOS,BSOA | 440 | Aluminum | 2.85 | .060" 5052-H34 Aluminum | 1100 | 160 | 11 | 168 | | |
| SO,SOS,SOA,BSO,BSOS,BSOA | 6440 | Steel | 4.75 | .060" 5052-H34 Aluminum | 1700 | 300 | 25 | 310 | | |
| SO,SOS,SOA,BSO,BSOS,BSOA | 6440 | Stainless Steel | 3.8 | .060" 5052-H34 Aluminum | 1700 | 300 | 25 | 248 | | |
| SO,SOS,SOA,BSO,BSOS,BSOA | 6440 | Aluminum | 2.85 | .060" 5052-H34 Aluminum | 1700 | 300 | 25 | 186 | | |
| SO,SOS,SOA,BSO,BSOS,BSOA | 632 | Steel | 8.75 | .060" 5052-H34 Aluminum | 1700 | 300 | 25 | 310 | | |
| SO,SOS,SOA,BSO,BSOS,BSOA | 632 | Stainless Steel | 7 | .060" 5052-H34 Aluminum | 1700 | 300 | 25 | 248 | | |
| SO,SOS,SOA,BSO,BSOS,BSOA | 632 | Aluminum | 5.25 | .060" 5052-H34 Aluminum | 1700 | 300 | 25 | 186 | | |
| SO,SOS,SOA,BSO,BSOS,BSOA | 8632 | Steel | 8.75 | .060" 5052-H34 Aluminum | 2400 | 400 | 45 | 580 | | |
| SO,SOS,SOA,BSO,BSOS,BSOA | 8632 | Stainless Steel | 7 | .060" 5052-H34 Aluminum | 2400 | 400 | 45 | 464 | | |
| SO,SOS,SOA,BSO,BSOS,BSOA | 8632 | Aluminum | 5.25 | .060" 5052-H34 Aluminum | 2400 | 400 | 45 | 248 | | |
| SO,SOS,SOA,BSO,BSOS,BSOA | 832 | Steel | 18 | .060" 5052-H34 Aluminum | 2400 | 400 | 45 | 580 | | |
| SO,SOS,SOA,BSO,BSOS,BSOA | 832 | Stainless Steel | 14.4 | .060" 5052-H34 Aluminum | 2400 | 400 | 45 | 464 | | |
| SO,SOS,SOA,BSO,BSOS,BSOA | 832 | Aluminum | 11 | .060" 5052-H34 Aluminum | 2400 | 400 | 45 | 348 | | |
| SO,SOS,SOA,BSO,BSOS,BSOA | 032 | Steel | 32 | .060" 5052-H34 Aluminum | 2400 | 400 | 45 | 580 | | |
| SO,SOS,SOA,BSO,BSOS,BSOA | 032 | Stainless Steel | 25.6 | .060" 5052-H34 Aluminum | 2400 | 400 | 45 | 464 | | |
| SO,SOS,SOA,BSO,BSOS,BSOA | 032 | Aluminum | 19 | .060" 5052-H34 Aluminum | 2400 | 400 | 45 | 348 | | |
| SO,SOS,SOA,BSO,BSOS,BSOA | 440 | Steel | 4.75 | .060" Cold-Rolled Steel | 2200 | 225 | 19 | 330 | | |
| SO,SOS,SOA,BSO,BSOS,BSOA | 440 | Stainless Steel | 3.8 | .060" Cold-Rolled Steel | 2200 | 225 | 19 | 264 | | |
| SO,SOS,SOA,BSO,BSOS,BSOA | 440 | Aluminum | 2.85 | .060" Cold-Rolled Steel | – | – | – | – | | |
| SO,SOS,SOA,BSO,BSOS,BSOA | 6440 | Steel | 4.75 | .060" Cold-Rolled Steel | 3300 | 420 | 35 | 380 | | |
| SO,SOS,SOA,BSO,BSOS,BSOA | 6440 | Stainless Steel | 3.8 | .060" Cold-Rolled Steel | 3300 | 420 | 35 | 304 | | |
| SO,SOS,SOA,BSO,BSOS,BSOA | 6440 | Aluminum | 2.85 | .060" Cold-Rolled Steel | – | – | – | – | | |
| SO,SOS,SOA,BSO,BSOS,BSOA | 632 | Steel | 8.75 | .060" Cold-Rolled Steel | 3300 | 420 | 35 | 380 | | |
| SO,SOS,SOA,BSO,BSOS,BSOA | 632 | Stainless Steel | 7 | .060" Cold-Rolled Steel | 3300 | 420 | 35 | 304 | | |
| SO,SOS,SOA,BSO,BSOS,BSOA | 632 | Aluminum | 5.25 | .060" Cold-Rolled Steel | – | – | – | – | | |
| SO,SOS,SOA,BSO,BSOS,BSOA | 8632 | Steel | 8.75 | .060" Cold-Rolled Steel | 4000 | 560 | 75 | 700 | | |
| SO,SOS,SOA,BSO,BSOS,BSOA | 8632 | Stainless Steel | 7 | .060" Cold-Rolled Steel | 4000 | 560 | 75 | 560 | | |
| SO,SOS,SOA,BSO,BSOS,BSOA | 8632 | Aluminum | 5.25 | .060" Cold-Rolled Steel | – | – | – | – | | |
| SO,SOS,SOA,BSO,BSOS,BSOA | 832 | Steel | 18 | .060" Cold-Rolled Steel | 4000 | 560 | 75 | 700 | | |
| SO,SOS,SOA,BSO,BSOS,BSOA | 832 | Stainless Steel | 14.4 | .060" Cold-Rolled Steel | 4000 | 560 | 75 | 560 | | |
| SO,SOS,SOA,BSO,BSOS,BSOA | 832 | Aluminum | 11 | .060" Cold-Rolled Steel | – | – | – | – | | |
| SO,SOS,SOA,BSO,BSOS,BSOA | 032 | Steel | 32 | .060" Cold-Rolled Steel | 4000 | 560 | 75 | 700 | | |
| SO,SOS,SOA,BSO,BSOS,BSOA | 032 | Stainless Steel | 25.6 | .060" Cold-Rolled Steel | 4000 | 560 | 75 | 560 | | |
| SO,SOS,SOA,BSO,BSOS,BSOA | 032 | Aluminum | 19 | .060" Cold-Rolled Steel | – | – | – | – | | |
so-so4-bso4-standoffs-metric
| TYPE | THREAD CODE | MAX. REC. TIGHTENING TORQUE FOR MATING SCREW (in. lbs.) | TEST SHEET MATERIAL | INSTALLATION (kN) | PUSHOUT (N) | TORQUE-OUT (N-m) | PULL-THRU (N) | | | |
| --- | --- | --- | --- | --- | --- | --- | --- | --- | --- | --- |
| SO4, BSO4 | M3 | 0.55 | 1.3 mm 300 Series Stainless Steel | 24.5 | 1493 | 2.36 | 2650 | | | |
| SO4, BSO4 | 3.5 M3 | 0.55 | 1.3 mm 300 Series Stainless Steel | 42.3 | 2877 | 3.06 | 3025 | | | |
| SO4, BSO4 | M3.5 | 0.91 | 1.3 mm 300 Series Stainless Steel | 42.3 | 2877 | 3.06 | 3025 | | | |
| SO4, BSO4 | M4 | 2 | 1.3 mm 300 Series Stainless Steel | 46.7 | 4003 | 8.89 | 6458 | | | |
| SO4, BSO4 | M5 | 3.6 | 1.3 mm 300 Series Stainless Steel | 46.7 | 4003 | 8.89 | 6226 | | | |
so-so4-bso4-standoffs-unified
| TYPE | THREAD CODE | MAX. REC. TIGHTENING TORQUE FOR MATING SCREW (in. lbs.) | TEST SHEET MATERIAL | INSTALLATION (lbs.) | PUSHOUT (lbs.) | TORQUE-OUT (in. lbs.) | PULL-THRU (lbs.) | | | |
| --- | --- | --- | --- | --- | --- | --- | --- | --- | --- | --- |
| SO4, BSO4 | 440 | 4.75 | .050" 300 Series Stainless Steel | 5500 | 336 | 17 | 680 | | | |
| SO4, BSO4 | 6440 | 4.75 | .050" 300 Series Stainless Steel | 9500 | 647 | 30 | 680 | | | |
| SO4, BSO4 | 632 | 8.75 | .050" 300 Series Stainless Steel | 9500 | 647 | 30 | 680 | | | |
| SO4, BSO4 | 8632 | 8.75 | .050" 300 Series Stainless Steel | 10500 | 900 | 71 | 1392 | | | |
| SO4, BSO4 | 832 | 18 | .050" 300 Series Stainless Steel | 10500 | 900 | 71 | 1517 | | | |
| SO4, BSO4 | 032 | 32 | .050" 300 Series Stainless Steel | 10500 | 900 | 71 | 1368 | | | |
so-sosg-soag-standoffs-metric
| TYPE | THREAD CODE | TEST SHEET THICKNESS AND TEST SHEET MATERIAL | INSTALLATION (kN) | PUSHOUT (N) | TORQUE-OUT (N-m) | PULL-THRU (N) | |
| --- | --- | --- | --- | --- | --- | --- | --- |
| SOSG, SOAG | 3.5M3 | 1.6 mm 5052-H34 Aluminum | 7.6 | 1330 | 2.82 | 825 | |
so-sosg-soag-standoffs-unified
| TYPE | THREAD CODE | TEST SHEET THICKNESS AND TEST SHEET MATERIAL | INSTALLATION (lbs.) | PUSHOUT (lbs.) | TORQUE-OUT (in. lbs.) | PULL-THRU (lbs.) | |
| --- | --- | --- | --- | --- | --- | --- | --- |
| SOSG, SOAG | 6440 | .064" 5052-H34 Aluminum | 1700 | 300 | 25 | 186 | |
| SOSG, SOAG | 8632 | .064" 5052-H34 Aluminum | 1700 | 400 | 45 | 248 | |
so-tso-tsos-tsoa-standoffs-metric
| TYPE | STANDOFF "C" DIMENSION | STANDOFF MATERIAL | TEST SHEET MATERIAL | INSTALLATION (kN) | PUSHOUT (N) | TORQUE-OUT (N-m) | PULL-THRU (N) | | | |
| --- | --- | --- | --- | --- | --- | --- | --- | --- | --- | --- |
| TSO, TSOS, TSOA | .165" / 4.2mm | Steel | 0.25" / 0.64 mm 5052-H34 Aluminum | 3.1 | 311 | 0.68 | 1022 | | | |
| TSO, TSOS, TSOA | .165" / 4.2mm | Stainless Steel | 0.25" / 0.64 mm 5052-H34 Aluminum | 3.1 | 311 | 0.68 | 1191 | | | |
| TSO, TSOS, TSOA | .165" / 4.2mm | Aluminum | 0.25" / 0.64 mm 5052-H34 Aluminum | 3.1 | 311 | 0.68 | 1009 | | | |
| TSO, TSOS, TSOA | .212" / 5.39 mm | Steel | 0.25" / 0.64 mm 5052-H34 Aluminum | 3.1 | 400 | 1.24 | 1173 | | | |
| TSO, TSOS, TSOA | .212" / 5.39 mm | Stainless Steel | 0.25" / 0.64 mm 5052-H34 Aluminum | 3.1 | 400 | 1.24 | 1511 | | | |
| TSO, TSOS, TSOA | .212" / 5.39 mm | Aluminum | 0.25" / 0.64 mm 5052-H34 Aluminum | 3.1 | 400 | 1.24 | 1333 | | | |
| TSO, TSOS, TSOA | .165" / 4.2mm | Steel | 0.25" / 0.64 mm Cold-rolled Steel | 4.9 | 445 | 1 | 916 | | | |
| TSO, TSOS, TSOA | .165" / 4.2mm | Stainless Steel | 0.25" / 0.64 mm Cold-rolled Steel | 4.9 | 445 | 1 | 1155 | | | |
| TSO, TSOS, TSOA | .165" / 4.2mm | Aluminum | 0.25" / 0.64 mm Cold-rolled Steel | – | – | – | – | | | |
| TSO, TSOS, TSOA | .212" / 5.39 mm | Steel | 0.25" / 0.64 mm Cold-rolled Steel | 8 | 667 | 1.7 | 920 | | | |
| TSO, TSOS, TSOA | .212" / 5.39 mm | Stainless Steel | 0.25" / 0.64 mm Cold-rolled Steel | 8 | 667 | 1.7 | 1529 | | | |
| TSO, TSOS, TSOA | .212" / 5.39 mm | Aluminum | 0.25" / 0.64 mm Cold-rolled Steel | – | – | – | – | | | |
so-tso-tsos-tsoa-standoffs-unified
| TYPE | STANDOFF "C" DIMENSION | STANDOFF MATERIAL | TEST SHEET MATERIAL | INSTALLATION (lbs.) | PUSHOUT (lbs.) | TORQUE-OUT (in. lbs.) | PULL-THRU (lbs.) | | | |
| --- | --- | --- | --- | --- | --- | --- | --- | --- | --- | --- |
| TSO, TSOS, TSOA | .165" / 4.2mm | Steel | 0.25" / 0.64 mm 5052-H34 Aluminum | 700 | 70 | 6 | 230 | | | |
| TSO, TSOS, TSOA | .165" / 4.2mm | Stainless Steel | 0.25" / 0.64 mm 5052-H34 Aluminum | 700 | 70 | 6 | 268 | | | |
| TSO, TSOS, TSOA | .165" / 4.2mm | Aluminum | 0.25" / 0.64 mm 5052-H34 Aluminum | 700 | 70 | 6 | 227 | | | |
| TSO, TSOS, TSOA | .212" / 5.39 mm | Steel | 0.25" / 0.64 mm 5052-H34 Aluminum | 700 | 90 | 11 | 264 | | | |
| TSO, TSOS, TSOA | .212" / 5.39 mm | Stainless Steel | 0.25" / 0.64 mm 5052-H34 Aluminum | 700 | 90 | 11 | 340 | | | |
| TSO, TSOS, TSOA | .212" / 5.39 mm | Aluminum | 0.25" / 0.64 mm 5052-H34 Aluminum | 700 | 90 | 11 | 300 | | | |
| TSO, TSOS, TSOA | .165" / 4.2mm | Steel | 0.25" / 0.64 mm Cold-rolled Steel | 1110 | 100 | 9 | 206 | | | |
| TSO, TSOS, TSOA | .165" / 4.2mm | Stainless Steel | 0.25" / 0.64 mm Cold-rolled Steel | 1110 | 100 | 9 | 260 | | | |
| TSO, TSOS, TSOA | .165" / 4.2mm | Aluminum | 0.25" / 0.64 mm Cold-rolled Steel | – | – | – | – | | | |
| TSO, TSOS, TSOA | .212" / 5.39 mm | Steel | 0.25" / 0.64 mm Cold-rolled Steel | 1800 | 150 | 15 | 207 | | | |
| TSO, TSOS, TSOA | .212" / 5.39 mm | Stainless Steel | 0.25" / 0.64 mm Cold-rolled Steel | 1800 | 150 | 15 | 344 | | | |
| TSO, TSOS, TSOA | .212" / 5.39 mm | Aluminum | 0.25" / 0.64 mm Cold-rolled Steel | – | – | – | – | | | |
so-tso4-metric
| TYPE | STANDOFF "C" DIMENSION | TEST SHEET MATERIAL | INSTALLATION (kN) | PUSHOUT (N) | TORQUE-OUT (N-m) | PULL-THRU (N) | | | | |
| --- | --- | --- | --- | --- | --- | --- | --- | --- | --- | --- |
| TSO4 | .165" / 4.2mm | .025" / 0.64 mm 300 Series Stainless Steel | 28.9 | 555 | 1.5 | 1840 | | | | |
| TSO4 | .212" / 5.39 mm | .025" / 0.64 mm 300 Series Stainless Steel | 30.3 | 710 | 2.5 | 2453 | | | | |
so-tso4-unified
| TYPE | STANDOFF "C" DIMENSION | TEST SHEET MATERIAL | INSTALLATION (lbs.) | PUSHOUT (lbs.) | TORQUE-OUT (in. lbs.) | PULL-THRU (lbs.) | | | | |
| --- | --- | --- | --- | --- | --- | --- | --- | --- | --- | --- |
| TSO4 | .165" / 4.2mm | .025" / 0.64 mm 300 Series Stainless Steel | 6500 | 125 | 13 | 414 | | | | |
| TSO4 | .212" / 5.39 mm | .025" / 0.64 mm 300 Series Stainless Steel | 6800 | 160 | 22 | 552 | | | | |