Achieving Water-Tight Seals with Vacuum Leak Testing
Collaboration Between PROFIL® Europe, PROFIL® North America, and PEM® Galway Leads to New Innovation for EV Market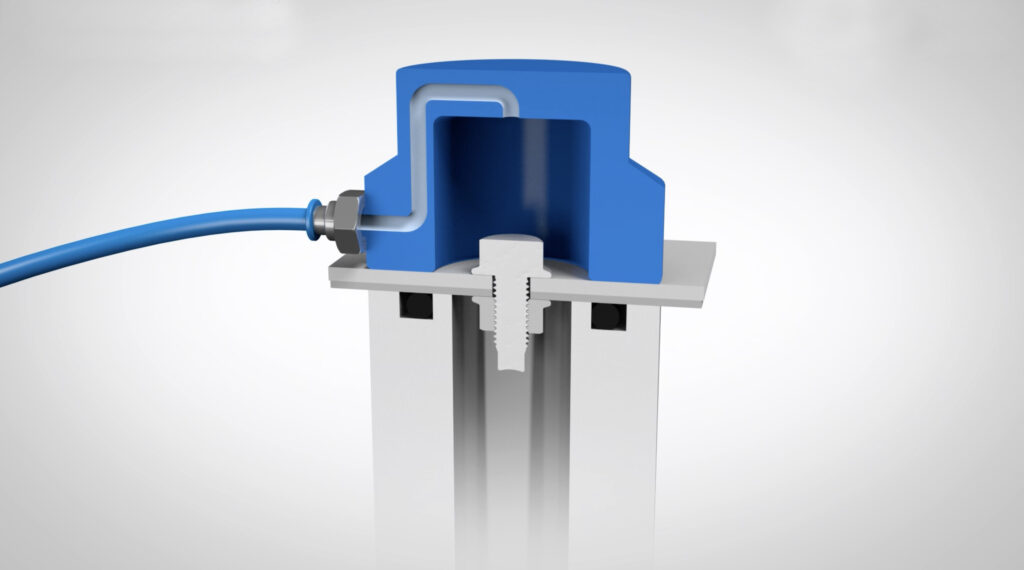 The electric vehicle market has created increasing demand to measure and quantify the degree of watertightness in fasteners installed into parts. This measurement has become a significant performance characteristic to customers, most notably for electric vehicle battery applications.
While there are international standards that require testing to measure the leak rates of watertight joints, many testing methods are difficult to integrate into the production process and lack the ability to provide accurate, repeatable, quantitative results.
Due to of these testing challenges, the PROFIL® Europe team designed and implemented new leak testing technology. The test is performed quickly and allows for precise measurement and statistical analyses – far superior to other industry testing methods. The test is also easily integrated into series production and existing quality management systems.
About Vacuum Leak Testing Technology
The vacuum leak testing method utilises helium as the test gas to verify water tightness for PROFIL® Mechanically Attached Fasteners (MAF). This process delivers fast response times and can measure even the smallest leak rates up to 10-9 mbar∙l/s.
The helium leak rate can be correlated to an IP rating – the IP67 rating is a common requirement for these application types – and provides a much more scientific approach than testing with water.
The testing can verify a reliable, leak-proof seal for fasteners used in different panel thicknesses and a range of materials including aluminum and steel. There's also flexibility to test different part sizes and multiple applications for under body, upper body, closures, chassis, seating, and battery housing.
Global Collaboration
The PROFIL® Europe team was the first to apply the technology and also performed initial tests for PROFIL® North America and PEM® Galway customers. Due to growing customer demand, our teams expanded testing capabilities and implemented the technology across multiple locations as a global standard.
To accelerate global implementation, PROFIL® Europe supplied startup equipment and software to our PROFIL® North America and PEM® Galway teams. Ongoing optimization of internal standards continues with collaboration between all locations.
Future Focused
As a global company, sharing innovation is one of the most important organizational priorities that allows us to maintain a competitive advantage. Thanks to our many teams for implementing our methods and best practices across the PennEngineering® enterprise and supporting our mission to be the leading fastener company in the world. To learn more about our vacuum leak testing methods for EV applications, connect with one of our engineers today.