LA4-832-1MD
Floating self-clinching, locking thread fasteners LA4, LAC, LAS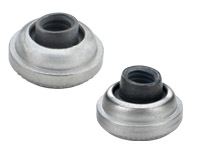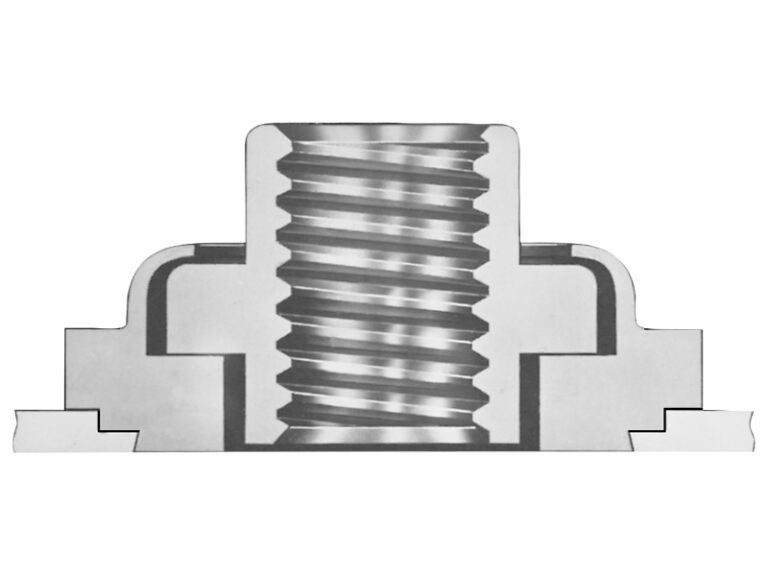 LA4-832-1MD
Floating self-clinching, locking thread fasteners LA4, LAC, LAS
Locking and Non-locking Threads These fasteners provide load-bearing threads in thin sheets and permit up to .030" adjustment for mating hole misalignment.
The self-clinching feature offers fast and simple assembly. The fasteners are squeezed into prepared holes using any standard press. The sheet remains flush on one side, and the fastener is permanently locked in place.
Extra strength and support in assembly is obtained by the threads of the floating nut extending fully into the retainer shank (a unique PEM feature). A self-locking version of the fastener is also offered. Thread locking torque performance is equivalent to applicable NASM25027 specifications.
Non-locking Type A4 and self-locking Type LA4 fasteners provide load-bearing threads in stainless steel sheets as thin as .038" with hardness up to HRB 88 on the Rockwell "B" scale.
Many PEM Type AS and AC self-clinching floating fasteners correspond to sizes in US NASM45938/11 specifications. Check our web site for a complete Military Specification and National Aerospace Standards Reference Guide (Bulletin NASM).
Specifications
Thread Code

832

Thread Size

.164-32 (#8-32), #8-32

Thread Specification

2B, ANSI B1.1, Internal

Shank Code

1

Fastener Material

400 Series Stainless Steel

Fastener Materials – Nut

300 Series Stainless Steel

Fastener Materials – Retainer

400 Series Stainless Steel

Nut Finish

Black Dry-film Lubricant

Retainer Finish

Passivated and/or tested per ASTM A380

For Use in Sheet Hardness

HRB 88 / HB 183 or Less

Float

.015" minimum, in all directions from center, .030" total

Product Category

Floating self-clinching, locking thread fasteners LA4, LAC, LAS

CAD Supplier

PennEngineering® (PEM®)

CADPartID

103680

Thread Type

Self-Locking

Application Type

Industrial, Manufacturing & Sheet Metal Fabrication

Base Panel Material

Aluminum, Steel

Brand

PEM

Fastener Characteristics

Floating, Locking, Threaded Internal

Industry

Industrial & Commercial

Installation Equipment/Method

C-Frame Automatic Feed, C-Frame Manual Feed

PEM Product Family

ALA, LN, SS

Product Type

Nuts

Technology Type

Self-Clinching

Unit (Metric/Unified)

Unified
A Shank Max

0.038in

E ± .015_in

.440in

Hole Size in Sheet + .003 – .000_in

.368in

Min. Dist. Hole C/L to Edge_in

.34in

Min. Sheet Thickness_in

.038in

C Max._in

.367in

D Max._in

.365in

T1 Max._in

.130in

T2 Max._in

.210in
Installation & Performance Data
ala-a4-la4-unified
| TYPE | THREAD CODE | TEST SHEET MATERIAL | INSTALLATION (lbs.) | RETAINER PUSHOUT (lbs.) | RETAINER TORQUE-OUT (in. lbs.) | |
| --- | --- | --- | --- | --- | --- | --- |
| A4, LA4 | 832 | 300 Series Stainless Steel | 12000 | 200 | 85 | |
ln-la4-nuts-unified
| TYPE | THREAD CODE | TEST SHEET MATERIAL | INSTALLATION (lbs.) | RETAINER PUSHOUT (lbs.) | RETAINER TORQUE-OUT (in. lbs.) | | | | | |
| --- | --- | --- | --- | --- | --- | --- | --- | --- | --- | --- |
| LA4 | 832 | 300 Series Stainless Steel | 12000 | 200 | 85 | | | | | |
ss-a4-la4-nuts-unified
| TYPE | THREAD CODE | TEST SHEET MATERIAL | INSTALLATION (lbs.) | RETAINER PUSHOUT (lbs.) | RETAINER TORQUE-OUT (in. lbs.) | | | | |
| --- | --- | --- | --- | --- | --- | --- | --- | --- | --- |
| A4, LA4 | 832 | 300 Series Stainless Steel | 12000 | 200 | 85 | | | | |
Inventory
| Distributor | Quantity | Contact | Phone | Address | Locations |
| --- | --- | --- | --- | --- | --- |