SCBR-440-8ZI
Captive Panel Screw-Tool only, Spinning Clinch Bolt, Self-retracting Spring – Type SCBR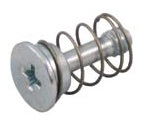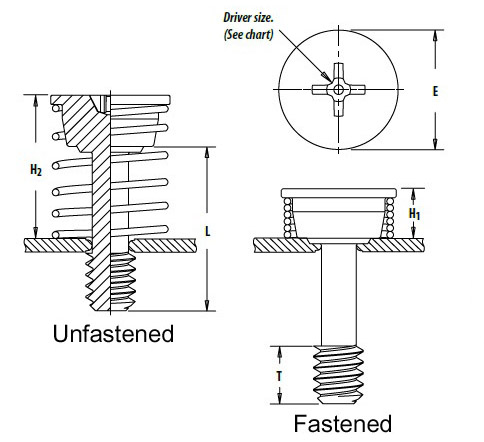 SCBR-440-8ZI
Captive Panel Screw-Tool only, Spinning Clinch Bolt, Self-retracting Spring – Type SCBR
PEM Type SCBR™ Spinning Clinch Bolt installs by simply pressing it into a properly sized hole. The controlled clinching action permanently captivates the screw and spring in the panel and allows the screw to spin freely in the sheet.
Features and Benefits
Permanently captivates into sheets as thin as .040" / 1.02 mm.
Spring keeps screw retracted when disengaged.
Provides economical self-retracting captive screw.
Replaces loose hardware.
Allows for close centerline-to-edge distance.
RoHS compliant.
Type SCBR screws are shipped with mating springs.
Specifications
Thread Code

440

Thread Size

.112-40 (#4-40)

Thread Specification

2A, ANSI B1.1

Screw Length Code

8

Material

Heat-Treated Carbon Steel

Finish Spring

Natural Finish

For Use in Sheet Hardness

HRB 80 or Less (Hardness Rockwell "B" Scale) / HB 150 or Less (Hardness Brinell)

Driver Size

#1 Phillips

Product Category

Captive Panel Screw-Tool only, Spinning Clinch Bolt, Self-retracting Spring – Type SCBR

CAD Supplier

PennEngineering® (PEM®)

Cad View

Unfastened

CADPartID

103768

Thread Type

SCBR

Application Type

Datacom, Telecom

Base Panel Material

Aluminum, Steel

Brand

PEM

Fastener Characteristics

Threaded External

Finish Type

colorless, SC1 (5µm), Type III, Zinc plated per ASTM B633

Industry

Datacom & Telecom

Installation Equipment/Method

C-Frame Manual Feed

Product Type

Panel Fasteners

Technology Type

Self-Clinching
E + .005 -.010_in

.348in

H1 ± .005_in

.165in

H2 Ref._in

.495in

Hole Size in Sheet + 0.003 – 0.000_in

.112in

L Len Pm 015in Or 4mm

.500in

Min. Dist. Hole C/L to Edge_in

.175in

Min. Sheet Thickness_in

.040in

T Nom._in

.130in
Inventory
| Distributor | Quantity | Contact | Phone | Address | Locations |
| --- | --- | --- | --- | --- | --- |