SFN-M6-00ZI
Spinning Flare Nut – Type SFN™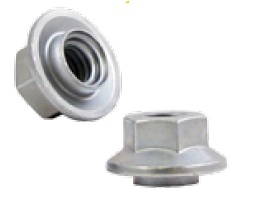 SFN-M6-00ZI
Spinning Flare Nut – Type SFN™
PEM® Type SFN™ spinning flare nut is a one piece, flanged hex nut that installs by simply pressing it into a properly sized, prepunched embossed mounting hole. The nut is permanently captive and still spins freely in the sheet. This allows quick attachment to mating hardware, eliminating much of the need for loose fasteners.
Above the sheet, the part appears identical to standard flanged hex nuts, while on the other side, the part remains flush.
The spinning flare nut eliminates loose hardware such as flange nuts. When used with a self-clinching stud, all loose hardware is eliminated from the applications.
Features and Benefits
Rotates freely in sheet
Assembly time reduction and cost
Reduction in loose hardware
Installs into any sheet hardness
Specifications
Thread Code

M6

Thread Size

M6 x 1

Thread Specification

2B / ASME B1.13M, 6H, ASME B1.1, Internal

Fastener Material

Carbon Steel

Material

Carbon Steel

Standard Finish

Zinc plus Clear Chromate

For Use in Sheet Hardness

Any

Product Category

Spinning Flare Nut – Type SFN™

CAD Supplier

PennEngineering® (PEM®)

CADPartID

108135

Application Type

Automotive, Industrial, Manufacturing & Sheet Metal Fabrication

Base Panel Material

Aluminum, Any Panel Material, Stainless Steel, Steel

Brand

PEM

Fastener Characteristics

Flaring, Spinning, Threaded Internal

Industry

Automotive, Automotive Electronics

Installation Equipment/Method

C-Frame Manual Feed

PEM Product Family

SFN

Product Type

Nuts

Technology Type

Flaring

Unit (Metric/Unified)

Metric
A Shank Max

1.3mm

B3 Panel Emboss Height Nom._mm

0.7mm

E ±0.3_mm

15.5mm

H -0.2_mm

9.98mm

ØB1 Hole Size in Sheet +0.08_mm

8.75mm

ØB2 Panel Emboss Dia. Nom._mm

12.25mm

C Max._mm

8.5mm

Sheet Thickness ±0.1_mm

1mm

T ±0.25_mm

7mm
Installation & Performance Data
sfn-sfn-metric
| TYPE | THREAD CODE | SHANK CODE | TEST SHEET MATERIALS | INSTALLATION (kN) | PUSHOUT (N) | | | | | |
| --- | --- | --- | --- | --- | --- | --- | --- | --- | --- | --- |
| SFN | M6 | 00 | Stainless Steel | 12.9 | 964 | | | | | |
| SFN | M6 | 00 | Cold-Rolled Steel | 12.9 | 642 | | | | | |
| SFN | M6 | 00 | Aluminum | 12.9 | 428 | | | | | |
| SFN | M6 | 1 | Stainless Steel | 12.9 | 1431 | | | | | |
| SFN | M6 | 1 | Cold-Rolled Steel | 12.9 | 1431 | | | | | |
| SFN | M6 | 1 | Aluminum | 12.9 | 1329 | | | | | |
Inventory
| Distributor | Quantity | Contact | Phone | Address | Locations |
| --- | --- | --- | --- | --- | --- |