SS-RTM5-2ZC
All Metal, RT® Free-Running Locknuts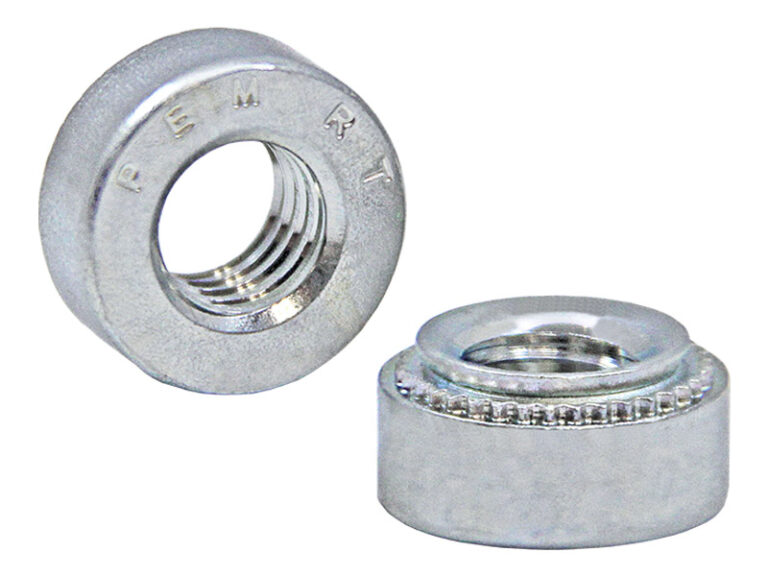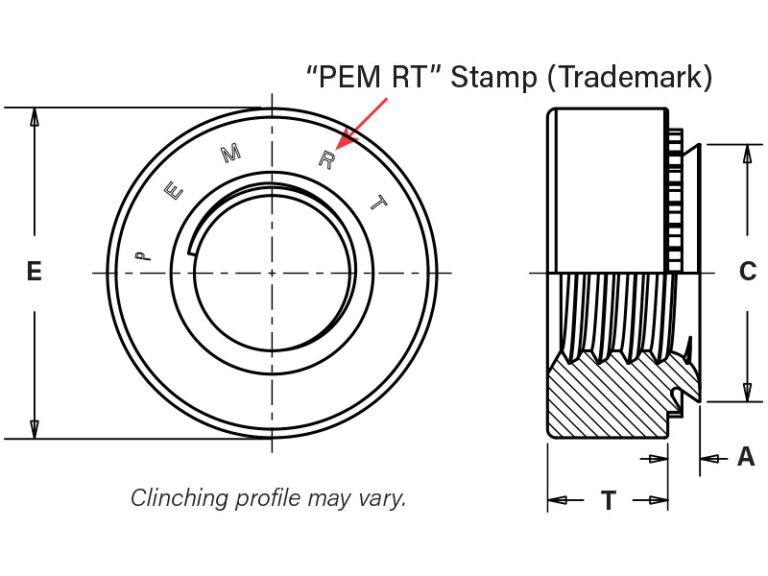 SS-RTM5-2ZC
All Metal, RT® Free-Running Locknuts
PEM® S-RT™ free-running locknuts are free-running until clamp load is induced. A modified thread angle on the loaded flank provides the vibration resistant locking feature.
Screw turns freely until a clamp load is applied.
Resistant to vibrational loosening.
Back side of panel is flush or sub-flush for screw installation.
Locking feature reusability is not affected by number of on/off cycles.
Uses same mounting hole and installation tooling as standard S™ nut fasteners found in PEM® Bulletin CL.
Specifications
Thread Code

RTM5

Thread Size

M5 x 0.8

Thread Specification

Modified thread form on loaded flank. Will accept a maximum material 6g screw.

Shank Code

2

Fastener Material

Carbon Steel

Optional Finish

SC1 (5µm), Type II, yellow, Zinc plated per ASTM B633

For Use in Sheet Hardness

HRB 80 / HB 150 or less

Product Category

All Metal, RT® Free-Running Locknuts

CAD Supplier

PennEngineering® (PEM®)

CADPartID

103687

Application Type

Aerospace, Automotive, Automotive Electronics, Commercial Vehicles, Consumer Electronics, Datacom, Electric Vehicle Chargers, Electric Vehicles, Electronics, Industrial, Manufacturing & Sheet Metal Fabrication, Marine, Medical, Renewable Energy, Telecom

Base Panel Material

Aluminum, Steel

Brand

PEM

Fastener Characteristics

Locking, Threaded Internal

Industry

Automotive, Automotive Electronics, Datacom & Telecom, Defense, Electric Vehicles, Industrial & Commercial, Medical

PEM Product Family

CL, LN

Product Type

Nuts

Technology Type

Self-Clinching

Unit (Metric/Unified)

Metric
A Shank Max

1.38mm

E ± 0.25_mm

8.64mm

Hole Size in Sheet + 0.08_mm

6.35mm

Min. Dist. Hole C/L to Edge_mm

7.1mm

C Max._mm

6.33mm

Rec. Min. Sheet Thickness_mm

1.4mm

T ± 0.25_mm

2mm
Installation & Performance Data
cl-s-ss-nuts-metric
| TYPE | THREAD CODE | SHANK CODE | TEST SHEET MATERIAL | INSTALLATION (kN) | PUSHOUT (N) | TORQUE-OUT (N•m) | |
| --- | --- | --- | --- | --- | --- | --- | --- |
| SS | RTM5 | 0 | 5052-H34 Aluminum | 11.2-15.6 | 300 | 3 | |
| SS | RTM5 | 1 | 5052-H34 Aluminum | 11.2-15.6 | 480 | 3.6 | |
| SS | RTM5 | 2 | 5052-H34 Aluminum | 11.2-15.6 | 845 | 5.7 | |
| SS | RTM5 | 0 | Cold-Rolled Steel | 18-38 | 530 | 3.6 | |
| SS | RTM5 | 1 | Cold-Rolled Steel | 18-38 | 800 | 4.5 | |
| SS | RTM5 | 2 | Cold-Rolled Steel | 18-38 | 1420 | 6.8 | |
ln-s-nuts-metric
| TYPE | THREAD CODE | SHANK CODE | TEST SHEET MATERIAL | INSTALLATION (kN) | PUSHOUT (N) | TORQUE-OUT (N•m) | | | | |
| --- | --- | --- | --- | --- | --- | --- | --- | --- | --- | --- |
| SS | RTM5 | 0 | 5052-H34 Aluminum | 11.2-15.6 | 300 | 3 | | | | |
| SS | RTM5 | 1 | 5052-H34 Aluminum | 11.2-15.6 | 480 | 3.6 | | | | |
| SS | RTM5 | 2 | 5052-H34 Aluminum | 11.2-15.6 | 845 | 5.7 | | | | |
| SS | RTM5 | 0 | Cold-Rolled Steel | 18-38 | 530 | 3.6 | | | | |
| SS | RTM5 | 1 | Cold-Rolled Steel | 18-38 | 800 | 4.5 | | | | |
| SS | RTM5 | 2 | Cold-Rolled Steel | 18-38 | 1420 | 6.8 | | | | |
Inventory
| Distributor | Quantity | Contact | Phone | Address | Locations |
| --- | --- | --- | --- | --- | --- |