TPXS-3MM-16
Self-Clinching Pilot Pins – Type TPXS™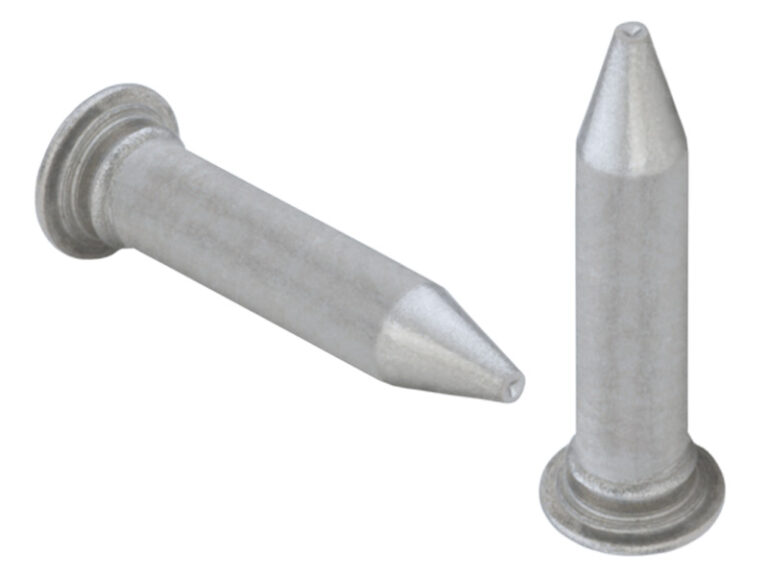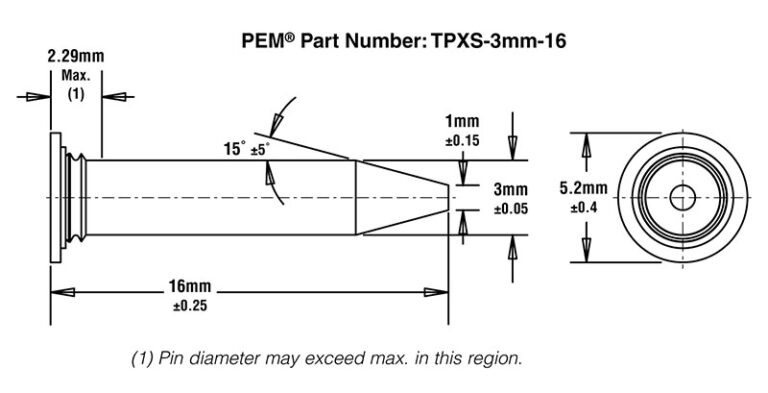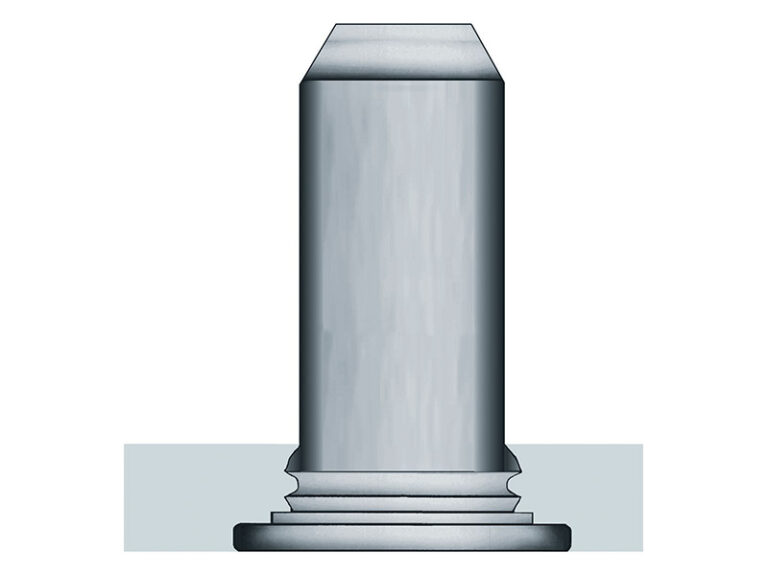 TPXS-3MM-16
Self-Clinching Pilot Pins – Type TPXS™
PEM® self-clinching studs are installed by placing them in properly sized holes in the sheets and squeezing into place with any standard press. The squeezing action embeds the head of the stud into the sheet. The metal displaced by the head flows smoothly and evenly around the ribs and into the annular groove – creating a flushhead assembly and securely locking the stud into the sheet with high torque-out and pushout resistances.
TPXS (flush-head) Pilot Pins satisfy a wide range of positioning, pivot, and alignment applications. The chamfered end makes mating hole location easy.- Meets the ATCA PICMG 3.0 specification.
15° tapered point makes engaging the mating hole easy.
Specifications
Fastener Material

300 Series Stainless Steel

For Use in Sheet Hardness

HRB 70 / HB 125 or Less

Length Code

16

Product Category

Self-Clinching Pilot Pins – Type TPXS™

CAD Supplier

PennEngineering® (PEM®)

CADPartID

103717

Application Type

Automotive, Automotive Electronics, Datacom, Electric Vehicle Chargers, Telecom

Base Panel Material

Aluminum, Steel

Brand

PEM

Fastener Characteristics

Locating, Unthreaded

Industry

Automotive, Automotive Electronics, Datacom & Telecom, Industrial & Commercial

Installation Equipment/Method

C-Frame Automatic Feed, C-Frame Manual Feed, In-Die

PEM Product Family

FH

Product Type

Pins

Technology Type

Self-Clinching

Unit (Metric/Unified)

Metric
D ± 0.15_mm

1mm

H ± 0.4_mm

5.2mm

Hole Size in Sheet + 0.08_mm

3.5mm

L – Length ± 0.25_mm

16mm

Min. Dist. Hole C/L to Edge_mm

6.4mm

Min. Sheet Thickness_mm

1mm

P – Pin Diameter ± 0.05_mm

3mm

Pin Dia. Code

3 mm

S Max._mm

2.29mm
Installation & Performance Data
fh-fh-fhs-studs-metric
| TYPE | THREAD CODE | REC. NUT TIGHTENING TORQUE (N•m) | TEST SHEET THICKNESS & MATERIAL | SHEET HARDNESS HRB | INSTALLATION (kN) | PUSHOUT (N) | TORQUE-OUT (N•m) | PULL THRU (N) |
| --- | --- | --- | --- | --- | --- | --- | --- | --- |
| FH | M2.5 | 0.78 | 1.6 mm Aluminum | 29 | 8.9 | 465 | 1.0 | 2600 |
| FHS | M2.5 | 0.48 | 1.6 mm Aluminum | 29 | 11.6 | 465 | 0.8 | 1820 |
| FH | M3 | 1.1 | 1.6 mm Aluminum | 29 | 12.9 | 600 | 1.7 | 3150 |
| FHS | M3 | 0.81 | 1.6 mm Aluminum | 29 | 12.9 | 600 | 1.3 | 2570 |
| FH | M3.5 | 1.6 | 1.6 mm Aluminum | 29 | 15.6 | 800 | 1.7 | 3780 |
| FHS | M3.5 | 1.3 | 1.6 mm Aluminum | 29 | 15.6 | 800 | 1.7 | 3445 |
| FH | M4 | 2.1 | 1.6 mm Aluminum | 29 | 20 | 975 | 2.9 | 4448 |
| FHS | M4 | 1.8 | 1.6 mm Aluminum | 29 | 22.3 | 975 | 2.9 | 4180 |
| FH | M5 | 3.1 | 1.6 mm Aluminum | 29 | 24.5 | 1070 | 3.5 | 5170 |
| FHS | M5 | 2.5 | 1.6 mm Aluminum | 29 | 24.5 | 1070 | 3.5 | 4760 |
| FH | M6 | 7.3 | 2.4 mm Aluminum | 28 | 28.9 | 1660 | 7.3 | 10200 |
| FHS | M6 | 5.7 | 2.4 mm Aluminum | 28 | 28.9 | 1660 | 7.3 | 9090 |
| FH | M8 | 10 | 2.4 mm Aluminum | 28 | 29.8 | 1910 | 11.3 | 10500 |
| FHS | M8 | 8 | 2.4 mm Aluminum | 28 | 29.8 | 1910 | 11.3 | 9540 |
| FH | M2.5 | 0.84 | 1.5 mm Steel | 59 | 11.1 | 740 | 1.0 | 2800 |
| FHS | M2.5 | 0.48 | 1.5 mm Steel | 59 | 13.8 | 740 | 0.8 | 1820 |
| FH | M3 | 1.4 | 1.5 mm Steel | 59 | 14.7 | 820 | 1.7 | 3840 |
| FHS | M3 | 0.77 | 1.5 mm Steel | 59 | 14.7 | 820 | 1.3 | 2440 |
| FH | M3.5 | 1.6 | 1.5 mm Steel | 59 | 22.3 | 1335 | 2.8 | 3780 |
| FHS | M3.5 | 1.3 | 1.5 mm Steel | 59 | 22.3 | 1335 | 2.0 | 3445 |
| FH | M4 | 2.7 | 1.5 mm Steel | 59 | 28.9 | 1780 | 4.2 | 5650 |
| FHS | M4 | 2 | 1.5 mm Steel | 59 | 26.7 | 1780 | 2.9 | 4775 |
| FH | M5 | 3.8 | 1.5 mm Steel | 59 | 33.4 | 2000 | 6.5 | 6270 |
| FHS | M5 | 3.2 | 1.5 mm Steel | 59 | 32.5 | 2000 | 6.3 | 6000 |
| FH | M6 | 8.1 | 2.2 mm Steel | 46 | 44.5 | 2560 | 11.3 | 11300 |
| FHS | M6 | 6.7 | 2.2 mm Steel | 46 | 44.5 | 2560 | 10.1 | 10600 |
| FH | M8 | 15 | 2.4 mm Steel | 46 | 44.5 | 2890 | 19.2 | 15450 |
| FHS | M8 | 11 | 2.4 mm Steel | 46 | 49.8 | 2890 | 17.5 | 13630 |
fh-fh-fhs-studs-unified
| TYPE | THREAD CODE | REC. NUT TIGHTENING TORQUE (in. lbs.) | TEST SHEET THICKNESS & MATERIAL | SHEET HARDNESS HRB | INSTALLATION (lbs.) | PUSHOUT (lbs.) | TORQUE-OUT (in. lbs.) | PULL THRU (lbs.) |
| --- | --- | --- | --- | --- | --- | --- | --- | --- |
| FH | 256 | 4.4 | .062" Aluminum | 29 | 2000 | 100 | 5 | 425 |
| FHS | 256 | 2.7 | .062" Aluminum | 29 | 2000 | 100 | 4.5 | 300 |
| FH | 440 | 8.7 | .064" Aluminum | 29 | 3800 | 170 | 10 | 650 |
| FHS | 440 | 5.9 | .064" Aluminum | 29 | 3200 | 170 | 8 | 500 |
| FH | 632 | 14 | .064" Aluminum | 29 | 3800 | 180 | 17 | 850 |
| FHS | 632 | 11 | .064" Aluminum | 29 | 3500 | 180 | 16 | 775 |
| FH | 832 | 20 | .064" Aluminum | 29 | 4800 | 220 | 28 | 1000 |
| FHS | 832 | 16 | .064" Aluminum | 29 | 4500 | 220 | 28 | 940 |
| FH | 024/032 | 28 | .064" Aluminum | 29 | 5500 | 270 | 30 | 1220 |
| FHS | 024/032 | 24 | .064" Aluminum | 29 | 5500 | 270 | 30 | 1220 |
| FH | 0420 | 69 | .093" Aluminum | 28 | 6500 | 310 | 65 | 2300 |
| FHS | 0420 | 55 | .093" Aluminum | 28 | 6500 | 310 | 65 | 2100 |
| FH | 0518 | 85 | .093" Aluminum | 28 | 6500 | 430 | 100 | 2260 |
| FHS | 0518 | 74 | .093" Aluminum | 28 | 6700 | 430 | 100 | 2260 |
| FH | 256 | 4.4 | .060" Steel | 59 | 2500 | 180 | 5 | 425 |
| FHS | 256 | 2.7 | .060" Steel | 59 | 2500 | 180 | 4.5 | 300 |
| FH | 440 | 8.7 | .060" Steel | 59 | 4300 | 275 | 10 | 650 |
| FHS | 440 | 5.9 | .060" Steel | 59 | 4700 | 275 | 8 | 500 |
| FH | 632 | 14 | .060" Steel | 59 | 4700 | 300 | 20 | 850 |
| FHS | 632 | 11 | .060" Steel | 59 | 5000 | 300 | 16 | 775 |
| FH | 832 | 25 | .060" Steel | 59 | 6800 | 375 | 40 | 1270 |
| FHS | 832 | 19 | .060" Steel | 59 | 5500 | 375 | 28 | 1130 |
| FH | 024/032 | 32 | .060" Steel | 59 | 7500 | 450 | 60 | 1410 |
| FHS | 024/032 | 28 | .060" Steel | 59 | 6800 | 450 | 50 | 1410 |
| FH | 0420 | 77 | .088" Steel | 46 | 9500 | 575 | 100 | 2550 |
| FHS | 0420 | 67 | .088" Steel | 46 | 10000 | 575 | 100 | 2550 |
| FH | 0518 | 130 | .093" Steel | 46 | 10000 | 650 | 175 | 3475 |
| FHS | 0518 | 102 | .093" Steel | 46 | 11200 | 650 | 175 | 3120 |
fh-fh4-studs-metric
| TYPE | THREAD CODE | REC. NUT TIGHTENING TORQUE (N•m) | TEST SHEET THICKNESS & MATERIAL | SHEET HARDNESS HRB | INSTALLATION (kN) | PUSHOUT (N) | TORQUE-OUT (N•m) | PULL THRU (N) |
| --- | --- | --- | --- | --- | --- | --- | --- | --- |
| FH4 | M3 | 1.3 | 1.5 mm Stainless Steel | 87 | 40 | 2220 | 1.8 | 3500 |
| FH4 | M4 | 3.8 | 1.5 mm Stainless Steel | 86 | 50 | 3210 | 6.5 | 8000 |
| FH4 | M5 | 6 | 1.5 mm Stainless Steel | 86 | 53 | 3560 | 10.7 | 10000 |
| FH4 | M6 | 11 | 1.6 mm Stainless Steel | 88 | 100 | 4200 | 15.9 | 14900 |
fh-fh4-studs-unified
| TYPE | THREAD CODE | REC. NUT TIGHTENING TORQUE (in. lbs.) | TEST SHEET THICKNESS & MATERIAL | SHEET HARDNESS HRB | INSTALLATION (lbs.) | PUSHOUT (lbs.) | TORQUE-OUT (in. lbs.) | PULL THRU (lbs.) |
| --- | --- | --- | --- | --- | --- | --- | --- | --- |
| FH4 | 440 | 11 | .060" Stainless Steel | 87 | 9000 | 450 | 16 | 800 |
| FH4 | 632 | 22 | .060" Stainless Steel | 87 | 9500 | 540 | 27 | 1350 |
| FH4 | 832 | 35 | .060" Stainless Steel | 86 | 11200 | 780 | 58 | 1800 |
| FH4 | 032 | 51 | .060" Stainless Steel | 86 | 12000 | 800 | 95 | 2250 |
| FH4 | 0420 | 117 | .062" Stainless Steel | 88 | 23000 | 1600 | 156 | 3900 |
fh-fha-studs-metric
| TYPE | THREAD CODE | REC. NUT TIGHTENING TORQUE (N•m) | TEST SHEET THICKNESS & MATERIAL | SHEET HARDNESS HR15T | INSTALLATION (kN) | PUSHOUT (N) | TORQUE-OUT (N•m) | PULL THRU (N) |
| --- | --- | --- | --- | --- | --- | --- | --- | --- |
| FHA | M3 | 0.54 | 1.55 mm 5052-H34 Aluminum | 74 | 10.7 | 575 | 0.5 | 1500 |
| FHA | M4 | 0.96 | 1.55 mm 5052-H34 Aluminum | 75 | 14.3 | 775 | 1.35 | 2000 |
| FHA | M5 | 1.5 | 1.55 mm 5052-H34 Aluminum | 75 | 15.2 | 900 | 2.6 | 2500 |
| FHA | M6 | 3.2 | 1.6 mm 5052-H34 Aluminum | 75 | 24.5 | 1500 | 5.3 | 4500 |
fh-fha-studs-unified
| TYPE | THREAD CODE | REC. NUT TIGHTENING TORQUE (in. lbs.) | TEST SHEET THICKNESS & MATERIAL | SHEET HARDNESS HR15T | INSTALLATION (lbs.) | PUSHOUT (lbs.) | TORQUE-OUT (in. lbs.) | PULL THRU (lbs.) |
| --- | --- | --- | --- | --- | --- | --- | --- | --- |
| FHA | 440 | 3.6 | .061" 5052-H34 Aluminum | 75 | 2500 | 155 | 4 | 270 |
| FHA | 632 | 6.3 | .061" 5052-H34 Aluminum | 75 | 2600 | 180 | 8 | 380 |
| FHA | 832 | 9.8 | .061" 5052-H34 Aluminum | 73 | 3200 | 190 | 15 | 500 |
| FHA | 032 | 14 | .061" 5052-H34 Aluminum | 75 | 3200 | 220 | 28 | 600 |
| FHA | 0420 | 32 | .062" 5052-H34 Aluminum | 75 | 5500 | 300 | 55 | 1050 |
fh-fhl-fhls-studs-metric
| TYPE | THREAD CODE | REC. NUT TIGHTENING TORQUE (N•m) | TEST SHEET THICKNESS & MATERIAL | SHEET HARDNESS HRB | INSTALLATION (kN) | PUSHOUT (N) | TORQUE-OUT (N•m) | PULL THRU (N) | PULL THRU TEST BUSHING HOLE SIZE (mm) |
| --- | --- | --- | --- | --- | --- | --- | --- | --- | --- |
| FHL, FHLS | M2.5 | 0.32 | 1.2 mm Aluminum | 33 | 3.1 | 285 | 0.55 | 1200 | 3 |
| FHL, FHLS | M3 | 0.41 | 1.2 mm Aluminum | 33 | 4.4 | 285 | 0.65 | 1300 | 3.5 |
| FHL, FHLS | M3.5 | 0.51 | 1.2 mm Aluminum | 33 | 4.4 | 290 | 0.76 | 1400 | 4 |
| FHL, FHLS | M4 | 0.65 | 1.2 mm Aluminum | 33 | 5.3 | 365 | 1.1 | 1550 | 4.5 |
| FHL, FHLS | M5 | 0.97 | 1.2 mm Aluminum | 33 | 11.1 | 530 | 2.2 | 1850 | 5.5 |
| FHL, FHLS | M2.5 | 0.59 | 1.1 mm Steel | 54 | 5.3 | 450 | 1.1 | 2250 | 3 |
| FHL, FHLS | M3 | 0.79 | 1.1 mm Steel | 54 | 5.3 | 475 | 1.25 | 2500 | 3.5 |
| FHL, FHLS | M3.5 | 1.03 | 1.1 mm Steel | 54 | 6.6 | 500 | 1.75 | 2800 | 4 |
| FHL, FHLS | M4 | 1.39 | 1.1 mm Steel | 54 | 6.6 | 550 | 2.1 | 3300 | 4.5 |
| FHL, FHLS | M5 | 1.97 | 1.1 mm Steel | 54 | 20 | 1000 | 4.4 | 3750 | 5.5 |
fh-fhl-fhls-studs-unified
| TYPE | THREAD CODE | REC. NUT TIGHTENING TORQUE (in. lbs.) | TEST SHEET THICKNESS & MATERIAL | SHEET HARDNESS HRB | INSTALLATION (lbs.) | PUSHOUT (lbs.) | TORQUE-OUT (in. lbs.) | PULL THRU (lbs.) | PULL THRU TEST BUSHING HOLE SIZE (in.) |
| --- | --- | --- | --- | --- | --- | --- | --- | --- | --- |
| FHL, FHLS | 256 | 2.1 | .047" Aluminum | 33 | 700 | 55 | 4 | 230 | .106 |
| FHL, FHLS | 440 | 3.5 | .047" Aluminum | 33 | 1000 | 60 | 5 | 300 | .132 |
| FHL, FHLS | 632 | 4.7 | .047" Aluminum | 33 | 1000 | 65 | 6.5 | 325 | .158 |
| FHL, FHLS | 832 | 6 | .047" Aluminum | 33 | 1200 | 80 | 9 | 350 | .184 |
| FHL, FHLS | 032 | 7.9 | .047" Aluminum | 33 | 2500 | 115 | 18 | 395 | .210 |
| FHL, FHLS | 256 | 3.8 | .045" Steel | 54 | 1200 | 85 | 8 | 425 | .106 |
| FHL, FHLS | 440 | 6.8 | .045" Steel | 54 | 1200 | 105 | 11 | 580 | .132 |
| FHL, FHLS | 632 | 9 | .045" Steel | 54 | 1500 | 110 | 15 | 650 | .158 |
| FHL, FHLS | 832 | 13 | .045" Steel | 54 | 1500 | 125 | 18 | 740 | .184 |
| FHL, FHLS | 032 | 16 | .045" Steel | 54 | 4500 | 210 | 38 | 800 | .210 |
fh-fhp-studs-metric
| TYPE | THREAD CODE | REC. NUT TIGHTENING TORQUE (N•m) | TEST SHEET THICKNESS & MATERIAL | SHEET HARDNESS HRB | INSTALLATION (kN) | PUSHOUT (N) | TORQUE-OUT (N•m) | PULL THRU (N) |
| --- | --- | --- | --- | --- | --- | --- | --- | --- |
| FHP | M3 | 1.3 | 2 mm Stainless Steel | 86 | 40 | 2500 | 1.6 | 3500 |
| FHP | M4 | 2.9 | 1.14 mm Stainless Steel | 86 | 50 | 3000 | 3.9 | 6000 |
| FHP | M5 | 4.4 | 1.14 mm Stainless Steel | 86 | 53 | 3560 | 7.35 | 7320 |
fh-fhp-studs-unified
| TYPE | THREAD CODE | REC. NUT TIGHTENING TORQUE (in. lbs.) | TEST SHEET THICKNESS & MATERIAL | SHEET HARDNESS HRB | INSTALLATION (lbs.) | PUSHOUT (lbs.) | TORQUE-OUT (in. lbs.) | PULL THRU (lbs.) |
| --- | --- | --- | --- | --- | --- | --- | --- | --- |
| FHP | 440 | 8.1 | .045" Stainless Steel | 86 | 9000 | 520 | 10.6 | 605 |
| FHP | 632 | 16 | .045" Stainless Steel | 86 | 9500 | 670 | 19.5 | 940 |
| FHP | 832 | 28 | .045" Stainless Steel | 86 | 11200 | 785 | 37.5 | 1415 |
| FHP | 032 | 34 | .045" Stainless Steel | 86 | 12000 | 800 | 59.5 | 1500 |
fh-fhx-studs-metric
| TYPE | THREAD CODE | TEST SHEET THICKNESS & MATERIAL | INSTALLATION (kN) | PUSHOUT (N) | TORQUE-OUT (N•m) | | | | | |
| --- | --- | --- | --- | --- | --- | --- | --- | --- | --- | --- |
| FHX | X5 | 1.1 mm Steel HRB 58 / HB 104 | 24.9 | 1519 | 4.7 | | | | | |
| FHX | X5 | 1.2 mm Aluminum HRB 44 / HB 66 | 19.2 | 1070 | 3.2 | | | | | |
| FHX | X6 | 1.6 mm Steel HRB 58 / HB 104 | 35.6 | 2964 | 13.3 | | | | | |
| FHX | X6 | 1.6 mm Aluminum HRB 44 / HB 66 | 29.4 | 1623 | 7 | | | | | |
fh-hfe-studs-metric
| TYPE | THREAD CODE | REC. NUT TIGHTENING TORQUE (N•m) | TEST SHEET THICKNESS & MATERIAL | SHEET HARDNESS HRB | INSTALLATION (kN) | PUSHOUT (N) | TORQUE-OUT (N•m) | TENSILE STRENGTH (kN) | PULL THRU (N) | PULL THRU TEST BUSHING HOLE SIZE (mm) |
| --- | --- | --- | --- | --- | --- | --- | --- | --- | --- | --- |
| HFE | M5 | 5.8 | 1 mm Aluminum | 27 | 37.7 | 690 | 8.1 | 12.8 | 9.7 | 7.4 |
| HFE | M6 | 10 | 1 mm Aluminum | 27 | 39 | 750 | 11.8 | 18.1 | 14.2 | 8.2 |
| HFE | M8 | 24 | 1.5 mm Aluminum | 22 | 42 | 1230 | 23.5 | 32.9 | 25 | 10.3 |
| HFE | M5 | 6.4 | 1 mm Cold-rolled Steel | 67 | 51.1 | 1350 | 8.1 | 12.8 | 10.6 | 7.4 |
| HFE | M6 | 11 | 1 mm Cold-rolled Steel | 67 | 60 | 1400 | 14.4 | 18.1 | 15.5 | 8.2 |
| HFE | M8 | 26 | 1 mm Cold-rolled Steel | 65 | 71.1 | 2400 | 33.9 | 32.9 | 27.5 | 10.3 |
fh-hfe-studs-unified
| TYPE | THREAD CODE | REC. NUT TIGHTENING TORQUE (ft. lbs.) | TEST SHEET THICKNESS & MATERIAL | SHEET HARDNESS HRB | INSTALLATION (lbs.) | PUSHOUT (lbs.) | TORQUE-OUT (in. lbs.) | TENSILE STRENGTH (lbs.) | PULL THRU (lbs.) | TEST BUSHING HOLE SIZE FOR PULL THRU TESTS (in.) |
| --- | --- | --- | --- | --- | --- | --- | --- | --- | --- | --- |
| HFE | 032 | 3.6 | .040" Aluminum | 27 | 7500 | 170 | 60 | 2400 | 1900 | .279 |
| HFE | 0420 | 8 | .040" Aluminum | 27 | 8000 | 180 | 120 | 3820 | 3200 | .335 |
| HFE | 0518 | 19 | .060" Aluminum | 22 | 9000 | 275 | 240 | 6280 | 6000 | .407 |
| HFE | 032 | 4.2 | .040" Cold-rolled Steel | 67 | 9500 | 300 | 60 | 2400 | 2200 | .279 |
| HFE | 0420 | 9 | .040" Cold-rolled Steel | 67 | 13500 | 340 | 130 | 3820 | 3600 | .335 |
| HFE | 0518 | 20 | .060" Cold-rolled Steel | 65 | 15500 | 575 | 290 | 6280 | 6280 | .407 |
fh-hfg8-hf109-studs-metric
| TYPE | THREAD CODE | REC. NUT TIGHTENING TORQUE (N•m) | TENSILE STRENTH (kN) | TEST SHEET THICKNESS & MATERIAL | SHEET HARDNESS HRB | INSTALLATION (kN) | PUSHOUT (N) | TORQUE-OUT (N•m) | | |
| --- | --- | --- | --- | --- | --- | --- | --- | --- | --- | --- |
| HF109 | M5 | 10 | 14.8 | 1.2 mm HSLA Steel | 86.1 | 60.1 | 2084 | 9 | | |
| HF109 | M6 | 17 | 20.9 | 1.2 mm HSLA Steel | 85.6 | 90 | 2454 | 15.6 | | |
| HF109 | M8 | 41 | 38.1 | 1.5 mm HSLA Steel | 84 | 145 | 3026 | 38.4 | | |
| HF109 | M5 | 10 | 14.8 | 1 mm Cold-rolled Steel | 45.3 | 43.2 | 978 | 9 | | |
| HF109 | M6 | 17 | 20.9 | 1 mm Cold-rolled Steel | 45.5 | 60 | 1072 | 14.4 | | |
| HF109 | M8 | 41 | 38.1 | 1.5 mm Cold-rolled Steel | 55 | 85 | 1992 | 37.7 | | |
fh-hfg8-hf109-studs-unified
| TYPE | THREAD CODE | REC. NUT TIGHTENING TORQUE (ft. lbs.) | TENSILE STRENTH (lbs.) | TEST SHEET THICKNESS & MATERIAL | SHEET HARDNESS HRB | INSTALLATION (lbs.) | PUSHOUT (lbs.) | TORQUE-OUT (ft. lbs.) | | |
| --- | --- | --- | --- | --- | --- | --- | --- | --- | --- | --- |
| HFG8 | 032 | 6.4 | 3000 | .047" HSLA Steel | 85.5 | 14000 | 483 | 6.2 | | |
| HFG8 | 0420 | 13 | 4750 | .047" HSLA Steel | 85.7 | 21400 | 592 | 11.5 | | |
| HFG8 | 0518 | 28 | 7850 | .060" HSLA Steel | 84.9 | 32600 | 667 | 25.6 | | |
| HFG8 | 032 | 6.4 | 3000 | 0.040" Cold-rolled Steel | 45.0 | 9900 | 249 | 5.9 | | |
| HFG8 | 0420 | 13 | 4750 | 0.040" Cold-rolled Steel | 45.0 | 14100 | 248 | 11.5 | | |
| HFG8 | 0518 | 28 | 7850 | 0.040" Cold-rolled Steel | 55.2 | 19100 | 447 | 25.2 | | |
fh-hfh-hfhs-hfhb-studs-metric
| TYPE | THREAD CODE | REC. NUT TIGHTENING TORQUE (N•m) | TEST SHEET THICKNESS & MATERIAL | SHEET HARDNESS HRB | INSTALLATION (kN) | PUSHOUT (N) | TORQUE-OUT (N•m) | TENSILE STRENGTH (kN) | | |
| --- | --- | --- | --- | --- | --- | --- | --- | --- | --- | --- |
| HFH | M5 | 7.7 | 1.5 mm Aluminum | 15 | 13 | 800 | 5.4 | 12.8 | | |
| HFH | M5 | 7.7 | 1.5 mm Steel | 65 | 26 | 1500 | 7.6 | 12.8 | | |
| HFHS | M5 | 3.8 | 1.62 mm Aluminum | 35 | 12.4 | 800 | 5.4 | 7.3 | | |
| HFHS | M5 | 3.8 | 1.47 mm Steel | 54 | 21.7 | 1500 | 6.4 | 7.3 | | |
| HFHB | M5 | 2.7 | 1.5 mm Copper CDA-110 | 28 | 15.6 | 1115 | 3.4 | 5.9 | | |
| HFH | M6 | 13 | 1.5 mm Aluminum | 43 | 29 | 1270 | 14 | 18.1 | | |
| HFH | M6 | 13 | 1.5 mm Steel | 59 | 33 | 1750 | 14 | 18.1 | | |
| HFHS | M6 | 6.5 | 1.62 mm Aluminum | 35 | 15.4 | 1270 | 11 | 10.3 | | |
| HFHS | M6 | 6.5 | 1.6 mm Steel | 45 | 24.6 | 1750 | 11 | 10.3 | | |
| HFHB | M6 | 4.5 | 1.5 mm Copper CDA-110 | 28 | 25.3 | 1600 | 6.7 | 8.3 | | |
| HFH | M8 | 32 | 2.3 mm Aluminum | 39 | 35.6 | 1700 | 30 | 32.9 | | |
| HFH | M8 | 32 | 2.3 mm Steel | 58 | 44.5 | 2200 | 30 | 32.9 | | |
| HFHS | M8 | 16 | 2.23 mm Aluminum | 44 | 24.4 | 1700 | 20 | 18.8 | | |
| HFHS | M8 | 16 | 2.48 mm Steel | 43 | 37.8 | 2100 | 20 | 18.8 | | |
| HFHB | M8 | 11 | 3.2 mm Copper CDA-110 | 32 | 33 | 2250 | 15.3 | 15.1 | | |
| HFH | M10 | 63 | 2.3 mm Aluminum | 39 | 53.3 | 2445 | 36 | 52.2 | | |
| HFH | M10 | 63 | 2.3 mm Steel | 58 | 71.2 | 3470 | 49 | 52.2 | | |
| HFHS | M10 | 31 | 2.3 mm Aluminum | 44 | 44.4 | 2445 | 36 | 29.9 | | |
| HFHS | M10 | 31 | 2.3 mm Steel | 44 | 57.7 | 3470 | 36 | 29.9 | | |
| HFHB | M10 | 22 | 3.2 mm Copper CDA-110 | 32 | 53.3 | 2500 | 25 | 24 | | |
fh-hfh-hfhs-hfhb-studs-unified
| TYPE | THREAD CODE | REC. NUT TIGHTENING TORQUE (ft. lbs.) | TEST SHEET THICKNESS & MATERIAL | SHEET HARDNESS HRB | INSTALLATION (lbs.) | PUSHOUT (lbs.) | TORQUE-OUT (in. lbs.) | TENSILE STRENGTH (lbs.) | | |
| --- | --- | --- | --- | --- | --- | --- | --- | --- | --- | --- |
| HFH | 032 | 4.6 | .060" Aluminum | 15 | 3000 | 180 | 4 | 2400 | | |
| HFH | 032 | 4.6 | .060" Steel | 65 | 6000 | 375 | 5 | 2400 | | |
| HFHS | 032 | 2.5 | .050" Aluminum | 38 | 3000 | 180 | 4 | 1500 | | |
| HFHS | 032 | 2.5 | .058" Steel | 52 | 4500 | 325 | 4 | 1500 | | |
| HFHB | 032 | 1.7 | .061" Copper CDA-110 | 28 | 3400 | 150 | 2.9 | 1200 | | |
| HFH | 0420 | 9.6 | .060" Aluminum | 43 | 5500 | 285 | 11 | 3820 | | |
| HFH | 0420 | 9.6 | .060" Steel | 59 | 7000 | 480 | 11 | 3820 | | |
| HFHS | 0420 | 5.2 | .064" Aluminum | 32 | 4000 | 285 | 8 | 2385 | | |
| HFHS | 0420 | 5.2 | .072" Steel | 43 | 6500 | 480 | 8 | 2385 | | |
| HFHB | 0420 | 3.6 | .061" Copper CDA-110 | 28 | 6000 | 380 | 5 | 1908 | | |
| HFH | 0518 | 20 | .091" Aluminum | 39 | 8000 | 380 | 22 | 6280 | | |
| HFH | 0518 | 20 | .090" Steel | 58 | 10000 | 590 | 22 | 6280 | | |
| HFHS | 0518 | 11 | .087" Aluminum | 41 | 5500 | 380 | 15 | 3930 | | |
| HFHS | 0518 | 11 | .099" Steel | 44 | 7500 | 590 | 15 | 3930 | | |
| HFHB | 0518 | 7 | .126" Copper CDA-110 | 32 | 7500 | 500 | 11 | 3140 | | |
| HFH | 0616 | 35 | .091" Aluminum | 39 | 12000 | 550 | 25 | 9300 | | |
| HFH | 0616 | 35 | .090" Steel | 58 | 16000 | 780 | 36 | 9300 | | |
| HFHS | 0616 | 19 | .123" Aluminum | 44 | 10000 | 560 | 25 | 5810 | | |
| HFHS | 0616 | 19 | .099" Steel | 44 | 13000 | 780 | 25 | 5810 | | |
| HFHB | 0616 | 13 | .126" Copper CDA-110 | 32 | 12000 | 560 | 18 | 4650 | | |
fh-hflh-studs-metric
| TYPE | THREAD CODE | REC. NUT TIGHTENING TORQUE (N•m) | TEST SHEET THICKNESS & MATERIAL | SHEET HARDNESS HRB | INSTALLATION (kN) | PUSHOUT (N) | TORQUE-OUT (N•m) | TENSILE STRENGTH (kN) | PULL-THRU (kN) | TEST BUSHING HOLE SIZE FOR PULL THRU TESTS |
| --- | --- | --- | --- | --- | --- | --- | --- | --- | --- | --- |
| HFLH | M5 | 6.4 | 1 mm HC500LA | 89 | 51.1 | 1350 | 8.1 | 12.8 | 10.6 | 7.4 |
| HFLH | M6 | 11 | 1 mm HC500LA | 89 | 60 | 1400 | 14.4 | 18.1 | 15.5 | 8.2 |
| HFLH | M8 | 26 | 1.5 mm HC500LA | 91 | 71.1 | 2400 | 33.9 | 32.9 | 27.5 | 10.3 |
fh-hflh-studs-unified
| TYPE | THREAD CODE | REC. NUT TIGHTENING TORQUE (ft. lbs.) | TEST SHEET THICKNESS & MATERIAL | SHEET HARDNESS HRB | INSTALLATION (lbs.) | PUSHOUT (lbs.) | TORQUE-OUT (in. lbs.) | TENSILE STRENGTH (lbs.) | PULL-THRU (lbs.) | TEST BUSHING HOLE SIZE FOR PULL THRU TESTS |
| --- | --- | --- | --- | --- | --- | --- | --- | --- | --- | --- |
| HFLH | 032 | 4.2 | .040" HC500LA | 89 | 9500 | 300 | 60 | 2400 | 2200 | 0.279 |
| HFLH | 0420 | 10 | .040" HC500LA | 89 | 13500 | 340 | 130 | 3820 | 3600 | 0.335 |
| HFLH | 0518 | 23 | .060" HC500LA | 91 | 16000 | 575 | 290 | 6280 | 6280 | 0.407 |
fh-sgpc-studs-metric
| TYPE | THREAD CODE | REC. NUT TIGHTENING TORQUE (N•m) | TEST SHEET THICKNESS & MATERIAL | INSTALLATION (kN) | PUSHOUT (N) | TORQUE-OUT (N•m) | PULL-THRU (N) | | | |
| --- | --- | --- | --- | --- | --- | --- | --- | --- | --- | --- |
| SGPC | M2.5 | 0.67 | Single Sheet of 1 mm 300 Series Stainless Steel | 20.1 | 2546 | 0.86 | 2561 | | | |
| SGPC | M3 | 0.9 | Single Sheet of 1 mm 300 Series Stainless Steel | 21.8 | 2051 | 1.35 | 2851 | | | |
| SGPC | M4 | 2.5 | Single Sheet of 1 mm 300 Series Stainless Steel | 28.5 | 2396 | 2.66 | 4000 | | | |
| SGPC | M5 | 3.3 | Single Sheet of 1 mm 300 Series Stainless Steel | 35.6 | 3200 | 5.96 | 4284 | | | |
| SGPC | M6 | 3.3 | Single Sheet of 1 mm 300 Series Stainless Steel | 42.3 | 3262 | 9.19 | 6311 | | | |
fh-sgpc-studs-unified
| TYPE | THREAD CODE | REC. NUT TIGHTENING TORQUE (in. lbs.) | TEST SHEET THICKNESS & MATERIAL | INSTALLATION (lbs.) | PUSHOUT (lbs.) | TORQUE-OUT (in. lbs.) | PULL-THRU (lbs.) | | | |
| --- | --- | --- | --- | --- | --- | --- | --- | --- | --- | --- |
| SGPC | 256 | 3.7 | Single Sheet of .039" 300 Series Stainless Steel | 4000 | 425 | 5.2 | 415 | | | |
| SGPC | 440 | 6 | Single Sheet of .039" 300 Series Stainless Steel | 5000 | 450 | 8 | 512 | | | |
| SGPC | 632 | 12 | Single Sheet of .039" 300 Series Stainless Steel | 5500 | 460 | 15.8 | 811 | | | |
| SGPC | 832 | 20 | Single Sheet of .039" 300 Series Stainless Steel | 6500 | 480 | 29.3 | 1133 | | | |
| SGPC | 032 | 25 | Single Sheet of .039" 300 Series Stainless Steel | 7300 | 545 | 42.8 | 1273 | | | |
| SGPC | 0420 | 45 | Single Sheet of .039" 300 Series Stainless Steel | 10000 | 565 | 76.7 | 1721 | | | |
fh-tfh-tfhs-studs-metric
| TYPE | THREAD CODE | REC. NUT TIGHTENING TORQUE (N•m) | TEST SHEET THICKNESS & MATERIAL | SHEET HARDNESS HRB | INSTALLATION (kN) | PUSHOUT (N) | TORQUE-OUT (N•m) | PULL THRU (N) | PULL THRU TEST BUSHING HOLE SIZE (mm) |
| --- | --- | --- | --- | --- | --- | --- | --- | --- | --- |
| TFH | M3 | 1.1 | 0.65 mm Aluminum | 42 | 5.8 | 370 | 0.72 | 3091 | 3.51 |
| TFHS | M3 | 0.93 | 0.65 mm Aluminum | 43 | 5.8 | 255 | 0.19 | 2962 | 3.51 |
| TFH | M4 | 1.9 | 0.65 mm Aluminum | 42 | 14.2 | 396 | 1.29 | 3963 | 4.5 |
| TFHS | M4 | 1.7 | 0.65 mm Aluminum | 40 | 9.8 | 391 | 1.83 | 4126 | 4.5 |
| TFH | M5 | 2.8 | 0.64 mm Aluminum | 42 | 3.2 | 499 | 1.71 | 4720 | 5.51 |
| TFHS | M5 | 2.6 | 0.64 mm Aluminum | 42 | 3.2 | 518 | 2.29 | 4977 | 5.51 |
| TFH | M3 | 1.3 | 0.57 mm Steel | 57 | 8 | 419 | 1.32 | 3477 | 3.51 |
| TFHS | M3 | 0.94 | 0.57 mm Steel | 57 | 6.7 | 394 | 0.84 | 2971 | 3.51 |
| TFH | M4 | 2.1 | 0.57 mm Steel | 57 | 17.8 | 453 | 1.69 | 4380 | 4.5 |
| TFHS | M4 | 2 | 0.57 mm Steel | 57 | 13.4 | 460 | 2.49 | 4701 | 4.5 |
| TFH | M5 | 3.4 | 0.56 mm Steel | 57 | 12.1 | 570 | 2.77 | 5654 | 5.51 |
| TFHS | M5 | 2.8 | 0.57 mm Steel | 57 | 12.9 | 582 | 2.9 | 5328 | 5.51 |
fh-tfh-tfhs-studs-unified
| TYPE | THREAD CODE | REC. NUT TIGHTENING TORQUE (in. lbs.) | TEST SHEET THICKNESS & MATERIAL | SHEET HARDNESS HRB | INSTALLATION (lbs.) | PUSHOUT (lbs.) | TORQUE-OUT (in. lbs.) | PULL THRU (lbs.) | PULL THRU TEST BUSHING HOLE SIZE (in.) |
| --- | --- | --- | --- | --- | --- | --- | --- | --- | --- |
| TFH | 440 | 9.2 | .025" Aluminum | 38 | 1300 | 75 | 10 | 683 | .132 |
| TFHS | 440 | 6.2 | .025" Aluminum | 38 | 1200 | 75 | 8 | 527 | .132 |
| TFH | 632 | 13 | .025" Aluminum | 41 | 2400 | 87 | 9 | 791 | .158 |
| TFHS | 632 | 11 | .025" Aluminum | 41 | 2400 | 88 | 12 | 748 | .158 |
| TFH | 832 | 19 | .025" Aluminum | 41 | 2100 | 94 | 14 | 943 | .184 |
| TFHS | 832 | 17 | .025" Aluminum | 41 | 2200 | 94 | 17 | 963 | .184 |
| TFH | 024/032 | 24 | .025" Aluminum | 38 | 2300 | 98 | 13 | 1033 | .210 |
| TFHS | 024/032 | 21 | .025" Aluminum | 38 | 2500 | 101 | 12 | 1040 | .210 |
| TFH | 440 | 9.2 | .022" Steel | 57 | 2800 | 85 | 10 | 684 | .132 |
| TFHS | 440 | 6.2 | .022" Steel | 57 | 1500 | 80 | 9 | 531 | .132 |
| TFH | 632 | 15 | .022" Steel | 57 | 2800 | 97 | 14 | 906 | .158 |
| TFHS | 632 | 11 | .022" Steel | 57 | 2800 | 100 | 16 | 750 | .158 |
| TFH | 832 | 21 | .022" Steel | 57 | 3500 | 111 | 23 | 1065 | .184 |
| TFHS | 832 | 19 | .022" Steel | 57 | 2700 | 113 | 26 | 1109 | .184 |
| TFH | 024/032 | 28 | .022" Steel | 57 | 3900 | 121 | 25 | 1214 | .210 |
| TFHS | 024/032 | 24 | .022" Steel | 57 | 3200 | 112 | 23 | 1184 | .210 |
fh-thfe-studs-metric
| TYPE | THREAD CODE | REC. NUT TIGHTENING TORQUE (N•m) | TEST SHEET THICKNESS & MATERIAL | SHEET HARDNESS HRB | INSTALLATION (kN) | PUSHOUT (N) | TORQUE-OUT (N•m) | TENSILE STRENGTH (kN) | PULL THRU (N) | PULL THRU TEST BUSHING HOLE SIZE (mm) |
| --- | --- | --- | --- | --- | --- | --- | --- | --- | --- | --- |
| THFE | M6 | 9 | 0.8 mm Aluminum | 38 | 39.2 | 550 | 7.3 | 18.1 | 13 | 8.3 |
| THFE | M8 | 27 | 0.8 mm Aluminum | 44 | 56 | 582 | 12.2 | 32.9 | 27.8 | 10.3 |
| THFE | M6 | 10 | 0.8 mm Cold-rolled Steel | 47 | 60.1 | 886 | 13.4 | 18.1 | 14.3 | 8.3 |
| THFE | M8 | 27 | 0.8 mm Cold-rolled Steel | 47 | 71.2 | 881 | 13.1 | 32.9 | 28.1 | 10.3 |
fh-thfe-studs-unified
| TYPE | THREAD CODE | REC. NUT TIGHTENING TORQUE (ft. lbs.) | TEST SHEET THICKNESS & MATERIAL | SHEET HARDNESS HRB | INSTALLATION (lbs.) | PUSHOUT (lbs.) | TORQUE-OUT (in. lbs.) | TENSILE STRENGTH (lbs.) | PULL THRU (lbs.) | TEST BUSHING HOLE SIZE FOR PULL THRU TESTS (in.) |
| --- | --- | --- | --- | --- | --- | --- | --- | --- | --- | --- |
| THFE | 0420 | 8.1 | .031" Aluminum | 35 | 8800 | 116 | 71 | 3820 | 3249 | .340 |
| THFE | 0518 | 18 | .031" Aluminum | 44 | 11700 | 131 | 103 | 6280 | 5701 | 0.402 |
| THFE | 0420 | 8.5 | .031" Cold-rolled Steel | 47 | 13500 | 197 | 116 | 3820 | 3388 | .340 |
| THFE | 0518 | 18 | .031" Cold-rolled Steel | 47 | 16000 | 187 | 124 | 6280 | 5772 | .402 |
fh-tp4-pins-metric
| TYPE | PIN DIA. CODE | TEST SHEET MATERIAL | INSTALLATION (kN) | PUSHOUT (N) | | | | | | |
| --- | --- | --- | --- | --- | --- | --- | --- | --- | --- | --- |
| TP4 | 3MM | 300 Series Stainless Steel | 35 | 1556 | | | | | | |
| TP4 | 4MM | 300 Series Stainless Steel | 45 | 2335 | | | | | | |
| TP4 | 5MM | 300 Series Stainless Steel | 54 | 2535 | | | | | | |
| TP4 | 6MM | 300 Series Stainless Steel | 60 | 2891 | | | | | | |
fh-tp4-pins-unified
| TYPE | PIN DIA. CODE | TEST SHEET MATERIAL | INSTALLATION (lbs.) | PUSHOUT (lbs.) | | | | | | |
| --- | --- | --- | --- | --- | --- | --- | --- | --- | --- | --- |
| TP4 | 125 | 300 Series Stainless Steel | 8000 | 350 | | | | | | |
| TP4 | 187 | 300 Series Stainless Steel | 12000 | 570 | | | | | | |
| TP4 | 250 | 300 Series Stainless Steel | 14000 | 650 | | | | | | |
fh-tps-pins-metric
| TYPE | PIN DIA. CODE | TEST SHEET MATERIAL | SHEET HARDNESS HRB | INSTALLATION (kN) | PUSHOUT (kN) | | | | | |
| --- | --- | --- | --- | --- | --- | --- | --- | --- | --- | --- |
| TPS | 3MM | Aluminum | 22 | 12 | 0.56 | | | | | |
| TPS | 3MM | Steel | 65 | 22 | 0.98 | | | | | |
| TPS | 4MM | Aluminum | 19 | 22 | 0.89 | | | | | |
| TPS | 4MM | Steel | 66 | 26.4 | 1.54 | | | | | |
| TPS | 5MM | Aluminum | 18 | 28.6 | 1.01 | | | | | |
| TPS | 5MM | Steel | 60 | 35.2 | 1.76 | | | | | |
| TPS | 6MM | Aluminum | 18 | 30.8 | 1.1 | | | | | |
| TPS | 6MM | Steel | 62 | 39.6 | 2.1 | | | | | |
fh-tps-pins-unified
| TYPE | PIN DIA. CODE | TEST SHEET MATERIAL | SHEET HARDNESS HRB | INSTALLATION (lbs.) | PUSHOUT (lbs.) | | | | | |
| --- | --- | --- | --- | --- | --- | --- | --- | --- | --- | --- |
| TPS | 125 | Aluminum | 20 | 4500 | 150 | | | | | |
| TPS | 125 | Steel | 62 | 6500 | 250 | | | | | |
| TPS | 187 | Aluminum | 18 | 6500 | 230 | | | | | |
| TPS | 187 | Steel | 60 | 8000 | 400 | | | | | |
| TPS | 250 | Aluminum | 18 | 7000 | 270 | | | | | |
| TPS | 250 | Steel | 62 | 9000 | 500 | | | | | |
fh-tpxs-pins-metric
| TYPE | PIN DIA. CODE | TEST SHEET MATERIAL | SHEET HARDNESS HRB | INSTALLATION (kN) | PUSHOUT (kN) | | | | | |
| --- | --- | --- | --- | --- | --- | --- | --- | --- | --- | --- |
| TPXS | 3MM | Aluminum | 22 | 12 | 0.56 | | | | | |
| TPXS | 3MM | Steel | 65 | 22 | 0.98 | | | | | |
Inventory
| Distributor | Quantity | Contact | Phone | Address | Locations |
| --- | --- | --- | --- | --- | --- |