Fasteners for Magnesium and Aluminum Castings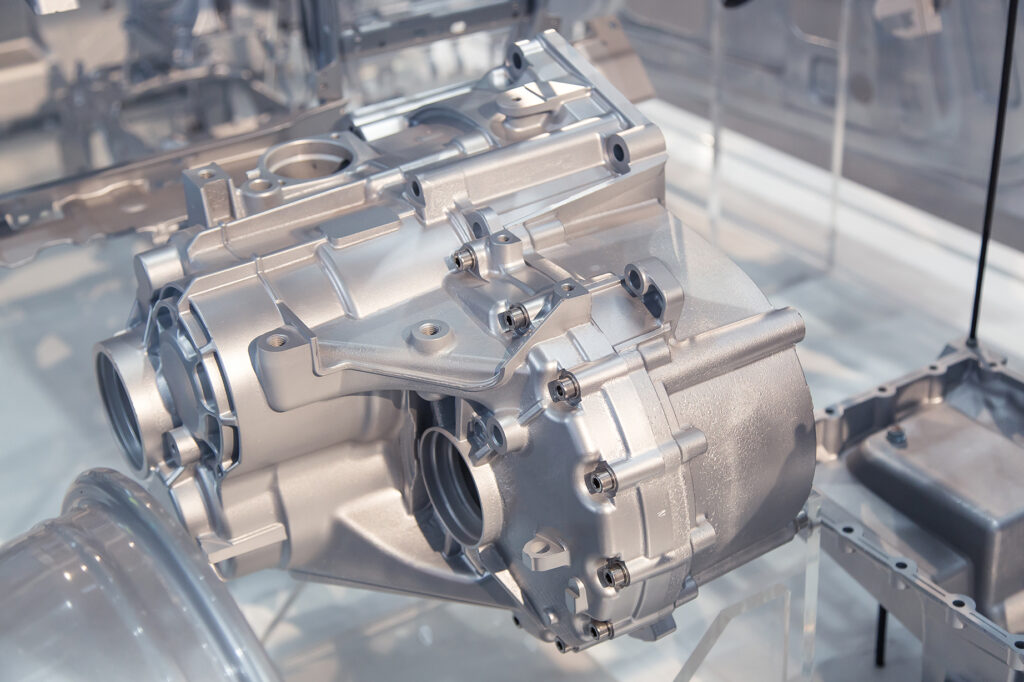 Why Magnesium or Aluminum Castings?
Intricate shapes can be created with a mold. This costs more upfront but saves in secondary efforts (drilling, milling, etc).

PEM® Broaching Nuts, Studs, and Standoffs can be used in Aluminum and Magnesium casting applications.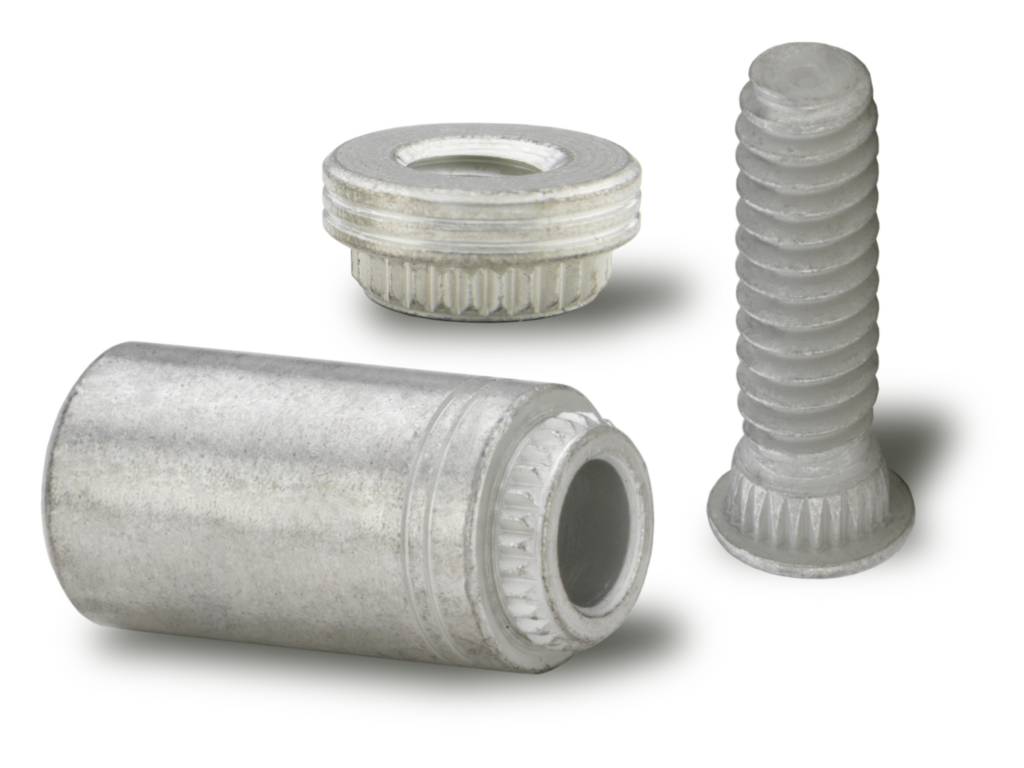 Magnesium
Magnesium is the lightest of all structured materials and has excellent stiffness and strength-to-weight ratios.
Outstanding EMI and RFI shielding properties, perfect for connectors or electrical housings.
Utilized for medical and laboratory equipment to provide protection against other interfering signals in a hospital room.
Aluminum
Creates lighter parts with more surface finishing options than other die cast alloys.
Withstand the highest operating temperatures of all the die cast alloys.
Corrosion resistant
Retains high dimensional stability with thin walls and can be used in almost any industry
Magnesium or Aluminum Castings
Fastener Solutions
Because Magnesium and Aluminum materials are lighter you need a way to cut into the material. Broaching Nuts and Standoffs have knurled "teeth" that allow you to do this.
Internally Threaded Fasteners
Product
Notes
KF2™ KFS2™ Broaching Nuts
KFE™ and KFSE™ Broaching Standoffs
KFB3™ For broaching and Flaring
CFN™ Broaching Locknut
Thinner sheets

Close-to-edge applications

Prevailing torque locking element provides torque to eliminate loosening of mating threaded hardware
PEM® RT® Locknut can be added to a broaching nut
MSOFS™ microPEM® Flaring Standoffs
Attach permanently in thin panels of any hardness including stainless steel

No minimum sheet thickness

Installed into any type or hardness panel (metal, plastic, PC Board)

Flaring feature allows for captivation of multiple panels

Fastener captivation method allows for reduced centerline-to-edge designs
SpinTite® AEL™ Low-Profile Head Inserts
Feature a large diameter, low-profile head and knurled shank

Offers highest all around strength
SpinTite® AEK™ Minimized-Profiled Head Inserts
Same as AEL but minimized-profile head

Near-flush installations with no need for special hole preparations such as countersinking or dimpling
AEH™ Half-Hex Shank Low Profile Head Inserts
Hex body design

Improved torque-out resistance
Plus+Tite® Blind Threaded Inserts
Superior pullout resistance in plastics and thin sheet metal

Internal formed threads are compatible with unified grade 5 or metric class 9.8 screws

Shoulder provides self-locating feature

All surfaces are plated for superior corrosion resistance
Hexagonal NFPA™ and NFPC™ Inserts
Press-fit insert provides strong, reusable threads. No heat or ultrasonic required

Hexagonal "barbed" configuration ensures high torque-out and pullout values

Aluminum inserts idea for light-weight designs

Aluminum and stainless steel inserts offer lead-free alternative
Externally Threaded Fasteners
Product
Notes
KFH™ Broaching Studs
Ideal use for PC Boards and plastics but also works in Castings and Magnesium

ET plated because it is expected for PC Boards and solder but it can be made with other finishes
SGP™ Swaging Collar Studs
Installs into sheets as thin as .024" / 0.6mm

Can be used to attach dissimilar materials

Can captivate multiple panels as long as the total thickness does not exceed the maximum sheet thickness

Can be installed into most materials including stainless steel and rigid non-metallic panels

Allows for close centerline-to-edge distance

The fastener can deform which allows it to be installed into any type of panel
Press-In Studs
Typically for Plastics but also work in Castings and Magnesium

Mounting components onto external threads

Lengths 3/6" to 1" (4.76 to 25.4mm)

Available in aluminum, brass, steel, and stainless steel

Can be installed into pre-molded or drilled holes without the use of heat or ultrasonics
Captive Panel Screws
Product
Notes
PFK™ Broaching Captive Panel Screws
Ideal use for PC Boards and plastics

Broaching feature allows it to broach into Cast aluminum or Magnesium
PF11MF™ PF11MW™ (Floating) PF7MF™ Flare-Mounted Captive Panel Screws
The fastener can deform which allows it to be installed into any type of panel

Works with in Casting situations
Screw Replacements
Product
Notes
TKA™ TK4™ microPEM® TackSert® Pins
Installation into Plastics, Metal Castings, other brittle materials
Simple press-in installation (does not require heat or ultrasonics) eliminates many costs and concerns associated with micro screws: Cross threading, Use of inserts/tapping, Tightening torque control, Vibrational back-out

Low profile head provides space savings

Tapered tip aligns fastener in hole

Easily installed automatically
Other Styles
Product
Notes
SFK™ SpotFast® Clinch/Broach Mount Fasteners
Holds two panels together

Can hold two panels together that are not like materials
KSSB™ Broaching Snap-Top® Standoffs
Ideal use for PC Boards and plastics

Broaching feature allows it to broach into Cast aluminum or Magnesium

Broaches into bottom material due to knurled tip
microPEM® ClampDisk™ Fastener
1mm Pin can be designed into the casting mold and enable the use of ClampDisk™ to replace loose screws

Presses straight onto a 1mm pin to replace threads, adhesive, rivets and other small fasteners

Upward flanges of the disk grip onto the pin and prevent push-off while the download flanges flex and generate clamp load

Simple installation

Removability

Works with multiple panels of any type

Limited installation stress to assemble

Tamper-evident
Have a question?
Talk to an Engineer.
See what's possible.
Connect with a PEM® engineering expert today and discover a reliable, cost-effective fastening solution for your challenging applications.
Email: [email protected]
U.S. 1-866-236-4063
Europe: 353-91-751714
China: 86-21-5868-3688
Singapore: 65-6-745-0660