F-M2.5-2
PEMSERT® Self-Clinching Flush Fasteners – Type F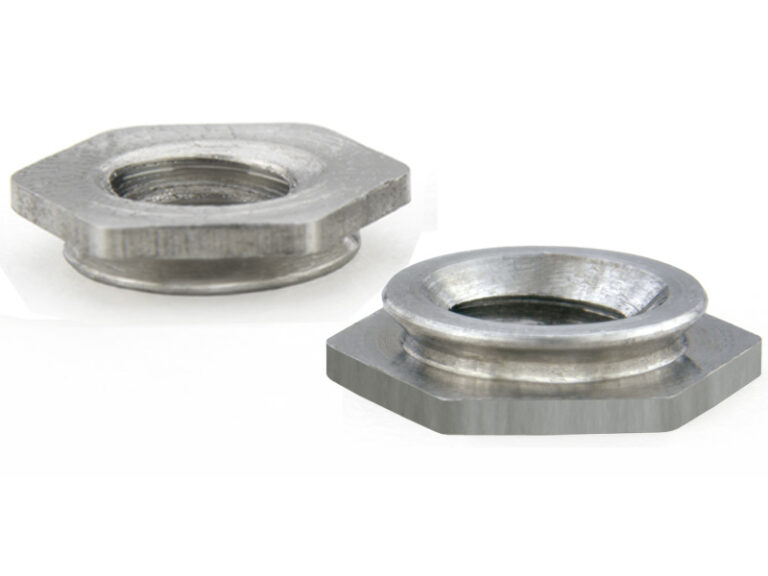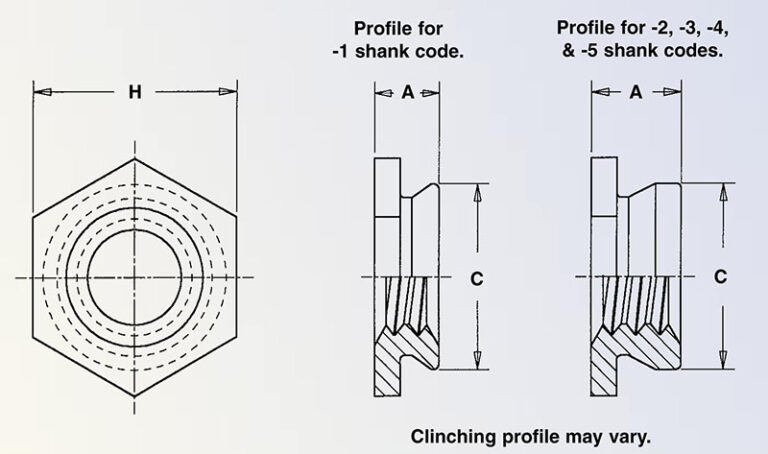 F-M2.5-2
PEMSERT® Self-Clinching Flush Fasteners – Type F
PEMSERT self-clinching flush nuts are designed to be completely flush in sheets as thin as 1.5mm.
These fasteners are ideal for applications where a thin sheet requires load-bearing threads but still must remain smooth, with no protrusions on either surface. The PEM flush nut can be installed easily by squeezing it into a round hole in metal sheets. When the fastener is installed, both the top and the bottom of the sheet remain smooth, enhancing the functional and cosmetic qualities of the entire assembly. PEMSERT self-clinching flush nuts can be installed in metal sheets before bending and forming. This can provide strong threads in places which would be inaccessible for installation after chassis are formed.
The hexagonal head along with the proven PEM self-clinching design ensures high axial and torsional strength and PEMSERT Type F fasteners can be ordered to conform to US NASM45938/4 specifications.
Specifications
Thread Code

M2.5

Thread Size

M2.5 x 0.45

Thread Size X Pitch

M2.5 x 0.45

Thread Specification

6H, ASME B1.13M, Internal

Shank Code

2

Fastener Material

300 Series Stainless Steel

Standard Finish

Passivated and/or tested, Passivated and/or tested per ASTM A380

For Use in Sheet Hardness

HRB 70 / HB 125 or Less

Product Category

PEMSERT® Self-Clinching Flush Fasteners – Type F

CAD Supplier

PennEngineering® (PEM®)

CADPartID

103691

Application Type

Aerospace, Automotive, Automotive Electronics, Commercial Vehicles, Datacom, Electric Vehicle Chargers, Electric Vehicles, Electronics, Industrial, Manufacturing & Sheet Metal Fabrication, Marine, Medical, Renewable Energy, Telecom

Base Panel Material

Aluminum, Steel

Brand

PEM

Fastener Characteristics

Flush, Threaded Internal

Industry

Automotive, Automotive Electronics, Datacom & Telecom, Defense, Electic Vehicles, Electric Vehicles, Industrial & Commercial, Medical

Installation Equipment/Method

C-Frame Automatic Feed, C-Frame Manual Feed

PEM Product Family

F

Product Type

Nuts

Technology Type

Self-Clinching

Unit (Metric/Unified)

Metric
A Shank Max

2.3mm

H Nom._mm

4.8mm

Hole Size in Sheet + 0.08_mm

4.37mm

Min. Dist. Hole C/L to Edge_mm

6mm

C Max._mm

4.35mm

Sheet Thickness_mm

2.32 Min.mm
Installation & Performance Data
f-f-nuts-metric
| TYPE | THREAD CODE | SHANK CODE | AXIAL TENSILE STRENGTH (kN) | REC. TIGHTENING TORQUE (N•m) | TEST SHEET MATERIAL | INSTALLATION (kN) | PUSHOUT (N) | |
| --- | --- | --- | --- | --- | --- | --- | --- | --- |
| F | M2.5 | 1 | 0.68 | 0.23 | 5052-H34 Aluminum | 8.9 | 665 | |
| F | M2.5 | 2 | 0.68 | 0.23 | 5052-H34 Aluminum | 8.9 | 665 | |
| F | M2.5 | 1 | 0.68 | 0.23 | Cold-Rolled Steel | 13.3 | 890 | |
| F | M2.5 | 2 | 0.68 | 0.23 | Cold-Rolled Steel | 13.3 | 890 | |
Inventory
| Distributor | Quantity | Contact | Phone | Address | Locations |
| --- | --- | --- | --- | --- | --- |