HFE-M5-20ZI
High-Strength Studs for Thin Sheets – Type HFE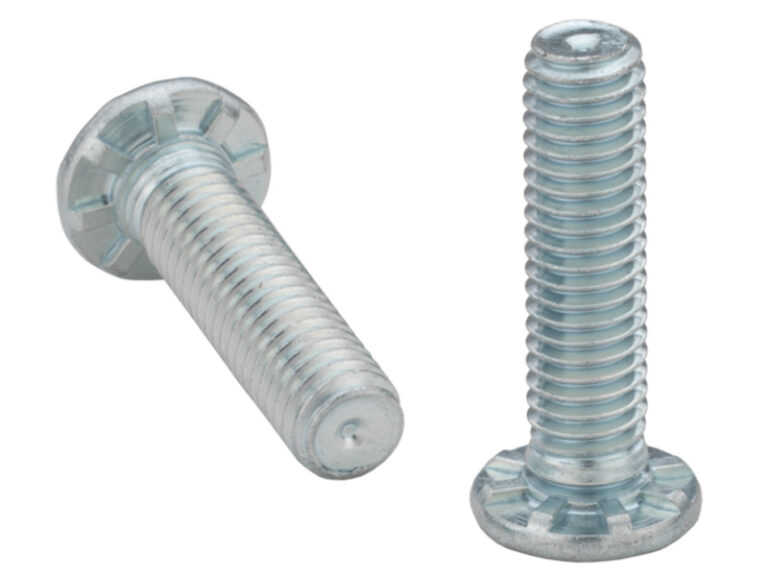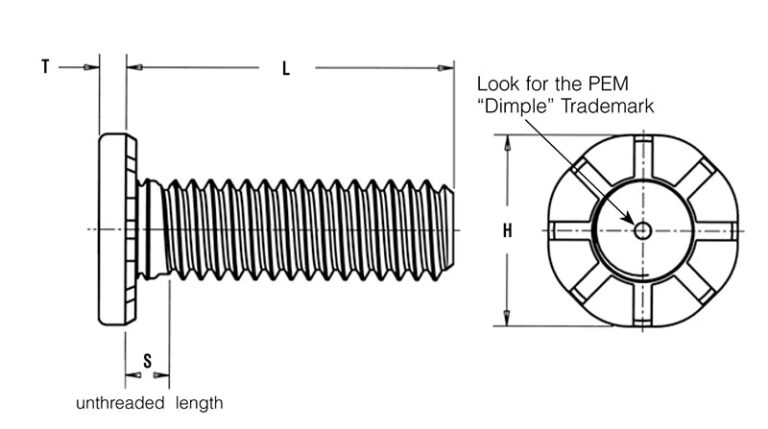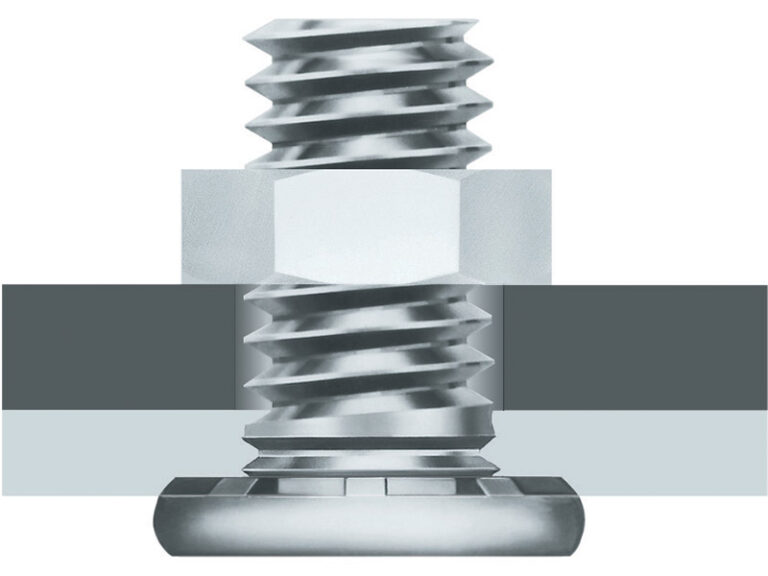 HFE-M5-20ZI
High-Strength Studs for Thin Sheets – Type HFE
PEM® self-clinching studs are installed by placing them in properly sized holes in the sheets and squeezing into place with any standard press. The squeezing action embeds the head of the stud into the sheet. The metal displaced by the head flows smoothly and evenly around the ribs and into the annular groove – creating a flushhead assembly and securely locking the stud into the sheet with high torque-out and pushout resistances.
HFE (heavy-duty) Studs are designed with an enlarged head diameter which projects above the sheet material and provides maximum pull through in sheets as thin as 1.00 mm.- Enlarged head diameter provides high-strength in sheets as thin as 1.00 mm.
Recommended for use in steel or aluminum sheets HRB (Rockwell "B" Scale) 85 or less and HB (Hardness Brinell) 165 or less.
Specifications
Thread Code

M5

Thread Size

M5 x 0.8

Thread Size X Pitch

M5 x 0.8

Thread Specification

6g, ASME B1.13M, External

Fastener Material

Carbon Steel, Heat-Treated Carbon Steel

Standard Finish

colorless, SC1 (5µm), Type III, Zinc plated per ASTM B633, Zinc plus Clear Chromate

For Use in Sheet Hardness

HRB 85 / HB 165 or Less

Length Code

20

Thread Strength_MPa

900

Product Category

High-Strength Studs for Thin Sheets – Type HFE

CAD Supplier

PennEngineering® (PEM®)

CADPartID

103711

Application Type

Aerospace, Automotive, Commercial Vehicles, Industrial, Manufacturing & Sheet Metal Fabrication

Base Panel Material

Aluminum, Steel

Brand

PEM

Fastener Characteristics

Threaded External

Industry

Automotive, Datacom & Telecom, Defense, Electic Vehicles, Electric Vehicles, Industrial & Commercial

Installation Equipment/Method

C-Frame Automatic Feed, C-Frame Manual Feed, In-Die

PEM Product Family

FH

Product Type

Studs

Technology Type

Self-Clinching

Unit (Metric/Unified)

Metric
H Plus Minus 025 Mm

9.6mm

Hole Size in Sheet + 0.13_mm

5mm

L Len Pm 015in Or 4mm

20mm

Max. Hole in Attached Parts_mm

7.3mm

Min. Dist. Hole C/L to Edge_mm

10mm

Min. Sheet Thickness_mm

1mm

S Max._mm

2.6mm

T Max._mm

1.35mm
Installation & Performance Data
fh-hfe-studs-metric
| TYPE | THREAD CODE | REC. NUT TIGHTENING TORQUE (N•m) | TEST SHEET THICKNESS & MATERIAL | SHEET HARDNESS HRB | INSTALLATION (kN) | PUSHOUT (N) | TORQUE-OUT (N•m) | TENSILE STRENGTH (kN) | PULL THRU (N) | PULL THRU TEST BUSHING HOLE SIZE (mm) |
| --- | --- | --- | --- | --- | --- | --- | --- | --- | --- | --- |
| HFE | M5 | 5.8 | 1 mm Aluminum | 27 | 37.7 | 690 | 8.1 | 12.8 | 9.7 | 7.4 |
| HFE | M5 | 6.4 | 1 mm Cold-rolled Steel | 67 | 51.1 | 1350 | 8.1 | 12.8 | 10.6 | 7.4 |
Inventory
| Distributor | Quantity | Contact | Phone | Address | Locations |
| --- | --- | --- | --- | --- | --- |