LK-M4-1MD
PEMFLEX® Self-locking, Self-clinching Fasteners – Types LK, LKA, LKS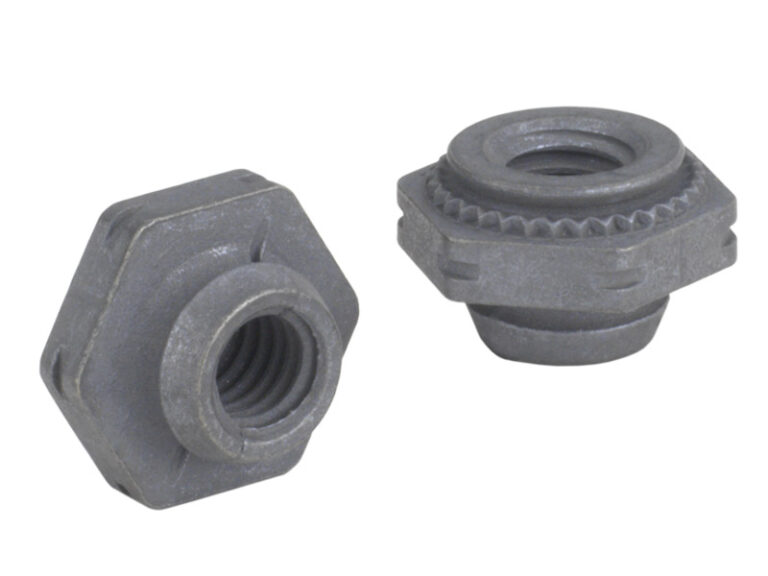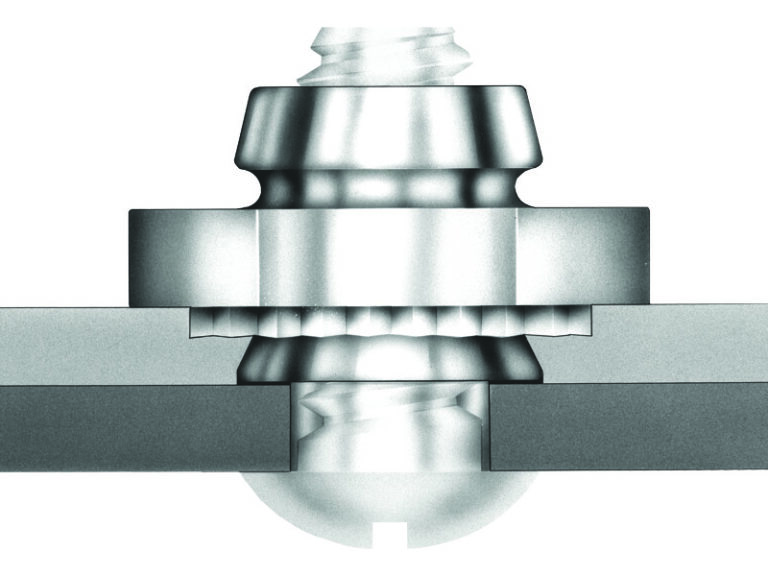 LK-M4-1MD
PEMFLEX® Self-locking, Self-clinching Fasteners – Types LK, LKA, LKS
PEM® PEMFLEX® self-locking, self-clinching fasteners retain their repeated use and effective prevailing locking torque.
Shoulder provides increased performance.
Flexing action permits repeated use and effective locking torque.
Flange provides positive stop during installation.
The thread locking performance of Types LK, LKA, and LKS PEMHEX self-clinching fasteners (with MD finish) is equivalent to applicable NASM25027 specifications. The self-clinching feature is the same tried and proven design preferred and appreciated for fast, simple assembly. These fasteners do not protrude through the reverse side of the sheet and provide positive, permanent attachment with high torque-out (many times greater than locking torque) and pushout resistances.
PEM all-metal, self-locking fasteners are available in steel, stainless steel, and aluminum. Types LK (steel) and LKS (stainless) are treated with a black dry film lubricant for better locking performance. Type LKA (aluminum) must be used with a lubricated screw. The PEM design utilizes two rugged, semicircular flexing jaws instead of several less-supported segments. The greater ruggedness and retention of this PEMFLEX action prevents relaxation and loosening of the fastener in severe service.
This PEMFLEX design also protects the screw threads. Clearances obtained by only two interruptions of a full circumference, together with the spreading of the jaws by the entering screw, minimize the possibility of thread damage.
Specifications
Thread Size

M4 x 0.7

Thread Size X Pitch

M4 x 0.7

Thread Specification

6H, ANSI/ASME B1.13M, Internal

Fastener Material

Carbon Steel

Standard Finish

Black, Black Dry Film Lubricant, Dry-film Lubricant over Zinc Phosphate

For Use in Sheet Hardness

HRB 70 / HB 125 or Less

Anvil Depth_mm

5.50mm

Anvil Dia._mm

13.00mm

Product Category

PEMFLEX® Self-locking, Self-clinching Fasteners – Types LK, LKA, LKS

CAD Supplier

PennEngineering® (PEM®)

CADPartID

103695

Application Type

Automotive Electronics, Datacom, Electric Vehicle Chargers, Industrial, Telecom

Base Panel Material

Aluminum, Steel

Brand

PEM

Fastener Characteristics

Locking, Threaded Internal

Industry

Automotive Electronics, Datacom & Telecom, Industrial & Commercial, Medical

Installation Equipment/Method

C-Frame Automatic Feed, C-Frame Manual Feed

PEM Product Family

LN

Product Type

Nuts

Technology Type

Self-Clinching

Unit (Metric/Unified)

Metric
A Shank Max

0.97mm

Breaker Corner_mm

0.13mm

E Nom._mm

8.73mm

Hole Size in Sheet + 0.08_mm

6.76mm

Min. Dist. Hole C/L to Edge_mm

5.20mm

Min. Sheet Thickness_mm

1mm

C Max._mm

6.73mm

D Max._mm

6.2mm

Punch Dia._mm

13.00mm

T ± 0.25_mm

4.45mm
Installation & Performance Data
ln-lk-lks-lka-metric
| TYPE | THREAD CODE | SHANK CODE | TEST SHEET MATERIAL | INSTALLATION (kN) | PUSHOUT (N) | TORQUE-OUT (N•m) | | | | |
| --- | --- | --- | --- | --- | --- | --- | --- | --- | --- | --- |
| LK, LKS, LKA | M4 | 1 | 5052-H34 Aluminum | 12 | 667 | 5.1 | | | | |
| LK, LKS, LKA | M4 | 2 | 5052-H34 Aluminum | 13.3 | 1112 | 5.7 | | | | |
| LK, LKS, LKA | M4 | 1 | Cold-Rolled Steel | 17.8 | 845 | 5.6 | | | | |
| LK, LKS, LKA | M4 | 2 | Cold-Rolled Steel | 19.1 | 1334 | 7.9 | | | | |
Inventory
| Distributor | Quantity | Contact | Phone | Address | Locations |
| --- | --- | --- | --- | --- | --- |