TAPTITE®
TAPTITE® thread rolling screws roll form threads in plain cored, drilled, or punched holes upon assembly. Creating vibration resistant assemblies, eliminating the need to pre-tap internal threads in ductile materials…
TAPTITE® thread rolling screws roll form threads in plain cored, drilled, or punched holes upon assembly. Creating vibration resistant assemblies, eliminating the need to pre-tap internal threads in ductile materials such as steel, aluminum, zinc, etc., thus lowering the cost of assembly.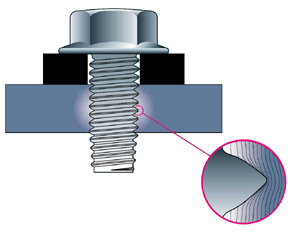 Ergonomically friendly
Assembly friendly
Superior vibration resistance
Excellent axial alignment
Low end load
High strip-to-drive ratio
High prevailing torque
Excellent torque tension relationship
TAPTITE® is a registered trademark of REMINC®.