Why microPEM®
Product teardowns identified the need for assembly solutions that not only fit into compact spaces but also could be used with thinner/lighter materials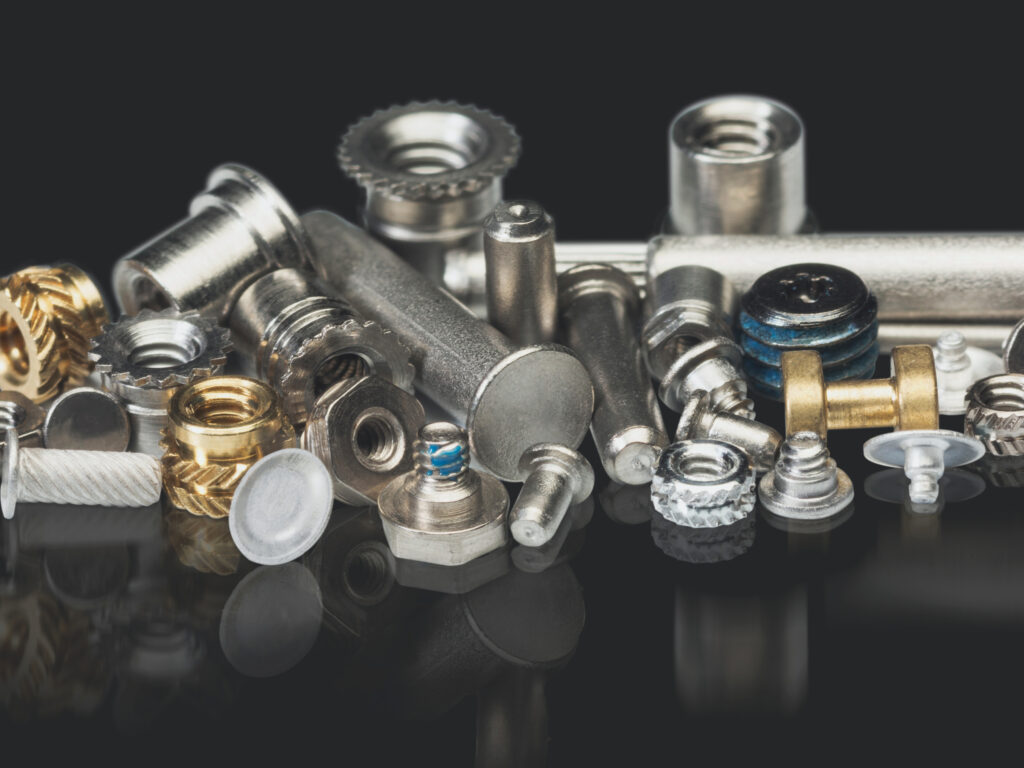 micropem® tackpin®
What are your costs to design a screw?
Cost of screw
Cost of patch to prevent loosening
Cost of threaded insert or tapped hole
Cost of installation time - screw vs press
Cost of rework due to cross-threading
Cost of driver bits
Cost of rework due to driver bit "cam-out"
Is this less than $7k-12k?
TackPin® vs Screw

TackPin®
Low-profile head
Interference fit eliminates hole tolerance
Tapered tip assists location
Positive engagement, 360 degree metal contact that will not loosen
Less weight
Screw
Costly tapping
Cross-threading
Torque control
Vibration back-out
Leather Cell Phone Case
No space is available for loose screws so a T4 TackPin® was used.
Highly cosmetic finish on the anodized aluminum buttons protected by coordinating both the fastener design and the install process.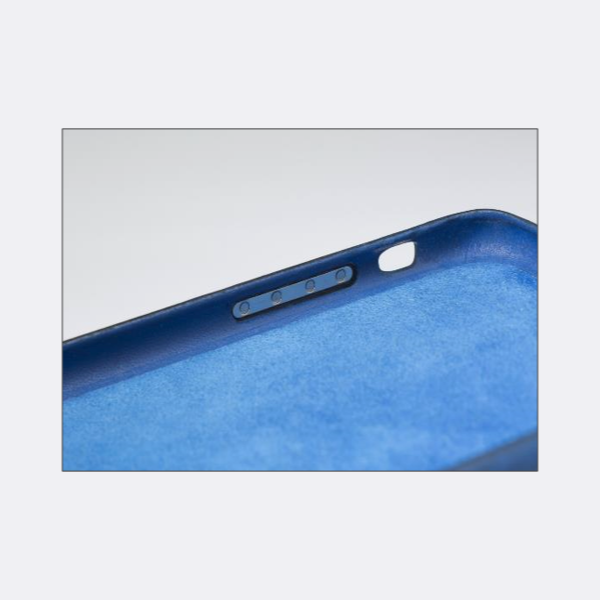 PCB to Copper Busbar
TackPin® replaced adhesive.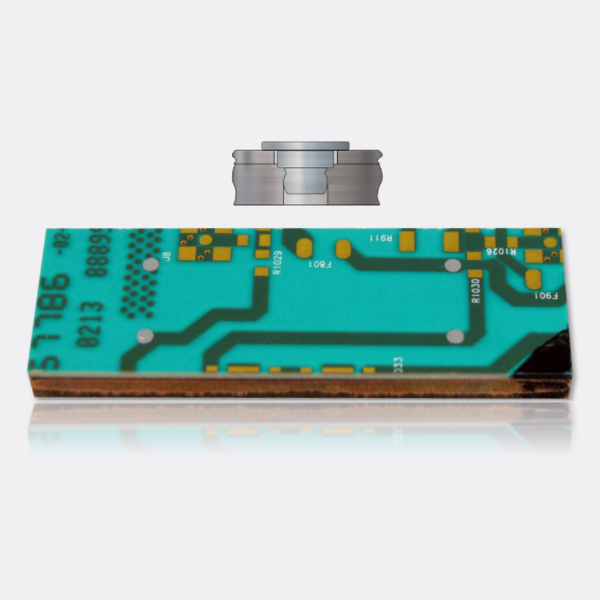 TackSert® Pins
Cost-saving, Permanent, and Tamper-evident Screw Replacement
Suitable for installation into plastics, metal castings and other brittle materials
Reduce installation time vs a screw
Simple press installation, does not require heat or ultrasonics
Low profile head provides space savings
Tapered tip aligns fastener in hole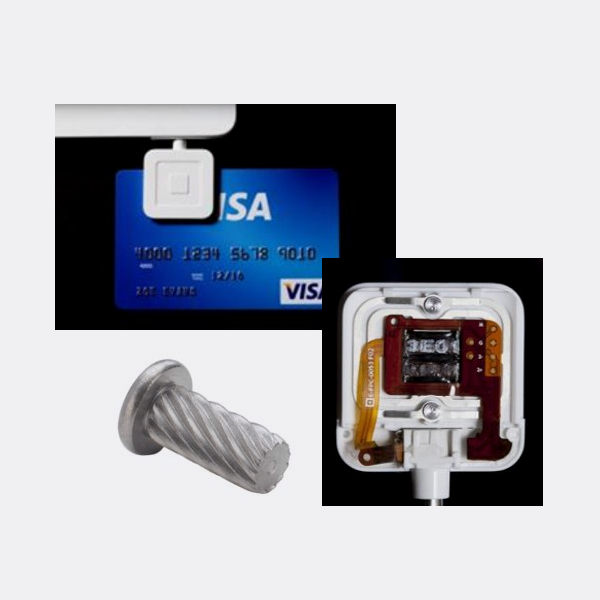 Consumer Electronics
Credit Card Reader
This customer was looking to streamline their card-reader dongle. Their new reader is 50% thinner than their original reader. One of the ways they were able to accomplish this was by eliminating two screws. This plastic reader is never repaired; it is simply replaced. Therefore, there is no need for a removable screw, and now their product is thinner, and easier to assemble.
Other microPEM® Fasteners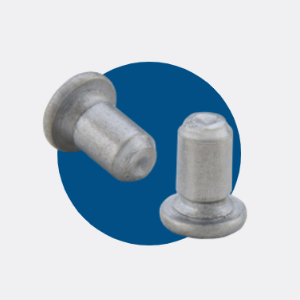 MPP™ microPEM® Pin
Satisfies micro positioning and alignment requirements with pin diameters as small as .40" / 1.0mm
Flush installation into materials as thin as .020" / 0.5mm and as hard as HRB 92 / HB 195 such as stainless steel
Made from A286 excellent corrosion resistance
Chamfered end eases mating hole alignment
RoHS compliant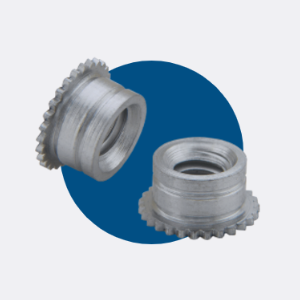 MSO4™ microPEM® Standoff
Thread sizes from M0.8
Made from heat-treated 400 Series Stainless Steel. Stronger threads than weld standoffs
Installs into materials with a maximum hardness of HRB 88 and as thin as 0.3mm / .012"
Lengths as short as 0.7mm or .028"
Round, knurled head for close centerline to edge placement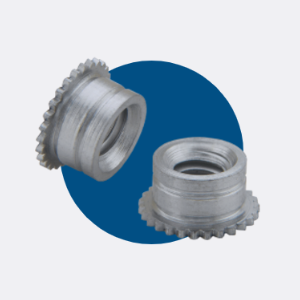 microPEM® MSOFS™ Standoff
microPEM® MSOFS™ flaring standoffs attach permanently in panels as thin as .008" / 0.2mm of any hardness, including stainless steel
Can be installed into any type of panel, including metal, plastic and P.C. Board
Flaring feature allows for installation into multiple panels
Small footprint allows for reduced centerline-to-edge designs
Threads as small as M0.8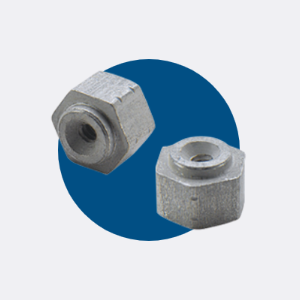 microPEM® SMTSO™ Standoffs
Thread sizes from M0.8
Steel and Brass material choices
Electro-Plated Tin
Sold on Tape-And-Reel or loose
Hex body for additional strength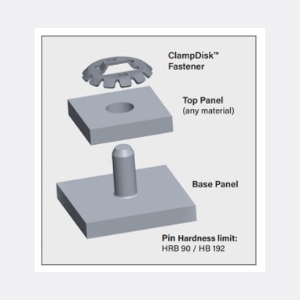 microPEM® ClampDisk® Fastener
Clamp load generation
Simple installation
Removability
Works with multiple panels of any material
Limited installation stress to assemble
Tamper-evident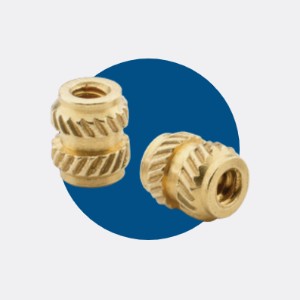 microPEM® MSIB/MSIS/MSIA
Thread sizes from M0.8
Brass, Stainless Steel, Aluminum material choices
Ultrasonic or Heat-stake installation
agsg