FE-832-MD
Miniature Self-Clinching Fasteners – Types U, UL, FE, FEO, FEOX, FEX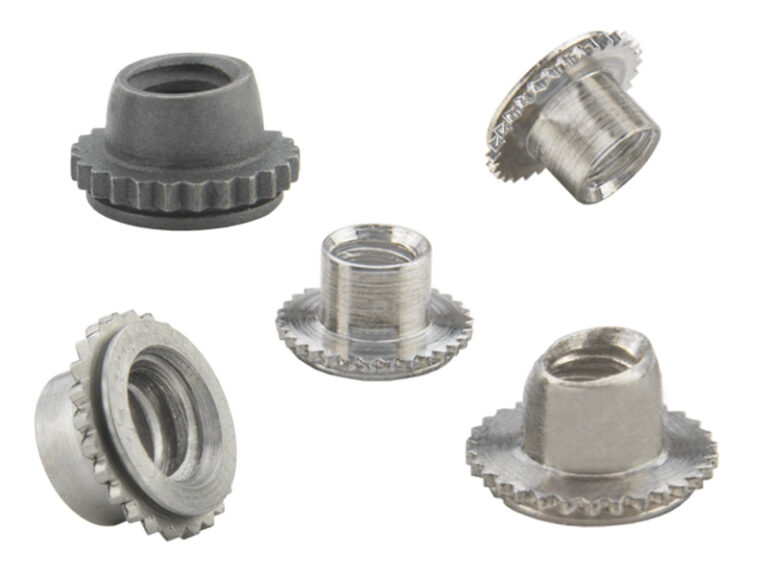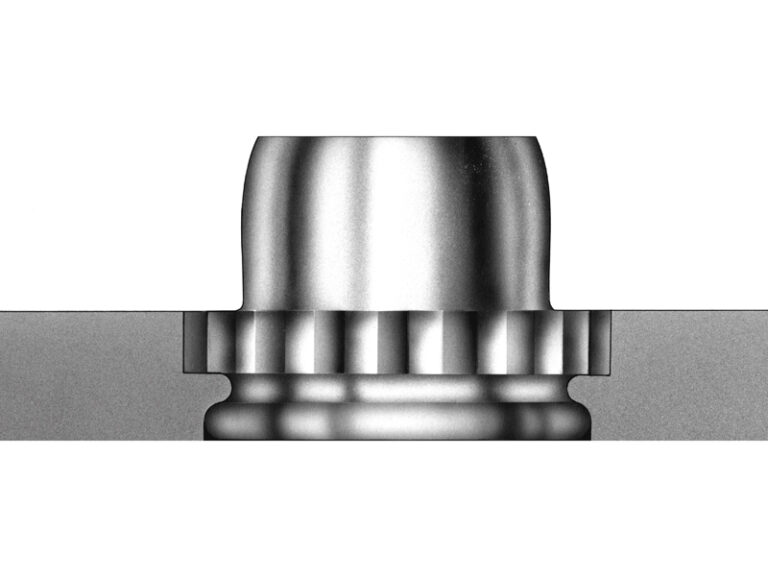 FE-832-MD
Miniature Self-Clinching Fasteners – Types U, UL, FE, FEO, FEOX, FEX
PEM® brand miniature fasteners fit into a minimal space and provide strong, reusable threads.
Types FE, FEO and UL are self-locking. Types FE and FEO thread locking torque performance is equivalent to applicable NASM25027 specifications. Type UL self-locking nuts meet locking torque requirements specified herein. Some sizes of FE, FEO, and UL can be ordered to NASM45938/7 specifications. Types FEX, FEOX and U have free-running class 2B/6H threads.
PEM miniature fasteners provide immediate visual indication when proper installation has been accomplished.
A strong, knurled collar, which is completely embedded in the sheet, guarantees against rotation of the fastener in the sheet. The torque-out resistance of the knurl greatly exceeds the torque that can be exerted by the selflocking feature.
When this collar is embedded in the sheet, the undercut cavity beneath the collar is filled with displaced sheet material thereby developing pushout resistance.
A dry-film lubricant applied to these fasteners provides the smooth, non-galling prevailing torque performance necessary for reliable locking and for reusability.
Specifications
Thread Code

832

Thread Size

#8-32

Thread Specification

Internal, MIL-S-8879, UNJ-3B

Fastener Material

300系列不锈钢

Standard Finish

黑色干膜润滑剂

For Use in Sheet Hardness

HRB 70 / HB 125 or Less

Product Category

Miniature Self-Clinching Fasteners – Types U, UL, FE, FEO, FEOX, FEX

CAD Supplier

PennEngineering® (PEM®)

CADPartID

103692

Thread Type

Self-Locking

Application Type

汽车电子, 消费电子, 数据通信, 电信

Base Panel Material

铝, 钢

Brand

PEM

Fastener Characteristics

锁紧, 小型, 外螺纹, 内螺纹

Industry

汽车电子, 消费电子, 数据通信-电信

Installation Equipment/Method

C型架自动进料, C型架手动进料

PEM Product Family

FE, LN

Product Type

螺母

Technology Type

自扣紧

Unit (Metric/Unified)

公制
A Shank Max

0.06in

C + .000 – .005_in

0.289in

E ± .005_in

0.322in

Hole Size in Sheet + .003 – .000_in

0.29in

Max. Hole in Attached Parts_in

0.184in

Min. Dist. Hole C/L to Edge_in

0.2in

D Max._in

0.215in

Sheet Thickness_in

.059 to .070in

T + .015 -.000_in

0.09in
Installation & Performance Data
fe-fe-fex-feo-feox-fasteners-unified
| TYPE | THREAD CODE | TEST SHEET MATERIAL | INSTALLATION (lbs.) | PUSHOUT (lbs.) | TORQUE-OUT (in. lbs.) | | | |
| --- | --- | --- | --- | --- | --- | --- | --- | --- |
| FE, FEX | 832 | 5052-H34 Aluminum | 1500 | 255 | 48 | | | |
| FE, FEX | 832 | Cold-Rolled Steel | 2500 | 360 | 48 | | | |
ln-fe-feo-nuts-unified
| TYPE | THREAD CODE | TEST SHEET MATERIAL | INSTALLATION (lbs.) | PUSHOUT (lbs.) | TORQUE-OUT (in. lbs.) | | | | | |
| --- | --- | --- | --- | --- | --- | --- | --- | --- | --- | --- |
| FE | 832 | 5052-H34 Aluminum | 1500 | 255 | 48 | | | | | |
| FE | 832 | Cold-Rolled Steel | 2500 | 360 | 48 | | | | | |
Inventory
| Distributor | Quantity | Contact | Phone | Address | Locations |
| --- | --- | --- | --- | --- | --- |