SMTSO-M1.4-3ET
ReelFast® microPEM® Surface Mount Nuts / Standoffs –
Type SMTSO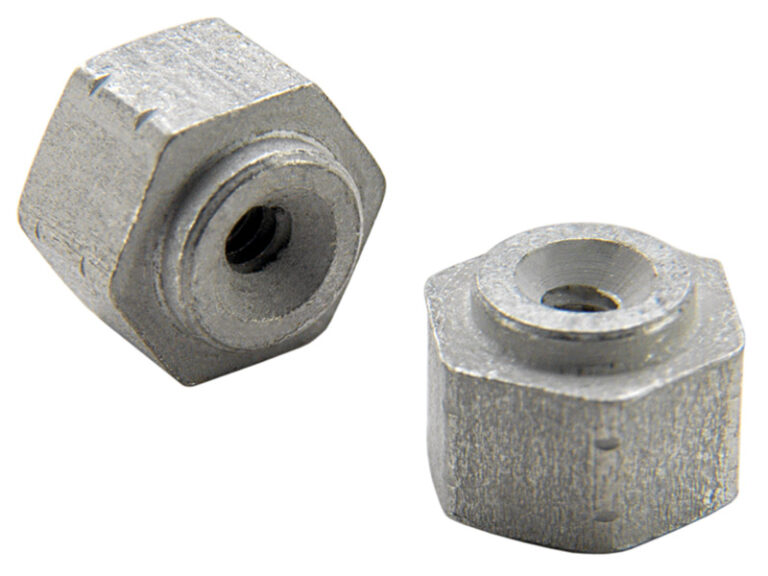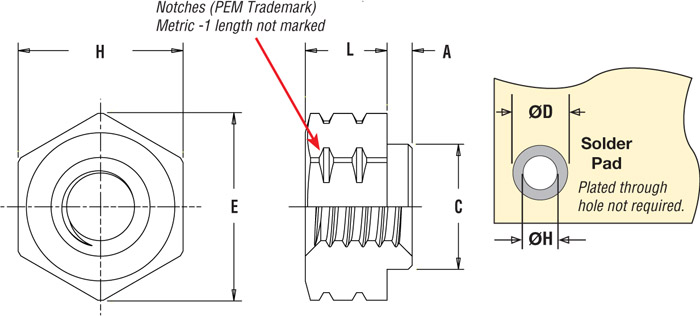 SMTSO-M1.4-3ET
ReelFast® microPEM® Surface Mount Nuts / Standoffs –
Type SMTSO
Surface mount ReelFast® microPEM® (Type SMTSO™) fasteners for compact electronic assemblies attach to P.C. Boards for nut/standoff applications. These fasteners mount on P.C. Boards in the same manner and at the same time as other surface mount components prior to the automated refl ow solder process. The fasteners simply become another board component.
Features and Benefits
Hex shaped barrel provides larger solder area.
Provided on tape and reel.
Reduces board handling.
Smallest thread size: M1 / #0-80.
Minimum sheet thickness 0.5 mm / .020".
RoHS compliant.
Specifications
Thread Code

M1.4

Thread Size

S1.4

Thread Size X Pitch

S1.4

Thread Specification

4H6, Miniature ISO 1501

Fastener Material

Carbon Steel

Standard Finish

Annealed, ASTM B545, Class A with Clear Preservative Coating, Electro-Plated Tin, Tin Electroplate

For use in

P.C. Boardin

For Use in Sheet Hardness

Not Applicable

Length Code

3

Parts per Reel

2000

Product Category

ReelFast® Surface Mount Nuts and Spacers/Standoffs –
Type SMTSO

CAD Supplier

PennEngineering® (PEM®)

CADPartID

106669

Application Type

Automotive Electronics, Datacom, Telecom

Base Panel Material

PC Board

Brand

PEM

Fastener Characteristics

Threaded Internal

Industry

Automotive Electronics, Datacom & Telecom

Installation Equipment/Method

Surface Mount

L Len Pm 005in Or 13mm

3mm

PEM Product Family

K, MPF

Product Type

Nuts, Standoffs

Technology Type

Surface Mounted

Unit (Metric/Unified)

Metric
A Max._mm

0.48mm

E ± 0.13_mm

3.66mm

Min. Sheet Thickness_mm

0.50mm

C Max._mm

2.41mm

øD – Min. Solder Pad_mm

4.19mm

øH – Hole Size in Sheet + 0.08_mm

2.50mm

Pitch_mm

8.00mm

X Nom._mm

3.18mm
Installation & Performance Data
k-kssb-standoffs-metric
| TYPE | Panel 1 (1.5 mm FR-4 Fiberglass) | INSTALLATION (kN) | PUSHOUT (N) | Panel 2 (Removable) | MAX. FIRST ON FORCE (N) | MIN. FIRST OFF FORCE (N) | MIN. 15TH OFF FORCE (N) | | | |
| --- | --- | --- | --- | --- | --- | --- | --- | --- | --- | --- |
| KSSB | Panel 1 (1.5 mm FR-4 Fiberglass) | 2.2 | 484 | Panel 2 (Removable) | 57.7 | 13.3 | 4.4 | | | |
k-kssb-standoffs-unified
| TYPE | Panel 1 (.060" FR-4 Fiberglass) | INSTALLATION (lbs.) | PUSHOUT (lbs.) | Panel 2 (Removable) | MAX. FIRST ON FORCE (lbs.) | MIN. FIRST OFF FORCE (lbs.) | MIN. 15TH OFF FORCE (lbs.) | | | |
| --- | --- | --- | --- | --- | --- | --- | --- | --- | --- | --- |
| KSSB | Panel 1 (.060" FR-4 Fiberglass) | 500 | 110 | Panel 2 (Removable) | 13 | 3.0 | 1.0 | | | |
k-sfk-fasteners-metric
| TYPE | THICKNESS CODE | INSTALLATION INTO PANEL 1 COLD-ROLLED STEEL (kN) | INSTALLATION INTO PANEL 2 FR-4 FIBERGLASS (kN) | PUSHOUT OF PANEL 2 (N) | | | | | | |
| --- | --- | --- | --- | --- | --- | --- | --- | --- | --- | --- |
| SFK-3 | 0.8 | 6.2 | 1.8 | 200 | | | | | | |
| SFK-3 | 1.0 | 8 | 1.8 | 200 | | | | | | |
| SFK-3 | 1.2 | 8.9 | 1.8 | 200 | | | | | | |
| SFK-3 | 1.6 | 10.2 | 1.8 | 200 | | | | | | |
| SFK-5 | 0.8 | 11.1 | 1.8 | 400 | | | | | | |
| SFK-5 | 1.0 | 13.5 | 1.8 | 400 | | | | | | |
| SFK-5 | 1.2 | 15.6 | 1.8 | 400 | | | | | | |
| SFK-5 | 1.6 | 17.8 | 1.8 | 400 | | | | | | |
k-sfk-fasteners-unified
| TYPE | THICKNESS CODE | INSTALLATION INTO PANEL 1 COLD-ROLLED STEEL (lbs.) | INSTALLATION INTO PANEL 2 FR-4 FIBERGLASS (lbs.) | PUSHOUT OF PANEL 2 (lbs.) | | | | | | |
| --- | --- | --- | --- | --- | --- | --- | --- | --- | --- | --- |
| SFK-3 | 0.8 | 1400 | 400 | 45 | | | | | | |
| SFK-3 | 1.0 | 1800 | 400 | 45 | | | | | | |
| SFK-3 | 1.2 | 2000 | 400 | 45 | | | | | | |
| SFK-3 | 1.6 | 2300 | 400 | 45 | | | | | | |
| SFK-5 | 0.8 | 2500 | 400 | 90 | | | | | | |
| SFK-5 | 1.0 | 3000 | 400 | 90 | | | | | | |
| SFK-5 | 1.2 | 3500 | 400 | 90 | | | | | | |
| SFK-5 | 1.6 | 4000 | 400 | 90 | | | | | | |
k-smtpflsm-fasteners-metric
| TYPE & THREAD SIZE | MIN. TENSILE STRENGTH (N) | REC. TIGHTENING TORQUE (N•m) | TEST SHEET MATERIAL & THICKNESS | PULL-OFF (N) | | | | | | |
| --- | --- | --- | --- | --- | --- | --- | --- | --- | --- | --- |
| SMTPFLSM-M3 | 2900 | 0.61 | 1.5 mm P.C. Board | 445 | | | | | | |
| SMTPFLSM-M3.5 | 3269 | 0.8 | 1.5 mm P.C. Board | 465 | | | | | | |
k-smtpflsm-fasteners-unified
| TYPE & THREAD SIZE | MIN. TENSILE STRENGTH (lbs.) | REC. TIGHTENING TORQUE (in. lbs.) | TEST SHEET MATERIAL & THICKNESS | PULL-OFF (lbs.) | | | | | | |
| --- | --- | --- | --- | --- | --- | --- | --- | --- | --- | --- |
| SMTPFLSM-440 | 556 | 4.4 | .060" P.C. Board | 100 | | | | | | |
| SMTPFLSM-632 | 724 | 7.0 | .060" P.C. Board | 105 | | | | | | |
k-smtpr-metric
| PART NUMBER | TEST SHEET MATERIAL & THICKNESS | PUSHOUT (N) | | | | | | | | |
| --- | --- | --- | --- | --- | --- | --- | --- | --- | --- | --- |
| SMTPR-1ET | .062" Single Layer FR-4 | 718 | | | | | | | | |
k-smtpr-unified
| PART NUMBER | TEST SHEET MATERIAL & THICKNESS | PUSHOUT (lbs.) | | | | | | | | |
| --- | --- | --- | --- | --- | --- | --- | --- | --- | --- | --- |
| SMTPR-1ET | .062" Single Layer FR-4 | 161.4 | | | | | | | | |
k-smtra-fasteners-metric
| PART NUMBER | TEST SHEET MATERIAL & THICKNESS | PUSHOUT (N) | SIDE LOAD (N) | | | | | | | |
| --- | --- | --- | --- | --- | --- | --- | --- | --- | --- | --- |
| SMTRAM2-6-5 | 1.58 mm Single Layer FR-4 | 418.2 | 56.8 | | | | | | | |
| SMTRAM25-6-5 | 1.58 mm Single Layer FR-4 | 216.5 | 36.9 | | | | | | | |
| SMTRAM3-7-5 | 1.58 mm Single Layer FR-4 | 257.6 | 41.3 | | | | | | | |
| SMTRAM4-9-7 | 1.58 mm Single Layer FR-4 | 369.3 | 73.3 | | | | | | | |
k-smtra-fasteners-unified
| PART NUMBER | TEST SHEET MATERIAL & THICKNESS | PUSHOUT (lbs.) | SIDE LOAD (lbs.) | | | | | | | |
| --- | --- | --- | --- | --- | --- | --- | --- | --- | --- | --- |
| SMTRA256-8-6 | .062" Single Layer FR-4 | 51.7 | 7.1 | | | | | | | |
| SMTRA440-9-6 | .062" Single Layer FR-4 | 89.5 | 10.8 | | | | | | | |
| SMTRA632-10-8 | .062" Single Layer FR-4 | 110.3 | 8.4 | | | | | | | |
| SMTRA832-12-9 | .062" Single Layer FR-4 | 137.2 | 21.2 | | | | | | | |
k-smtsk-standoffs-metric
| TYPE & SIZE | PANEL 1 (BOTTOM) TEST SHEET MATERIAL | PANEL 1 (BOTTOM) PUSHOUT | | | | | | | | |
| --- | --- | --- | --- | --- | --- | --- | --- | --- | --- | --- |
| SMTSK-61.5 | 1.58 mm Single Layer FR-4 | 500 N | | | | | | | | |
k-smtsk-standoffs-unified
| TYPE & SIZE | PANEL 1 (BOTTOM) TEST SHEET MATERIAL | PANEL 1 (BOTTOM) PUSHOUT | | | | | | | | |
| --- | --- | --- | --- | --- | --- | --- | --- | --- | --- | --- |
| SMTSK-6060 | .062" Single Layer FR-4 | 113 lbs | | | | | | | | |
k-smtso-smtsob-fasteners-metric
| TYPE | THREAD/THRU-HOLE CODE | TEST SHEET MATERIAL & THICKNESS | PUSHOUT (N) | TORQUE-OUT (N•m) | RATED CURRENT AMPS | | | | | |
| --- | --- | --- | --- | --- | --- | --- | --- | --- | --- | --- |
| SMTSO | 080 | .062" Single Layer FR-4 | 378.7 | 0.56 | 11 | | | | | |
| SMTSOB | 080 | .062" Single Layer FR-4 | 378.7 | 0.56 | – | | | | | |
| SMTSO | 256 | .062" Single Layer FR-4 | 251 | 1 | 25 | | | | | |
| SMTSOB | 256 | .062" Single Layer FR-4 | 251 | 1 | 40 | | | | | |
| SMTSO | 440 | .062" Single Layer FR-4 | 251 | 1 | 22 | | | | | |
| SMTSOB | 440 | .062" Single Layer FR-4 | 251 | 1 | 36 | | | | | |
| SMTSO | 632 | .062" Single Layer FR-4 | 416 | 1.6 | 34 | | | | | |
| SMTSOB | 632 | .062" Single Layer FR-4 | 416 | 1.6 | 55 | | | | | |
| SMTSO | 832 | .062" Single Layer FR-4 | 672 | 3 | 47 | | | | | |
| SMTSOB | 832 | .062" Single Layer FR-4 | 672 | 3 | 76 | | | | | |
| SMTSO | 116 | .062" Single Layer FR-4 | – | – | 22 | | | | | |
| SMTSOB | 116 | .062" Single Layer FR-4 | – | – | 37 | | | | | |
| SMTSO | 143 | .062" Single Layer FR-4 | – | – | 33 | | | | | |
| SMTSOB | 143 | .062" Single Layer FR-4 | – | – | 55 | | | | | |
| SMTSO | M1 | .062" Single Layer FR-4 | 378.7 | 0.56 | 11 | | | | | |
| SMTSOB | M1 | .062" Single Layer FR-4 | 378.7 | 0.56 | – | | | | | |
| SMTSO | M1.2 | .062" Single Layer FR-4 | 378.7 | 0.56 | 10 | | | | | |
| SMTSOB | M1.2 | .062" Single Layer FR-4 | 378.7 | 0.56 | – | | | | | |
| SMTSO | M1.4 | .062" Single Layer FR-4 | 378.7 | 0.56 | 10 | | | | | |
| SMTSOB | M1.4 | .062" Single Layer FR-4 | 378.7 | 0.56 | – | | | | | |
| SMTSO | M1.6 | .062" Single Layer FR-4 | 378.7 | 0.56 | 10 | | | | | |
| SMTSOB | M1.6 | .062" Single Layer FR-4 | 378.7 | 0.56 | – | | | | | |
| SMTSO | M3 | .062" Single Layer FR-4 | 251 | 1 | 22 | | | | | |
| SMTSOB | M3 | .062" Single Layer FR-4 | 251 | 1 | 36 | | | | | |
| SMTSO | M3.5 | .062" Single Layer FR-4 | 416 | 1.6 | 34 | | | | | |
| SMTSOB | M3.5 | .062" Single Layer FR-4 | 416 | 1.6 | 55 | | | | | |
| SMTSO | M4 | .062" Single Layer FR-4 | 672 | 3 | 47 | | | | | |
| SMTSOB | M4 | .062" Single Layer FR-4 | 672 | 3 | 76 | | | | | |
| SMTSO | 3.1 | .062" Single Layer FR-4 | – | – | 22 | | | | | |
| SMTSOB | 3.1 | .062" Single Layer FR-4 | – | – | 36 | | | | | |
| SMTSO | 3.6 | .062" Single Layer FR-4 | – | – | 33 | | | | | |
| SMTSOB | 3.6 | .062" Single Layer FR-4 | – | – | 55 | | | | | |
| SMTSO | 4.2 | .062" Single Layer FR-4 | – | – | 46 | | | | | |
| SMTSOB | 4.2 | .062" Single Layer FR-4 | – | – | 75 | | | | | |
k-smtso-smtsob-fasteners-unified
| TYPE | THREAD/THRU-HOLE CODE | TEST SHEET MATERIAL & THICKNESS | PUSHOUT (lbs.) | TORQUE-OUT (in.lbs.) | RATED CURRENT AMPS | | | | | |
| --- | --- | --- | --- | --- | --- | --- | --- | --- | --- | --- |
| SMTSO | 080 | .062" Single Layer FR-4 | 85.1 | 4.94 | 11 | | | | | |
| SMTSOB | 080 | .062" Single Layer FR-4 | 85.1 | 4.94 | – | | | | | |
| SMTSO | 256 | .062" Single Layer FR-4 | 56.5 | 8.56 | 25 | | | | | |
| SMTSOB | 256 | .062" Single Layer FR-4 | 56.5 | 8.56 | 40 | | | | | |
| SMTSO | 440 | .062" Single Layer FR-4 | 56.5 | 8.56 | 22 | | | | | |
| SMTSOB | 440 | .062" Single Layer FR-4 | 56.5 | 8.56 | 36 | | | | | |
| SMTSO | 632 | .062" Single Layer FR-4 | 93.5 | 13.83 | 34 | | | | | |
| SMTSOB | 632 | .062" Single Layer FR-4 | 93.5 | 13.83 | 55 | | | | | |
| SMTSO | 832 | .062" Single Layer FR-4 | 151.1 | 26.96 | 47 | | | | | |
| SMTSOB | 832 | .062" Single Layer FR-4 | 151.1 | 26.96 | 76 | | | | | |
| SMTSO | 116 | .062" Single Layer FR-4 | – | – | 22 | | | | | |
| SMTSOB | 116 | .062" Single Layer FR-4 | – | – | 37 | | | | | |
| SMTSO | 143 | .062" Single Layer FR-4 | – | – | 33 | | | | | |
| SMTSOB | 143 | .062" Single Layer FR-4 | – | – | 55 | | | | | |
| SMTSO | M1 | .062" Single Layer FR-4 | 85.1 | 4.94 | 11 | | | | | |
| SMTSOB | M1 | .062" Single Layer FR-4 | 85.1 | 4.94 | – | | | | | |
| SMTSO | M1.2 | .062" Single Layer FR-4 | 85.1 | 4.94 | 10 | | | | | |
| SMTSOB | M1.2 | .062" Single Layer FR-4 | 85.1 | 4.94 | – | | | | | |
| SMTSO | M1.4 | .062" Single Layer FR-4 | 85.1 | 4.94 | 10 | | | | | |
| SMTSOB | M1.4 | .062" Single Layer FR-4 | 85.1 | 4.94 | – | | | | | |
| SMTSO | M1.6 | .062" Single Layer FR-4 | 85.1 | 4.94 | 10 | | | | | |
| SMTSOB | M1.6 | .062" Single Layer FR-4 | 85.1 | 4.94 | – | | | | | |
| SMTSO | M3 | .062" Single Layer FR-4 | 56.5 | 8.56 | 22 | | | | | |
| SMTSOB | M3 | .062" Single Layer FR-4 | 56.5 | 8.56 | 36 | | | | | |
| SMTSO | M3.5 | .062" Single Layer FR-4 | 93.5 | 13.83 | 34 | | | | | |
| SMTSOB | M3.5 | .062" Single Layer FR-4 | 93.5 | 13.83 | 55 | | | | | |
| SMTSO | M4 | .062" Single Layer FR-4 | 151.1 | 26.96 | 47 | | | | | |
| SMTSOB | M4 | .062" Single Layer FR-4 | 151.1 | 26.96 | 76 | | | | | |
| SMTSO | 3.1 | .062" Single Layer FR-4 | – | – | 22 | | | | | |
| SMTSOB | 3.1 | .062" Single Layer FR-4 | – | – | 36 | | | | | |
| SMTSO | 3.6 | .062" Single Layer FR-4 | – | – | 33 | | | | | |
| SMTSOB | 3.6 | .062" Single Layer FR-4 | – | – | 55 | | | | | |
| SMTSO | 4.2 | .062" Single Layer FR-4 | – | – | 46 | | | | | |
| SMTSOB | 4.2 | .062" Single Layer FR-4 | – | – | 75 | | | | | |
k-smtss-standoffs-metric
"TYPE
MATERIAL & SIZE"
PANEL 1 (BOTTOM) TEST SHEET MATERIAL
PANEL 1 (BOTTOM) PUSHOUT
PANEL 2 (TOP) MAX. SNAP-ON FORCE
SMTSSS-4MM
1.58 mm Single Layer FR-4
500 N
89 N
k-smtss-standoffs-unified
"TYPE
MATERIAL & SIZE"
PANEL 1 (BOTTOM) TEST SHEET MATERIAL
PANEL 1 (BOTTOM) PUSHOUT
PANEL 2 (TOP) MAX. SNAP-ON FORCE
SMTSSS-156
.062" Single Layer FR-4
113 lbs
20 lbs
k-kf2-kfs2-kfe-kfse-kfb3-kfh-pfk-fasteners-unified
| TYPE | THREAD CODE | MAX. NUT TIGHTENING TORQUE (in. lbs.) | TEST SHEET THICKNESS & MATERIAL | INSTALLATION (lbs.) | PUSHOUT (lbs.) | TORQUE-OUT (in. lbs.) |
| --- | --- | --- | --- | --- | --- | --- |
| KF2, KFS2, KFE, KFSE | 256 | N/A | .060" FR-4 Panel | 400 | 60 | 6 |
| KF2, KFS2, KFE, KFSE | 440 | N/A | .060" FR-4 Panel | 400 | 65 | 15 |
| KF2, KFS2, KFE, KFSE | 632 | N/A | .060" FR-4 Panel | 500 | 80 | 30 |
| KF2, KFS2, KFE, KFSE | 832 | N/A | .060" FR-4 Panel | 700 | 95 | 35 |
| KF2, KFS2, KFE, KFSE | 32 | N/A | .060" FR-4 Panel | 700 | 100 | 40 |
| KFB3 | 440 | N/A | .060" FR-4 Panel | 1000 | 140 | 18 |
| KFB3 | 632 | N/A | .060" FR-4 Panel | 1500 | 170 | 28 |
| KFB3 | 32 | N/A | .060" FR-4 Panel | 1600 | 180 | 30 |
| KFB3 | 420 | N/A | .060" FR-4 Panel | 1700 | 188 | 42 |
| KFH | 440 | 4 | .060" FR-4 Panel | 400 | 65 | 7 |
| KFH | 632 | 8 | .060" FR-4 Panel | 400 | 70 | 11 |
| KFH | 832 | 15 | .060" FR-4 Panel | 400 | 80 | 16 |
| KFH | 32 | 18 | .060" FR-4 Panel | 400 | 90 | 17 |
| PFK | 440 | N/A | .060" FR-4 Panel | 250 | 55 | N/A |
| PFK | 632 | N/A | .060" FR-4 Panel | 400 | 60 | N/A |
k-kf2-kfs2-kfe-kfse-kfb3-kfh-pfk-fasteners-metric
| TYPE | THREAD CODE | MAX. NUT TIGHTENING TORQUE (N•m) | TEST SHEET THICKNESS & MATERIAL | INSTALLATION (kN) | PUSHOUT (N) | TORQUE-OUT (N•m) |
| --- | --- | --- | --- | --- | --- | --- |
| KF2, KFS2, KFE, KFSE | M2 | N/A | 1.5 mm FR-4 Panel | 2.2 | 267 | 0.68 |
| KF2, KFS2, KFE, KFSE | M3 | N/A | 1.5 mm FR-4 Panel | 2.2 | 290 | 1.7 |
| KF2, KFS2, KFE, KFSE | M4 | N/A | 1.5 mm FR-4 Panel | 2.2 | 420 | 3.4 |
| KF2, KFS2, KFE, KFSE | M5 | N/A | 1.5 mm FR-4 Panel | 2.9 | 440 | 4.5 |
| KFB3 | M3 | N/A | 1.5 mm FR-4 Panel | 4.4 | 560 | 2.03 |
| KFB3 | M4 | N/A | 1.5 mm FR-4 Panel | 6 | 680 | 3.2 |
| KFB3 | M5 | N/A | 1.5mm FR-4 Panel | 7.1 | 800 | 3.5 |
| KFB3 | M6 | N/A | 1.5mm FR-4 Panel | 7.6 | 835 | 4.8 |
| KFH | M3 | 0.45 | 1.5 mm FR-4 Panel | 1.8 | 285 | 0.79 |
| KFH | M4 | 1.6 | 1.5 mm FR-4 Panel | 1.8 | 355 | 1.8 |
| KFH | M5 | 2.1 | 1.5 mm FR-4 Panel | 1.8 | 400 | 1.92 |
| PFK | M3 | -3 | 1.5 mm FR-4 Panel | 1.1 | 245 | N/A |
mpf-cds-fasteners-metric
| TYPE | TEST PIN MATERIAL | INSTALLATION (kN) | PULL-OFF (N) | CLAMP LOAD (N) | | | | | | |
| --- | --- | --- | --- | --- | --- | --- | --- | --- | --- | --- |
| CDS-100 | 6061-T6 Aluminum | 0.33 | 18.1 | 7 | | | | | | |
mpf-mpp-pins-metric
| TYPE | PIN DIAMETER CODE | TEST SHEET THICKNESS | INSTALLATION (kN) | PUSHOUT (N) | | | | | | |
| --- | --- | --- | --- | --- | --- | --- | --- | --- | --- | --- |
| MPP | 1MM | 0.5mm Stainless Steel HRB 88 | 10 | 320 | | | | | | |
| MPP | 1.5MM | 0.5mm Stainless Steel HRB 88 | 12 | 760 | | | | | | |
| MPP | 2MM | 0.5mm Stainless Steel HRB 88 | 18 | 860 | | | | | | |
mpf-ms04-standoffs-metric
| TYPE | THREAD CODE | MAX. REC. TIGHTENING TORQUE FOR MATING SCREW (N•m)) | SHEET THICKNESS (mm) | TEST SHEET MATERIAL | INSTALLATION (kN) | PUSHOUT (N) | TORQUE-OUT (N•m) | PULL-THRU (N) | | |
| --- | --- | --- | --- | --- | --- | --- | --- | --- | --- | --- |
| MSO4 | M1 | 0.019 | 0.3 | 300 Series Stainless Steel | 11.1 | 150 | 0.15 | 350 | | |
| MSO4 | M1 | 0.019 | 0.43 | 300 Series Stainless Steel | 11.1 | 200 | 0.25 | 350 | | |
| MSO4 | M1.2 | 0.036 | 0.3 | 300 Series Stainless Steel | 11.1 | 150 | 0.15 | 350 | | |
| MSO4 | M1.2 | 0.036 | 0.43 | 300 Series Stainless Steel | 11.1 | 200 | 0.25 | 350 | | |
| MSO4 | M1.4 | 0.057 | 0.3 | 300 Series Stainless Steel | 11.1 | 150 | 0.15 | 350 | | |
| MSO4 | M1.4 | 0.057 | 0.43 | 300 Series Stainless Steel | 11.1 | 200 | 0.25 | 350 | | |
| MSO4 | M1.6 | 0.084 | 0.3 | 300 Series Stainless Steel | 11.1 | 150 | 0.15 | 350 | | |
| MSO4 | M1.6 | 0.084 | 0.43 | 300 Series Stainless Steel | 11.1 | 200 | 0.25 | 350 | | |
| MSO4 | M2 | 0.175 | 0.3 | 300 Series Stainless Steel | 11.1 | 150 | 0.25 | 500 | | |
| MSO4 | M2 | 0.175 | 0.43 | 300 Series Stainless Steel | 11.1 | 200 | 0.3 | 500 | | |
mpf-ms04-standoffs-unified
| TYPE | THREAD CODE | MAX. REC. TIGHTENING TORQUE FOR MATING SCREW (in. lbs.) | SHEET THICKNESS (in.) | TEST SHEET MATERIAL | INSTALLATION (lbs.) | PUSHOUT (lbs.) | TORQUE-OUT (in. lbs.) | PULL-THRU (lbs.) | | |
| --- | --- | --- | --- | --- | --- | --- | --- | --- | --- | --- |
| MSO4 | 080 | 0.65 | 0.013 | 300 Series Stainless Steel | 2500 | 33 | 1.3 | 78 | | |
| MSO4 | 080 | .65 | 0.017 | 300 Series Stainless Steel | 2500 | 45 | 2.2 | 78 | | |
| MSO4 | 256 | 1.3 | 0.013 | 300 Series Stainless Steel | 2500 | 33 | 2.2 | 110 | | |
| MSO4 | 256 | 1.3 | 0.017 | 300 Series Stainless Steel | 2500 | 45 | 2.6 | 110 | | |
mpf-msia-msib-inserts-metric
| TYPE | THREAD CODE | LENGTH CODE | TEST SHEET THICKNESS & MATERIAL | PULLOUT (N) | TORQUE-OUT (N•cm) | | | | | |
| --- | --- | --- | --- | --- | --- | --- | --- | --- | --- | --- |
| MSIA/MSIB | M1 | 100 | ABS | 50 | 3.5 | | | | | |
| MSIA/MSIB | M1 | 250 | ABS | 150 | 10 | | | | | |
| MSIA/MSIB | M1.2 | 100 | ABS | 50 | 3.5 | | | | | |
| MSIA/MSIB | M1.2 | 250 | ABS | 150 | 10 | | | | | |
| MSIA/MSIB | M1.4 | 150 | ABS | 100 | 15 | | | | | |
| MSIA/MSIB | M1.4 | 300 | ABS | 330 | 30 | | | | | |
| MSIA/MSIB | M1.6 | 150 | ABS | 100 | 15 | | | | | |
| MSIA/MSIB | M1.6 | 300 | ABS | 330 | 30 | | | | | |
| MSIA/MSIB | M2 | 300 | ABS | 335 | 35 | | | | | |
| MSIA/MSIB | M2 | 400 | ABS | 470 | 40 | | | | | |
| MSIA/MSIB | M1 | 100 | Polycarbonate | 50 | 4.5 | | | | | |
| MSIA/MSIB | M1 | 250 | Polycarbonate | 200 | 12 | | | | | |
| MSIA/MSIB | M1.2 | 100 | Polycarbonate | 50 | 4.5 | | | | | |
| MSIA/MSIB | M1.2 | 250 | Polycarbonate | 200 | 12 | | | | | |
| MSIA/MSIB | M1.4 | 150 | Polycarbonate | 140 | 15 | | | | | |
| MSIA/MSIB | M1.4 | 300 | Polycarbonate | 400 | 30 | | | | | |
| MSIA/MSIB | M1.6 | 150 | Polycarbonate | 140 | 15 | | | | | |
| MSIA/MSIB | M1.6 | 300 | Polycarbonate | 400 | 30 | | | | | |
| MSIA/MSIB | M2 | 300 | Polycarbonate | 410 | 33 | | | | | |
| MSIA/MSIB | M2 | 400 | Polycarbonate | 595 | 35 | | | | | |
mpf-msofs-standoffs-metric
| TYPE | THREAD CODE | MAX. REC. TIGHTENING TORQUE FOR MATING SCREW (N•m) | TEST SHEET THICKNESS & MATERIAL | INSTALLATION (kN) | PUSHOUT (N) | TORQUE-OUT (N•m) | | | | |
| --- | --- | --- | --- | --- | --- | --- | --- | --- | --- | --- |
| MSOFS | M1 | 0.019 | 0.2 mm 300 Series Stainless Steel | 6.67 | 311 | 0.146 | | | | |
| MSOFS | M1.2 | 0.036 | 0.2 mm 300 Series Stainless Steel | 6.67 | 311 | 0.146 | | | | |
| MSOFS | M1.4 | 0.057 | 0.2 mm 300 Series Stainless Steel | 6.67 | 311 | 0.146 | | | | |
| MSOFS | M1.6 | 0.084 | 0.2 mm 300 Series Stainless Steel | 8 | 406 | 0.146 | | | | |
| MSOFS | M2 | 0.175 | 0.2 mm 300 Series Stainless Steel | 8 | 406 | 0.146 | | | | |
mpf-msofs-standoffs-unified
| TYPE | THREAD CODE | MAX. REC. TIGHTENING TORQUE FOR MATING SCREW (in. lbs.) | TEST SHEET THICKNESS & MATERIAL | INSTALLATION (lbs.) | PUSHOUT (lbs.) | TORQUE-OUT (in. lbs.) | | | | |
| --- | --- | --- | --- | --- | --- | --- | --- | --- | --- | --- |
| MSOFS | 080 | 0.65 | .008" 300 Series Stainless Steel | 1500 | 69.8 | 1.29 | | | | |
| MSOFS | 256 | 1.3 | .008" 300 Series Stainless Steel | 1800 | 91.2 | 1.29 | | | | |
mpf-smtso-fasteners-metric
| TYPE | SHEET THICKNESS & MATERIAL | PUSHOUT (N) | TORQUE-OUT (N•m) | | | | | | | |
| --- | --- | --- | --- | --- | --- | --- | --- | --- | --- | --- |
| SMTSO-080 | .062" Single Layer RF-4 | 378.7 | 0.56 | | | | | | | |
| SMTSO-M1 | .062" Single Layer RF-4 | 378.7 | 0.56 | | | | | | | |
| SMTSO-M1.2 | .062" Single Layer RF-4 | 378.7 | 0.56 | | | | | | | |
| SMTSO-M1.4 | .062" Single Layer RF-4 | 378.7 | 0.56 | | | | | | | |
| SMTSO-M1.6 | .062" Single Layer RF-4 | 378.7 | 0.56 | | | | | | | |
mpf-smtso-fasteners-unified
| TYPE | SHEET THICKNESS & MATERIAL | PUSHOUT (lbs.) | TORQUE-OUT (in. lbs.) | | | | | | | |
| --- | --- | --- | --- | --- | --- | --- | --- | --- | --- | --- |
| SMTSO-080 | .062" Single Layer RF-4 | 85.1 | 4.94 | | | | | | | |
| SMTSO-M1 | .062" Single Layer RF-4 | 85.1 | 4.94 | | | | | | | |
| SMTSO-M1.2 | .062" Single Layer RF-4 | 85.1 | 4.94 | | | | | | | |
| SMTSO-M1.4 | .062" Single Layer RF-4 | 85.1 | 4.94 | | | | | | | |
| SMTSO-M1.6 | .062" Single Layer RF-4 | 85.1 | 4.94 | | | | | | | |
mpf-t4-fasteners-metric
| TYPE | SHEET MATERIAL | INSTALLATION (N) | PULLOUT (N) | | | | | | | |
| --- | --- | --- | --- | --- | --- | --- | --- | --- | --- | --- |
| T4-10-025 | 300 Series Stainless Steel | 2020 | 200 | | | | | | | |
| T4-10-050 | 300 Series Stainless Steel | 2020 | 200 | | | | | | | |
mpf-t4-fasteners-unified
| TYPE | SHEET MATERIAL | INSTALLATION (lbs.) | PULLOUT (lbs.) | | | | | | | |
| --- | --- | --- | --- | --- | --- | --- | --- | --- | --- | --- |
| T4-10-025 | 300 Series Stainless Steel | 455 | 45 | | | | | | | |
| T4-10-050 | 300 Series Stainless Steel | 455 | 45 | | | | | | | |
mpf-ta-fasteners-metric
| TYPE | SHEET MATERIAL | INSTALLATION (kN) | PULLOUT (N) | | | | | | | |
| --- | --- | --- | --- | --- | --- | --- | --- | --- | --- | --- |
| TA-10-025 | 5052-H34 Aluminum | 820 | 80 | | | | | | | |
| TA-10-050 | 5052-H34 Aluminum | 820 | 80 | | | | | | | |
| TA-10-075 | 5052-H34 Aluminum | 820 | 80 | | | | | | | |
mpf-ta-fasteners-unified
| TYPE | SHEET MATERIAL | INSTALLATION (lbs.) | PULLOUT (lbs.) | | | | | | | |
| --- | --- | --- | --- | --- | --- | --- | --- | --- | --- | --- |
| TA-10-025 | 5052-H34 Aluminum | 185 | 18 | | | | | | | |
| TA-10-050 | 5052-H34 Aluminum | 185 | 18 | | | | | | | |
| TA-10-075 | 5052-H34 Aluminum | 185 | 18 | | | | | | | |
mpf-tfa-fasteners-metric
| TYPE | SHEET MATERIAL | INSTALLATION (N) | PULLOUT (N) | | | | | | | |
| --- | --- | --- | --- | --- | --- | --- | --- | --- | --- | --- |
| TFA-10-025 | 5052-H34 Aluminum | 450 | 40 | | | | | | | |
| TFA-10-035 | 5052-H34 Aluminum | 450 | 40 | | | | | | | |
| TFA-10-045 | 5052-H34 Aluminum | 450 | 40 | | | | | | | |
| TFA-10-055 | 5052-H34 Aluminum | 450 | 40 | | | | | | | |
mpf-tfa-fasteners-unified
| TYPE | SHEET MATERIAL | INSTALLATION (lbs.) | PULLOUT (lbs.) | | | | | | | |
| --- | --- | --- | --- | --- | --- | --- | --- | --- | --- | --- |
| TFA-10-025 | 5052-H34 Aluminum | 101 | 9 | | | | | | | |
| TFA-10-035 | 5052-H34 Aluminum | 101 | 9 | | | | | | | |
| TFA-10-045 | 5052-H34 Aluminum | 101 | 9 | | | | | | | |
| TFA-10-055 | 5052-H34 Aluminum | 101 | 9 | | | | | | | |
mpf-tka-tk4-pins-metric
| TYPE | TEST BASE PANEL MATERIAL | DEPTH OF ENGAGEMENT (mm) | INSTALLATION (N) | PULLOUT (N) | | | | | | |
| --- | --- | --- | --- | --- | --- | --- | --- | --- | --- | --- |
| TKA-10 | ABS | 0.8 | 133 | 9 | | | | | | |
| TKA-10 | ABS | 1 | 133 | 14 | | | | | | |
| TKA-10 | ABS | 1.3 | 133 | 19 | | | | | | |
| TKA-10 | ABS | 1.5 | 178 | 24 | | | | | | |
| TKA-10 | ABS | 1.8 | 178 | 31 | | | | | | |
| TKA-10 | ABS | 2 | 222 | 35 | | | | | | |
| TKA-10 | ABS | 2.3 | 222 | 41 | | | | | | |
| TKA-10 | ABS | 2.8 | 245 | 53 | | | | | | |
| TKA-10 | Polycarbonate | 0.8 | 222 | 25 | | | | | | |
| TKA-10 | Polycarbonate | 1 | 267 | 37 | | | | | | |
| TKA-10 | Polycarbonate | 1.3 | 267 | 53 | | | | | | |
| TKA-10 | Polycarbonate | 1.5 | 311 | 68 | | | | | | |
| TKA-10 | Polycarbonate | 1.8 | 334 | 86 | | | | | | |
| TKA-10 | Polycarbonate | 2 | 378 | 98 | | | | | | |
| TKA-10 | Polycarbonate | 2.3 | 400 | 113 | | | | | | |
| TK4-10 | Polycarbonate | 2.8 | 423 | 146 | | | | | | |
| TK4-10 | Magnesium Casting (AZ91D) | 0.8 | 445 | 29 | | | | | | |
| TK4-10 | Magnesium Casting (AZ91D) | 1 | 489 | 43 | | | | | | |
| TK4-10 | Magnesium Casting (AZ91D) | 1.3 | 534 | 61 | | | | | | |
| TK4-10 | Magnesium Casting (AZ91D) | 1.5 | 578 | 78 | | | | | | |
| TK4-10 | Magnesium Casting (AZ91D) | 1.8 | 623 | 99 | | | | | | |
| TK4-10 | Magnesium Casting (AZ91D) | 2 | 667 | 113 | | | | | | |
| TK4-10 | Magnesium Casting (AZ91D) | 2.3 | 712 | 131 | | | | | | |
| TK4-10 | Magnesium Casting (AZ91D) | 2.8 | 801 | 169 | | | | | | |
mpf-tka-tk4-pins-unified
| TYPE | TEST BASE PANEL MATERIAL | DEPTH OF ENGAGEMENT (in.) | INSTALLATION (lbs.) | PULLOUT (lbs.) | | | | | | |
| --- | --- | --- | --- | --- | --- | --- | --- | --- | --- | --- |
| TKA-10 | ABS | 0.0315 | 30 | 2 | | | | | | |
| TKA-10 | ABS | 0.0394 | 30 | 3 | | | | | | |
| TKA-10 | ABS | 0.0492 | 30 | 4 | | | | | | |
| TKA-10 | ABS | 0.0590 | 40 | 6 | | | | | | |
| TKA-10 | ABS | 0.0708 | 40 | 7 | | | | | | |
| TKA-10 | ABS | 0.0787 | 50 | 8 | | | | | | |
| TKA-10 | ABS | 0.0886 | 50 | 9 | | | | | | |
| TKA-10 | ABS | 0.1102 | 55 | 12 | | | | | | |
| TKA-10 | Polycarbonate | 0.0315 | 50 | 6 | | | | | | |
| TKA-10 | Polycarbonate | 0.0394 | 60 | 8 | | | | | | |
| TKA-10 | Polycarbonate | 0.0492 | 60 | 12 | | | | | | |
| TKA-10 | Polycarbonate | 0.0590 | 70 | 15 | | | | | | |
| TKA-10 | Polycarbonate | 0.0708 | 75 | 19 | | | | | | |
| TKA-10 | Polycarbonate | 0.0787 | 85 | 22 | | | | | | |
| TKA-10 | Polycarbonate | 0.0886 | 90 | 25 | | | | | | |
| TK4-10 | Polycarbonate | 0.1102 | 95 | 33 | | | | | | |
| TK4-10 | Magnesium Casting (AZ91D) | 0.0315 | 100 | 7 | | | | | | |
| TK4-10 | Magnesium Casting (AZ91D) | 0.0394 | 110 | 10 | | | | | | |
| TK4-10 | Magnesium Casting (AZ91D) | 0.0492 | 120 | 14 | | | | | | |
| TK4-10 | Magnesium Casting (AZ91D) | 0.0590 | 130 | 18 | | | | | | |
| TK4-10 | Magnesium Casting (AZ91D) | 0.0708 | 140 | 22 | | | | | | |
| TK4-10 | Magnesium Casting (AZ91D) | 0.0787 | 150 | 25 | | | | | | |
| TK4-10 | Magnesium Casting (AZ91D) | 0.0886 | 160 | 29 | | | | | | |
| TK4-10 | Magnesium Casting (AZ91D) | 0.1102 | 180 | 38 | | | | | | |
mpf-ts4-fasteners-metric
| TYPE | TESTED TOP SHEET THICKNESS | SHEET MATERIAL | INSTALLATION (N) | PULLOUT (N) | TORQUE TO REMOVE (N•cm) | | | | | |
| --- | --- | --- | --- | --- | --- | --- | --- | --- | --- | --- |
| TS4-10-025 | 0.254 mm / .01" | 5052-H34 Aluminum HRB 63 / HB 114 | 556 | 80 | 3.3 | | | | | |
| TS4-10-050 | 0.533 mm / .021" | 5052-H34 Aluminum HRB 63 / HB 114 | 556 | 80 | 3.3 | | | | | |
| TS4-10-025 | 0.254 mm / .01" | 304 Stainless Steel HRB 89/HB 187 | 1423 | 125 | 4.6 | | | | | |
| TS4-10-050 | 0.533 mm / .021" | 304 Stainless Steel HRB 89/HB 187 | 1423 | 125 | 4.6 | | | | | |
mpf-ts4-fasteners-unified
| TYPE | TESTED TOP SHEET THICKNESS | SHEET MATERIAL | INSTALLATION (lbs.) | PULLOUT (lbs.) | TORQUE TO REMOVE (in. oz.) | | | | | |
| --- | --- | --- | --- | --- | --- | --- | --- | --- | --- | --- |
| TS4-10-025 | 0.254 mm / .01" | 5052-H34 Aluminum HRB 63 / HB 114 | 125 | 18 | 4.7 | | | | | |
| TS4-10-050 | 0.533 mm / .021" | 5052-H34 Aluminum HRB 63 / HB 114 | 125 | 18 | 4.7 | | | | | |
| TS4-10-025 | 0.254 mm / .01" | 304 Stainless Steel HRB 89/HB 187 | 320 | 28 | 6.5 | | | | | |
| TS4-10-050 | 0.533 mm / .021" | 304 Stainless Steel HRB 89/HB 187 | 320 | 28 | 6.5 | | | | | |
Inventory
| Distributor | Quantity | Contact | Phone | Address | Locations |
| --- | --- | --- | --- | --- | --- |