Fasteners for Stainless Steel Panels
If your application requires that the fastener clinches into stainless steel, be sure you use the fasteners specifically designed for this purpose.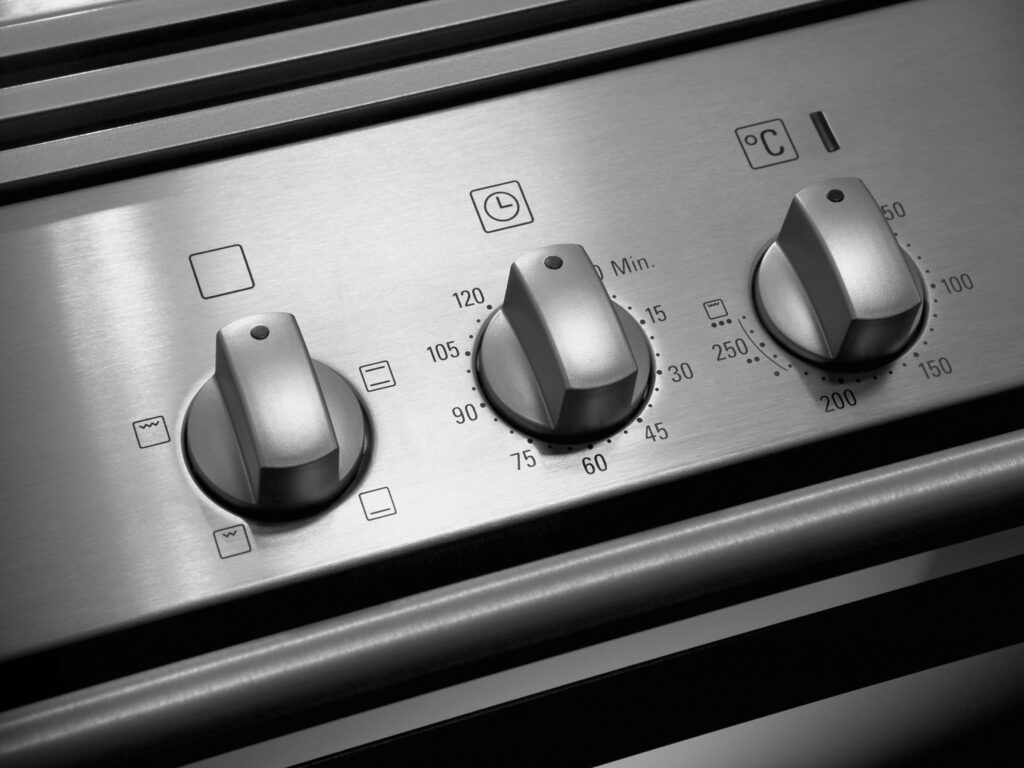 There are many PEM® fastener choices that are appropriate for use with stainless steel panels. Perhaps the most important requirement for using a clinch fastener is that it must be harder than the mating panel to ensure the fastener deforms the panel.
Maximum Sheet Hardness for Fastener Materials
| Fastener Material | Sheet Hardness |
| --- | --- |
| Aluminum | <HRB 50 / HB 89 |
| Unhardened Steel | <HRB 60 / HB 107 |
| 300 Series Stainless Steel | <HRB 70 / HB 125 |
| Hardened Steel | <HRB 80 / HB 150 |
| Hardened Stainless Steel | <HRB 88 (92) / HB 183 (202) |
Typical Hardness of Sheet Materials
| Sheet Material | Sheet Hardness |
| --- | --- |
| 5052-H32/34 Aluminum | HRB 15-30 / HB |
| Cold-rolled Steel | HRB 40-75 / HB |
| 6061-T6 Aluminum | HRB 50-55 / HB 89-96 |
| 304 Stainless Steel (Annealed) | HRB 80+ / HB 150+ |
| HSLA Steel | HRB 80-85 / HB 150-169 |
Typical Sheet Hardness and the Appropriate PEM® Fastener
UNS Designation Maximum Sheet Hardness per ASTM A240
Type
Type
PEM® Part
HRB 88 Maximum
S30500
S40500
S40910
S40920
S40930
S40945
S40977
S41045
S42035
A4™
LA4™
F4™
SO4™
BSO4™
TSO4™
PFC4™
SFP™
HRB 90 Maximum
N08700
N08904
S30435
S41050
S41008
S42900
S43000
S43035
SP™
SMPP™
HRB 92 Maximum
S20432
S30200
S30400
S30403
S30409
S30441
S30530
S34700
S34709
SS34751
S34800
S34809
S40975
FH4™
FHP™
TP4™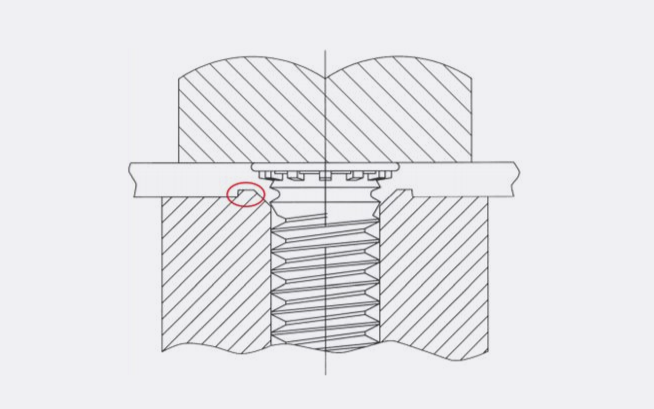 Installation
When installing into stainless steel sheets, cold working is an important phenomenon to understand. Local hardening of the material when pressure is applied to an area is the result of cold working. The installation of clinch fasteners involves cold working the sheet metal into the clinch features of the fastener.
As this happens, the stainless steel sheet hardens locally around the fastener. This actually makes it harder for the fastener to install because, as discussed earlier, the fastener must be hard enough to clinch into the sheet. Thin stainless steel sheets are especially of interest in this case, because they have been rolled more than thicker sheets, and therefore have more cold work. In some cases, such as FH4™ and FHP™ studs in the PEM® SS Data Sheet, a raised-ring anvil is recommended for installation.
400 Series vs A286
A note about 400 Series Fasteners for Stainless Steel Panels
In order for self-clinching fasteners to work properly, the fastener must be harder than the sheet into which it is being installed. In the case of stainless steel panels, fasteners made from 300 Series Stainless Steel do not meet these hardness criteria.
It is for this reason the 400 Series fasteners are offered (A4, LA4, F4, SO4, BS04, TSO4, FH4, TP4, and PFC4).
However, while these 400 Series fasteners install and perform well in 300 Series stainless steel sheets they should not be used if the end product:
Will be exposed to any appreciable corrosive presence
Requires non-magnetic fasteners
Will be exposed to any temperatures above 300F (149C)
Nickel Plated 400 Series Standoffs
Improved corrosion resistance for stainless steel applications
Standoffs allow for stacking or spacing in applications where corrosion resistance is required
Fasteners clinch securely into stainless steel sheet with hardness up to HRB 88 / HB 183
Available with blind or through-hole threads. Closed threads provide a flush appearance on backside of the sheet
Nickel plating presents an attractive finish to enhance the overall assembly appearance
For complete specifications and installation, data see PEM® data sheet SO
Magnetism
Magnetism is often a crucial property to consider when selecting a fastener. It is important to understand the differences in magnetic properties when discussing stainless steels and PH grade materials. All austenitic stainless steels are non-magnetic. However, they may become slightly magnetic after cold working. So, a cold formed 300 series fastener may actually be slightly magnetic.
Additionally, martensitic stainless steels are magnetic. Many 400 series stainless steels are martensitic, and therefore, magnetic. Some PH grade materials are magnetic, while some are not. A286, for example, is non-magnetic. Material traceability is important for one to understand the magnetic properties of a given stainless steel.
Use Cases
Mobile Phone
PEM® Solution:
MSO4™
Description:
This customer previously used weld fasteners. Following the introduction to MS04™ the next generation phone used 0.3mm aluminum chassis as they no longer needed similar materials for welding.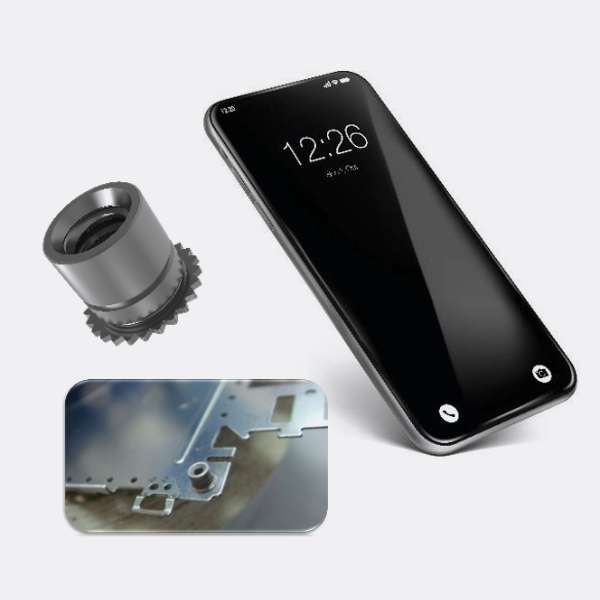 Adjustable Tray Rails
PEM® Solution:
SK4-F™ KEYHOLE® Fastener
Description:
The customer is using two custom KEYHOLE® standoffs per tray support rail in their line of commercial refrigerators. The tray rails attach to adjustable mounting slots on the frame of the refrigerator and the rails support food trays inside the unit. These standoffs replaced weld standoffs. The welding marred the finish on the stainless steel rails and the location of the standoffs was not as precise as that offered from pre-punching the holes and installing self-clinching standoffs.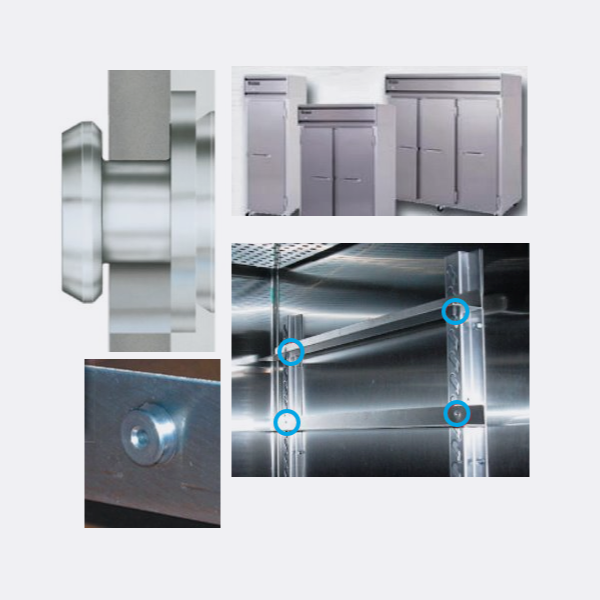 X-Ray Image Processor
PEM® Solution:
SFP™ SpotFast®
Description:
This customer had already been using our FH4 studs, SP nuts and SO4 standoffs in their stainless chassis. Then they learned they could eliminate the costly weld spatter repairs they experienced by switching from spot-welding to clinching in a SFP SpotFast® fastener.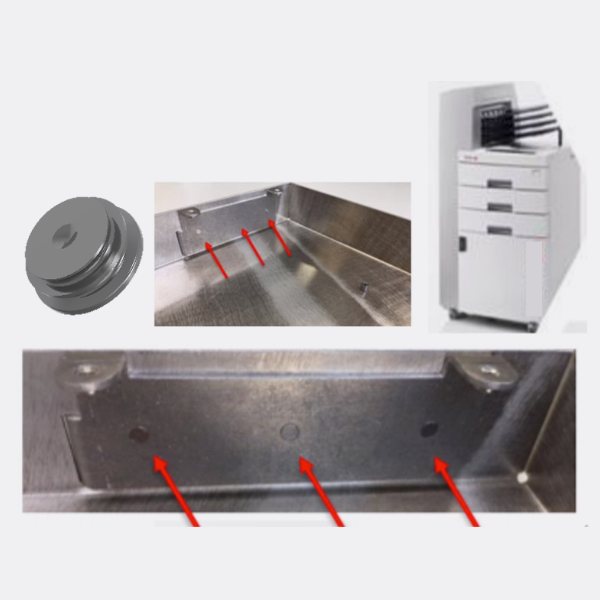 Headphones
PEM® Solution:
TP4™ pin and FH4™ stud
Description:
We were asked to provide fasteners for use in a heat treated stainless steel band, used to secure ear pieces to a military head set. An FH4-032-6 was used to secure each bracket to the main head band. The special TP4 was created to secure and act as a pivot point, for the ear pieces. Due to the narrow width of the band and the angle of the material, special tooling was needed to install the TP4 pins.