CSOS-M4-12
Stainless Steel Standoffs – Types CSS, CSOS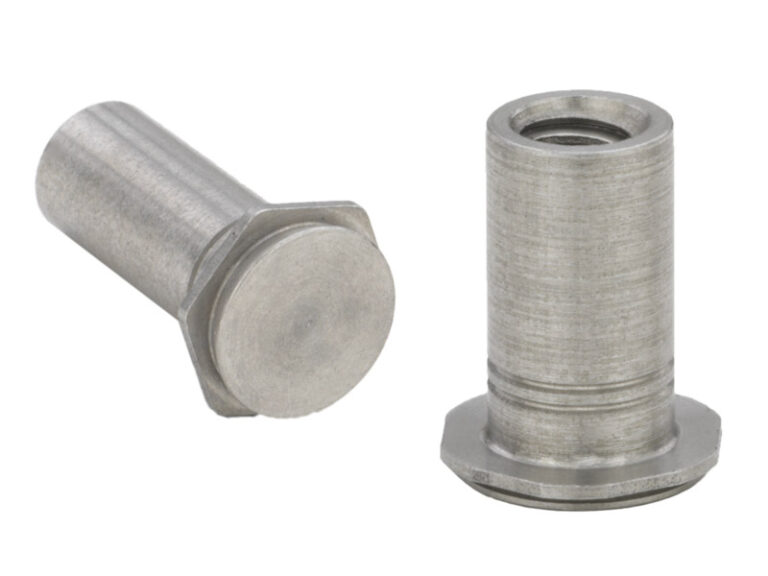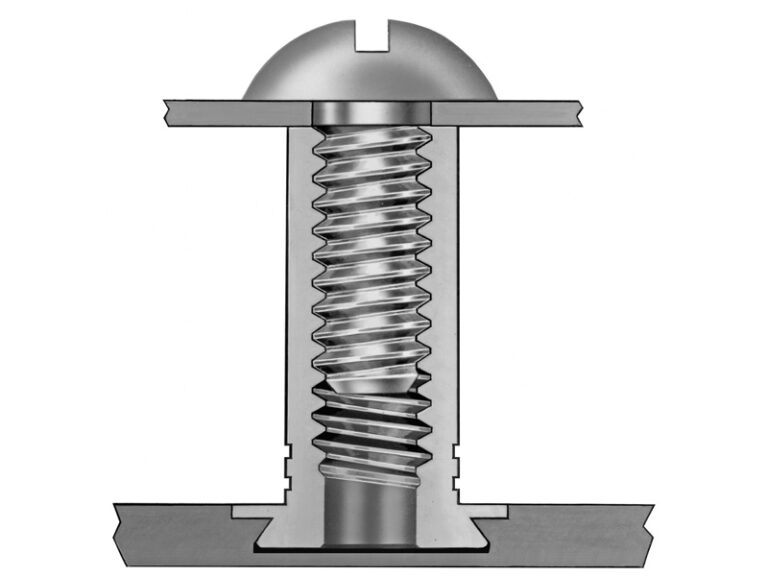 CSOS-M4-12
Stainless Steel Standoffs – Types CSS, CSOS
These standoffs ensure permanent mounting in metal sheets as thin as 1.60mm.
The fastener head is locked securely in a blind, milled hole and is able to handle substantial loads. The concealed-head feature allows the side of the sheet opposite installation to remain smooth.
Sheet preparation only requires a milled blind hole to the recommended minimum depth. Center-cutting end mills for hole preparation are available from PennEngineering. Installation of the concealed-head studs and standoffs is simple using a hollow anvil and solid punch. Place the head of the fastener in the hole and insert using any standard press. Displaced sheet metal flows smoothly around the head into the undercut.
Specifications
Thread Code

M4

Thread Size

M4 x 0.7

Thread Size X Pitch

M4 x 0.7

Thread Specification

6H, ANSI / ASME B1.13M, Internal

Shank

Long

Fastener Material

300 Series Stainless Steel

Material Code

S

Standard Finish

Passivated and/or tested, Passivated and/or tested per ASTM A380

For Use in Sheet Hardness

HRB 70 / HB 125 or Less

Length Code

12

Style

#3

Product Category

Stainless Steel Standoffs – Types CSS, CSOS

CAD Supplier

PennEngineering® (PEM®)

CADPartID

103707

Application Type

Aerospace, Automotive, Automotive Electronics, Commercial Vehicles, Datacom, Electric Vehicle Chargers, Electric Vehicles, Industrial, Manufacturing & Sheet Metal Fabrication, Medical, Telecom

Base Panel Material

Aluminum, Steel

Brand

PEM

Fastener Characteristics

Threaded Internal

Industry

Automotive Electronics, Datacom & Telecom, Industrial & Commercial, Medical

Installation Equipment/Method

C-Frame Automatic Feed, C-Frame Manual Feed

PEM Product Family

CH

Product Type

Standoffs

Technology Type

Self-Clinching

Unit (Metric/Unified)

Metric
A Max._mm

1.83mm

B Max._mm

6.23mm

Blind Mounting Hole Diameter + 0.08_mm

7.92mm

H Nom._mm

8.74mm

L – Length + 0.05 –0.13_mm

12mm

Min. Depth Full Thread F_mm

6.5mm

Min. Depth of Blind Hole_mm

1.91mm

Min. Dist. Hole C/L to Edge_mm

6.40mm

Min. Sheet Thickness_mm

2.40mm

C Max._mm

7.9mm
Installation & Performance Data
ch-css-csos-standoffs-metric
| TYPE | THREAD CODE | MAX. TIGHTENING TORQUE REF. (N•m) | TEST SHEET MATERIAL | INSTALLATION (kN) | PULLOUT (N) | | |
| --- | --- | --- | --- | --- | --- | --- | --- |
| CSOS | M4 | 2 | Cold-Rolled Steel | 23.6 | 1955 | | |
| CSOS | M4 | 2 | 5052-H34 Aluminum | 17.8 | 1335 | | |
Inventory
| Distributor | Quantity | Contact | Phone | Address | Locations |
| --- | --- | --- | --- | --- | --- |