FHP-032-12
Self-Clinching Studs for Stainless Steel Sheets – Types FH4™ and FHP™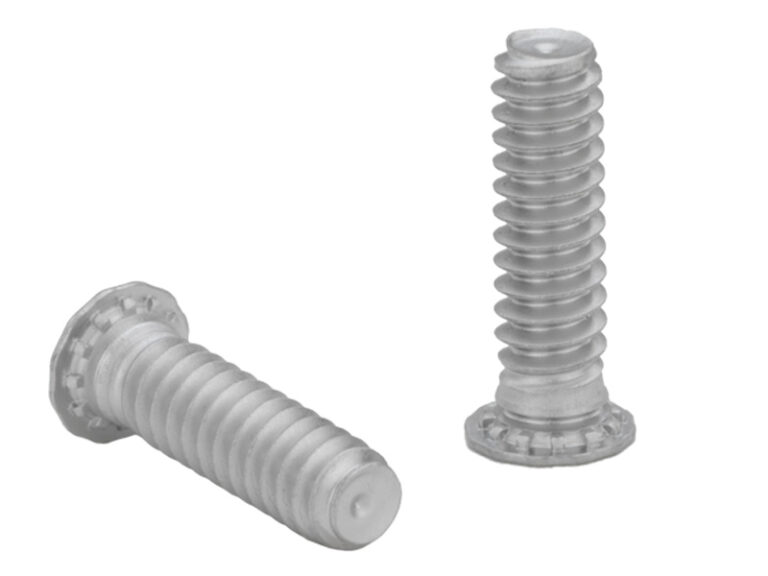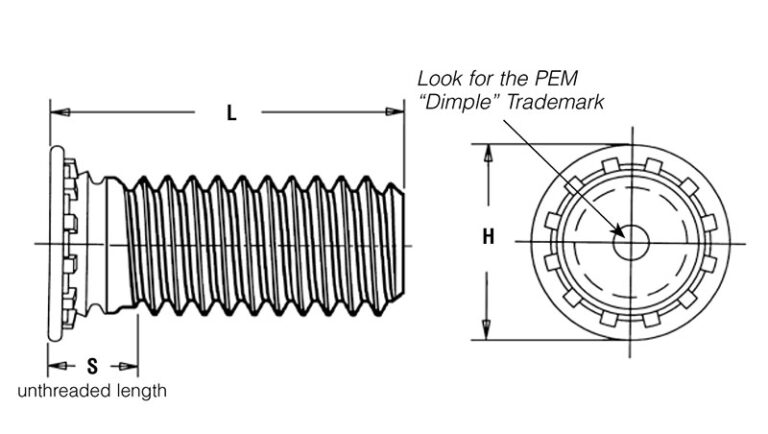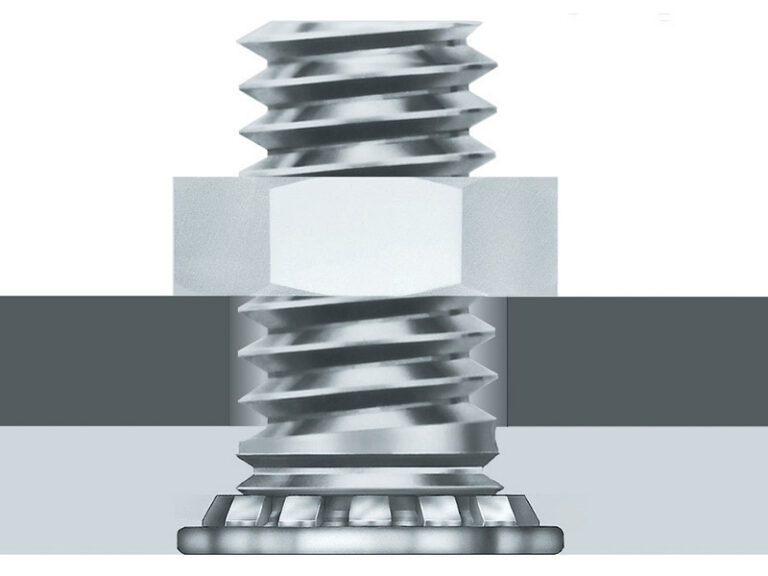 FHP-032-12
Self-Clinching Studs for Stainless Steel Sheets – Types FH4™ and FHP™
PEM® self-clinching studs are installed by placing them in properly sized holes in the sheets and squeezing into place with any standard press. The squeezing action embeds the head of the stud into the sheet. The metal displaced by the head flows smoothly and evenly around the ribs and into the annular groove – creating a flushhead assembly and securely locking the stud into the sheet with high torque-out and pushout resistances.
FH4 & FHP (flush-head) Studs for Stainless Steel are designed to provide strong threads in stainless steel sheets as thin as .040" . Type FHP studs have high corrosion resistance. Both types are designed for use in stainless steel sheets with a hardness of 92 or less on the Rockwell "B" scale- Recommended for use in stainless steel sheets HRB (Rockwell "B" Scale) 92 or less and HB (Hardness Brinell) 195 or less.
Type FHP offers high corrosion resistance and ideal for medical, foodservice, and marine applications.
Specifications
Thread Code

032

Thread Size

.190-32 (#10-32)

Thread Specification

2A, ANSI B1.1, External

Fastener Material

Precipitation Hardened Stainless Steel

Material Code

P

Standard Finish

Passivated and/or tested per ASTM A380

For Use in Sheet Hardness

HRB 92 / HB 195 or Less

Length Code

12

Product Category

Self-Clinching Studs for Stainless Steel Sheets – Types FH4™ and FHP™

CAD Supplier

PennEngineering® (PEM®)

CADPartID

103718

Application Type

Aerospace, Automotive, Automotive Electronics, Commercial Vehicles, Datacom, Electric Vehicle Chargers, Electric Vehicles, Electronics, Industrial, Manufacturing & Sheet Metal Fabrication, Marine, Medical, Telecom

Base Panel Material

Stainless Steel

Brand

PEM

Fastener Characteristics

Threaded External

Industry

Automotive, Automotive Electronics, Datacom & Telecom, Defense, Electic Vehicles, Industrial & Commercial, Medical

Installation Equipment/Method

C-Frame Automatic Feed, C-Frame Manual Feed, In-Die

Product Type

Studs

Technology Type

Self-Clinching
H ± .015_in

.256in

Hole Size in Sheet + .003 – .000_in

.189in

L Len Pm 015in Or 4mm

.750in

Max. Hole in Attached Parts_in

.209in

Min. Dist. Hole C/L to Edge_in

.281in

S Max._in

.100in

Sheet Thickness_in

.040 to .095in
Inventory
| Distributor | Quantity | Contact | Phone | Address | Locations |
| --- | --- | --- | --- | --- | --- |