SMPP-M3.5
Nuts for Ultra-Thin Sheets – Type SMPP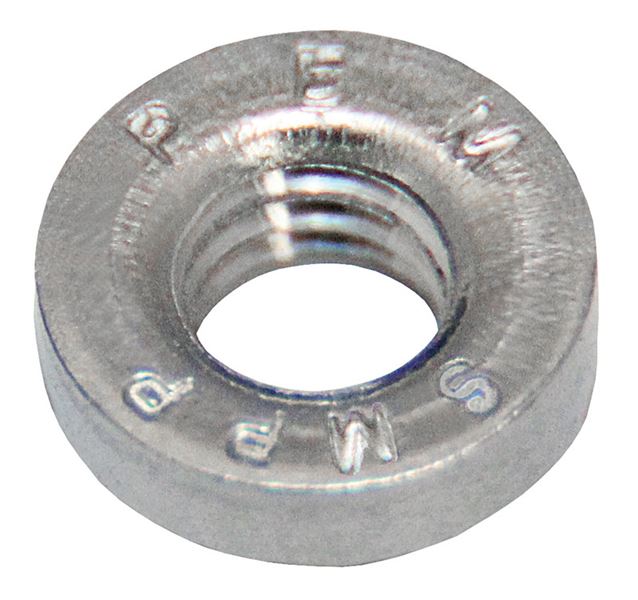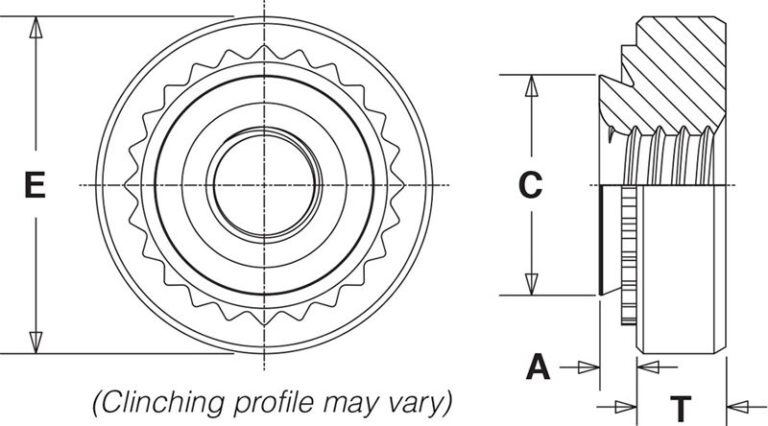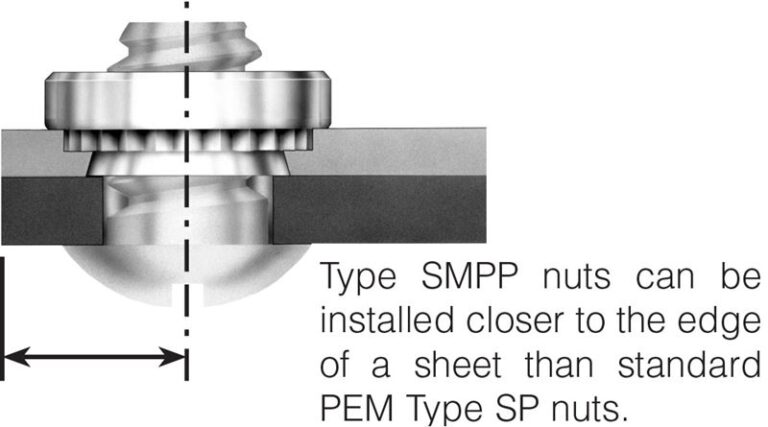 SMPP-M3.5
Nuts for Ultra-Thin Sheets – Type SMPP
Type SMPP self-clinching nuts are for installation into ultra-thin sheets.
Installs into stainless steel sheets as thin as 0.64 mm.
Corrosion resistance similar to 300 series stainless steel.
Reduced outer dimensions and thinner sheet capabilities compared to type SP thread sizes.
Recommended for use in stainless steel sheets HRB 90 / HB 192 or less.
Specifications
Thread Code

M3.5

Thread Size

M3.5 x 0.6

Thread Size X Pitch

M3.5 x 0.6

Thread Specification

6H, ASME B1.13M, Internal

Fastener Material

Age Hardened A286 Stainless Steel 

Standard Finish

Passivated and/or tested, Passivated and/or tested per ASTM A380

For Use in Sheet Hardness

HRB 90 / HB 192 or Less

Product Category

Nuts for Ultra-Thin Sheets – Type SMPS, SMPP

CAD Supplier

PennEngineering® (PEM®)

CADPartID

103687

Application Type

Automotive, Automotive Electronics, Datacom, Electric Vehicle Chargers, Electric Vehicles, Industrial, Telecom

Base Panel Material

Aluminum, Stainless Steel, Steel

Brand

PEM

Fastener Characteristics

Close To Edge, Threaded Internal

Industry

Automotive Electronics, Datacom & Telecom, Defense, Industrial & Commercial, Medical

Installation Equipment/Method

C-Frame Automatic Feed, C-Frame Manual Feed, In-Die

PEM Product Family

CL, SS

Product Type

Nuts

Technology Type

Self-Clinching

Unit (Metric/Unified)

Metric
A Shank Max

0.61mm

E ± 0.25_mm

6.4mm

Hole Size in Sheet + 0.08_mm

4.75mm

Min. Dist. Hole C/L to Edge_mm

5.5mm

Min. Sheet Thickness_mm

0.64mm

C Max._mm

4.73mm

T ± 0.25_mm

1.4mm
Installation & Performance Data
cl-smpp-nuts-metric
| TYPE | THREAD CODE | TEST SHEET MATERIAL (in.) | INSTALLATION (kN) | PUSHOUT (N) | TORQUE-OUT (N•m) | | | |
| --- | --- | --- | --- | --- | --- | --- | --- | --- |
| SMPP | M3.5 | 0.7 mm 304 Stainless Steel HRB 89 | 27 | 300 | 1.9 | | | |
ss-smpp-nuts-metric
| TYPE | THREAD CODE | MAX. NUT TIGHTENING TORQUE (N•m) | TEST SHEET MATERIAL | SHEET HARDNESS HRB | INSTALLATION (kN) | PUSHOUT (N) | TORQUE-OUT (N•m) | TENSILE STRENGTH (kN) | TEST BUSHING HOLE SIZE PULL THRU SIZE TESTS (mm) |
| --- | --- | --- | --- | --- | --- | --- | --- | --- | --- |
| SMPP | M3.5 | 2.1 | 0.7 mm 304 Stainless Steel | 89 | 27 | 300 | 1.9 | 4.25 | 4 |
Inventory
| Distributor | Quantity | Contact | Phone | Address | Locations |
| --- | --- | --- | --- | --- | --- |