SMTSK-6060-4 ET
SMTSK™ REELFAST® KEYHOLE® Standoffs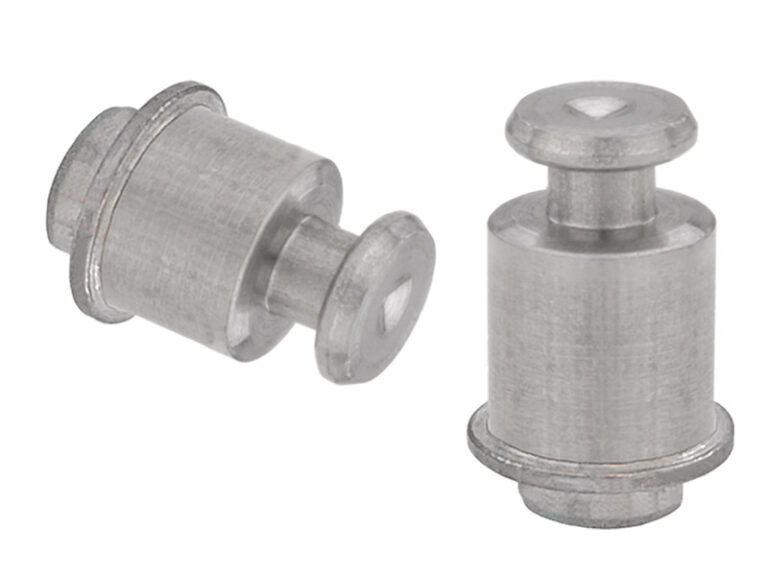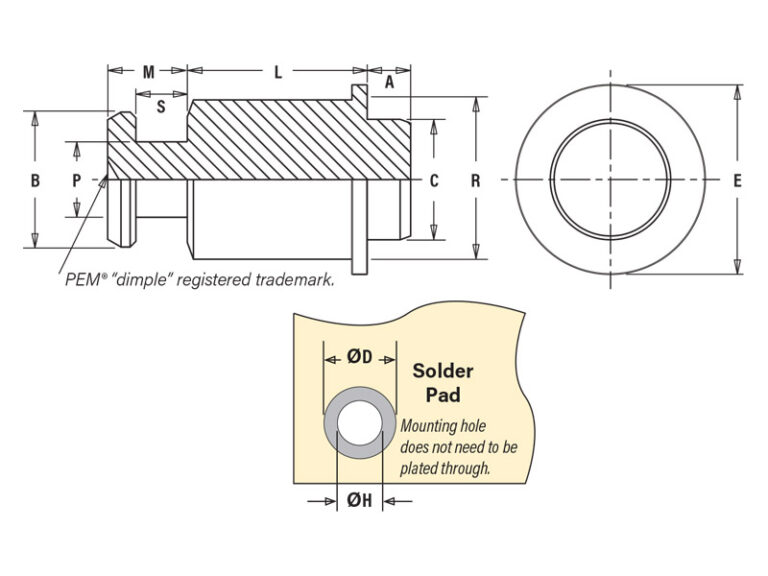 SMTSK-6060-4 ET
SMTSK™ REELFAST® KEYHOLE® Standoffs
PEM® surface mounted standoffs that eliminate the need for attaching screws
PEM® SMTSK™ standoffs are designed so that a PC board or panel can be quickly slipped into place and then removed from an assembly by simply sliding the board sideways and lifting it off. These standoffs mount on PC Boards in the same manner and at the same time as other surface mount components prior to the automated reflow solder process.
Reduces scrap, handling and risk of board damage.
Unique barrel design allows for quick attachment and detachment.
Makes horizontal or vertical component mounting possible.
Provided on tape and reel compatible with existing SMT automated installation equipment.
Specifications
Fastener Material

Carbon Steel

Material – Panel 1 (Bottom)

PC Board

Material – Panel 2 (Top)

ANY

Standard Finish

Tin Electroplate

Max. Hardness – Panel 1 (Bottom)

No Limit

Max. Hardness – Panel 2 (Top)

No Limit

Parts per Reel

630

Product Category

REELFAST® KEYHOLE® Standoffs – Type SMTSK™

CAD Supplier

PennEngineering® (PEM®)

CADPartID

118412

Application Type

Automotive Electronics, Datacom, Industrial, Medical, Telecom

Base Panel Material

PC Board

Brand

PEM

Fastener Characteristics

Unthreaded

Industry

Automotive Electronics, Datacom & Telecom, Industrial & Commercial

Installation Equipment/Method

Surface Mount

L Len Pm 005in Or 13mm

0.125in

PEM Product Family

K

Product Type

Standoffs

Technology Type

Surface Mounted

Unit (Metric/Unified)

Unified
A Max._in

0.06in

B ± .003_in

0.177in

Bottom Mounting Hole B + .003 -.000_in

0.166in

E ± .005_in

0.25in

Edge Distance C2 Min._in

0.16in

Location Tolerance_in

±.005in

M Max._in

0.108in

Min. Sheet Thickness_in

0.06in

Min. Thickness – Panel 1 (Bottom)_in

0.06in

C Max._in

0.161in

øD – Min. Solder Pad_in

0.276in

øH – Hole Size in Sheet + .003 – .000_in

0.166in

P ± .003_in

0.099in

R Max._in

0.212in

S ± .003_in

0.068in

Thickness Range – Panel 2 (Top)_in

.057 to .064in
Installation & Performance Data
k-kf2-kfs2-kfe-kfse-kfb3-kfh-pfk-fasteners-metric
| TYPE | THREAD CODE | MAX. NUT TIGHTENING TORQUE (N•m) | TEST SHEET THICKNESS & MATERIAL | INSTALLATION (kN) | PUSHOUT (N) | TORQUE-OUT (N•m) | | | | |
| --- | --- | --- | --- | --- | --- | --- | --- | --- | --- | --- |
| KF2, KFS2, KFE, KFSE | M2 | N/A | 1.5 mm FR-4 Panel | 2.2 | 267 | 0.68 | | | | |
| KF2, KFS2, KFE, KFSE | M3 | N/A | 1.5 mm FR-4 Panel | 2.2 | 290 | 1.7 | | | | |
| KF2, KFS2, KFE, KFSE | M4 | N/A | 1.5 mm FR-4 Panel | 2.2 | 420 | 3.4 | | | | |
| KF2, KFS2, KFE, KFSE | M5 | N/A | 1.5 mm FR-4 Panel | 2.9 | 440 | 4.5 | | | | |
| KFB3 | M3 | N/A | 1.5 mm FR-4 Panel | 4.4 | 560 | 2.03 | | | | |
| KFB3 | M4 | N/A | 1.5 mm FR-4 Panel | 6 | 680 | 3.2 | | | | |
| KFH | M3 | 0.45 | 1.5 mm FR-4 Panel | 1.8 | 285 | 0.79 | | | | |
| KFH | M4 | 1.6 | 1.5 mm FR-4 Panel | 1.8 | 355 | 1.8 | | | | |
| KFH | M5 | 2.1 | 1.5 mm FR-4 Panel | 1.8 | 400 | 1.92 | | | | |
| PFK | M3 | (3) | 1.5 mm FR-4 Panel | 1.1 | 245 | N/A | | | | |
k-kf2-kfs2-kfe-kfse-kfb3-kfh-pfk-fasteners-unified
| TYPE | THREAD CODE | MAX. NUT TIGHTENING TORQUE (in. lbs.) | TEST SHEET THICKNESS & MATERIAL | INSTALLATION (lbs.) | PUSHOUT (lbs.) | TORQUE-OUT (in. lbs.) | | | | |
| --- | --- | --- | --- | --- | --- | --- | --- | --- | --- | --- |
| KF2, KFS2, KFE, KFSE | 256 | N/A | .060" FR-4 Panel | 400 | 60 | 6 | | | | |
| KF2, KFS2, KFE, KFSE | 440 | N/A | .060" FR-4 Panel | 400 | 65 | 15 | | | | |
| KF2, KFS2, KFE, KFSE | 632 | N/A | .060" FR-4 Panel | 500 | 80 | 30 | | | | |
| KF2, KFS2, KFE, KFSE | 832 | N/A | .060" FR-4 Panel | 700 | 95 | 35 | | | | |
| KF2, KFS2, KFE, KFSE | 032 | N/A | .060" FR-4 Panel | 700 | 100 | 40 | | | | |
| KFB3 | 440 | N/A | .060" FR-4 Panel | 1000 | 140 | 18 | | | | |
| KFB3 | 632 | N/A | .060" FR-4 Panel | 1500 | 170 | 28 | | | | |
| KFH | 440 | 4 | .060" FR-4 Panel | 400 | 65 | 7 | | | | |
| KFH | 632 | 8 | .060" FR-4 Panel | 400 | 70 | 11 | | | | |
| KFH | 832 | 15 | .060" FR-4 Panel | 400 | 80 | 16 | | | | |
| KFH | 032 | 18 | .060" FR-4 Panel | 400 | 90 | 17 | | | | |
| PFK | 440 | N/A | .060" FR-4 Panel | 250 | 55 | N/A | | | | |
| PFK | 632 | N/A | .060" FR-4 Panel | 400 | 60 | N/A | | | | |
k-kssb-standoffs-metric
| TYPE | Panel 1 (1.5 mm FR-4 Fiberglass) | INSTALLATION (kN) | PUSHOUT (N) | Panel 2 (Removable) | MAX. FIRST ON FORCE (N) | MIN. FIRST OFF FORCE (N) | MIN. 15TH OFF FORCE (N) | | | |
| --- | --- | --- | --- | --- | --- | --- | --- | --- | --- | --- |
| KSSB | Panel 1 (1.5 mm FR-4 Fiberglass) | 2.2 | 484 | Panel 2 (Removable) | 57.7 | 13.3 | 4.4 | | | |
k-kssb-standoffs-unified
| TYPE | Panel 1 (.060" FR-4 Fiberglass) | INSTALLATION (lbs.) | PUSHOUT (lbs.) | Panel 2 (Removable) | MAX. FIRST ON FORCE (lbs.) | MIN. FIRST OFF FORCE (lbs.) | MIN. 15TH OFF FORCE (lbs.) | | | |
| --- | --- | --- | --- | --- | --- | --- | --- | --- | --- | --- |
| KSSB | Panel 1 (.060" FR-4 Fiberglass) | 500 | 110 | Panel 2 (Removable) | 13 | 3.0 | 1.0 | | | |
k-sfk-fasteners-metric
| TYPE | THICKNESS CODE | INSTALLATION INTO PANEL 1 COLD-ROLLED STEEL (kN) | INSTALLATION INTO PANEL 2 FR-4 FIBERGLASS (kN) | PUSHOUT OF PANEL 2 (N) | | | | | | |
| --- | --- | --- | --- | --- | --- | --- | --- | --- | --- | --- |
| SFK-3 | 0.8 | 6.2 | 1.8 | 200 | | | | | | |
| SFK-3 | 1.0 | 8 | 1.8 | 200 | | | | | | |
| SFK-3 | 1.2 | 8.9 | 1.8 | 200 | | | | | | |
| SFK-3 | 1.6 | 10.2 | 1.8 | 200 | | | | | | |
| SFK-5 | 0.8 | 11.1 | 1.8 | 400 | | | | | | |
| SFK-5 | 1.0 | 13.5 | 1.8 | 400 | | | | | | |
| SFK-5 | 1.2 | 15.6 | 1.8 | 400 | | | | | | |
| SFK-5 | 1.6 | 17.8 | 1.8 | 400 | | | | | | |
k-sfk-fasteners-unified
| TYPE | THICKNESS CODE | INSTALLATION INTO PANEL 1 COLD-ROLLED STEEL (lbs.) | INSTALLATION INTO PANEL 2 FR-4 FIBERGLASS (lbs.) | PUSHOUT OF PANEL 2 (lbs.) | | | | | | |
| --- | --- | --- | --- | --- | --- | --- | --- | --- | --- | --- |
| SFK-3 | 0.8 | 1400 | 400 | 45 | | | | | | |
| SFK-3 | 1.0 | 1800 | 400 | 45 | | | | | | |
| SFK-3 | 1.2 | 2000 | 400 | 45 | | | | | | |
| SFK-3 | 1.6 | 2300 | 400 | 45 | | | | | | |
| SFK-5 | 0.8 | 2500 | 400 | 90 | | | | | | |
| SFK-5 | 1.0 | 3000 | 400 | 90 | | | | | | |
| SFK-5 | 1.2 | 3500 | 400 | 90 | | | | | | |
| SFK-5 | 1.6 | 4000 | 400 | 90 | | | | | | |
k-smtpflsm-fasteners-metric
| TYPE & THREAD SIZE | MIN. TENSILE STRENGTH (N) | REC. TIGHTENING TORQUE (N•m) | TEST SHEET MATERIAL & THICKNESS | PULL-OFF (N) | | | | | | |
| --- | --- | --- | --- | --- | --- | --- | --- | --- | --- | --- |
| SMTPFLSM-M3 | 2900 | 0.61 | 1.5 mm P.C. Board | 445 | | | | | | |
| SMTPFLSM-M3.5 | 3269 | 0.8 | 1.5 mm P.C. Board | 465 | | | | | | |
k-smtpflsm-fasteners-unified
| TYPE & THREAD SIZE | MIN. TENSILE STRENGTH (lbs.) | REC. TIGHTENING TORQUE (in. lbs.) | TEST SHEET MATERIAL & THICKNESS | PULL-OFF (lbs.) | | | | | | |
| --- | --- | --- | --- | --- | --- | --- | --- | --- | --- | --- |
| SMTPFLSM-440 | 556 | 4.4 | .060" P.C. Board | 100 | | | | | | |
| SMTPFLSM-632 | 724 | 7.0 | .060" P.C. Board | 105 | | | | | | |
k-smtpr-metric
| PART NUMBER | TEST SHEET MATERIAL & THICKNESS | PUSHOUT (N) | | | | | | | | |
| --- | --- | --- | --- | --- | --- | --- | --- | --- | --- | --- |
| SMTPR-1ET | .062" Single Layer FR-4 | 718 | | | | | | | | |
k-smtpr-unified
| PART NUMBER | TEST SHEET MATERIAL & THICKNESS | PUSHOUT (lbs.) | | | | | | | | |
| --- | --- | --- | --- | --- | --- | --- | --- | --- | --- | --- |
| SMTPR-1ET | .062" Single Layer FR-4 | 161.4 | | | | | | | | |
k-smtra-fasteners-metric
| PART NUMBER | TEST SHEET MATERIAL & THICKNESS | PUSHOUT (N) | SIDE LOAD (N) | | | | | | | |
| --- | --- | --- | --- | --- | --- | --- | --- | --- | --- | --- |
| SMTRAM2-6-5 | 1.58 mm Single Layer FR-4 | 418.2 | 56.8 | | | | | | | |
| SMTRAM25-6-5 | 1.58 mm Single Layer FR-4 | 216.5 | 36.9 | | | | | | | |
| SMTRAM3-7-5 | 1.58 mm Single Layer FR-4 | 257.6 | 41.3 | | | | | | | |
| SMTRAM4-9-7 | 1.58 mm Single Layer FR-4 | 369.3 | 73.3 | | | | | | | |
k-smtra-fasteners-unified
| PART NUMBER | TEST SHEET MATERIAL & THICKNESS | PUSHOUT (lbs.) | SIDE LOAD (lbs.) | | | | | | | |
| --- | --- | --- | --- | --- | --- | --- | --- | --- | --- | --- |
| SMTRA256-8-6 | .062" Single Layer FR-4 | 51.7 | 7.1 | | | | | | | |
| SMTRA440-9-6 | .062" Single Layer FR-4 | 89.5 | 10.8 | | | | | | | |
| SMTRA632-10-8 | .062" Single Layer FR-4 | 110.3 | 8.4 | | | | | | | |
| SMTRA832-12-9 | .062" Single Layer FR-4 | 137.2 | 21.2 | | | | | | | |
k-smtsk-standoffs-metric
| TYPE & SIZE | PANEL 1 (BOTTOM) TEST SHEET MATERIAL | PANEL 1 (BOTTOM) PUSHOUT | | | | | | | | |
| --- | --- | --- | --- | --- | --- | --- | --- | --- | --- | --- |
| SMTSK-61.5 | 1.58 mm Single Layer FR-4 | 500 N | | | | | | | | |
k-smtsk-standoffs-unified
| TYPE & SIZE | PANEL 1 (BOTTOM) TEST SHEET MATERIAL | PANEL 1 (BOTTOM) PUSHOUT | | | | | | | | |
| --- | --- | --- | --- | --- | --- | --- | --- | --- | --- | --- |
| SMTSK-6060 | .062" Single Layer FR-4 | 113 lbs | | | | | | | | |
k-smtso-smtsob-fasteners-metric
| TYPE | THREAD/THRU-HOLE CODE | TEST SHEET MATERIAL & THICKNESS | PUSHOUT (N) | TORQUE-OUT (N•m) | RATED CURRENT AMPS | | | | | |
| --- | --- | --- | --- | --- | --- | --- | --- | --- | --- | --- |
| SMTSO | 080 | .062" Single Layer FR-4 | 378.7 | 0.56 | 11 | | | | | |
| SMTSOB | 080 | .062" Single Layer FR-4 | 378.7 | 0.56 | – | | | | | |
| SMTSO | 256 | .062" Single Layer FR-4 | 251 | 1 | 25 | | | | | |
| SMTSOB | 256 | .062" Single Layer FR-4 | 251 | 1 | 40 | | | | | |
| SMTSO | 440 | .062" Single Layer FR-4 | 251 | 1 | 22 | | | | | |
| SMTSOB | 440 | .062" Single Layer FR-4 | 251 | 1 | 36 | | | | | |
| SMTSO | 632 | .062" Single Layer FR-4 | 416 | 1.6 | 34 | | | | | |
| SMTSOB | 632 | .062" Single Layer FR-4 | 416 | 1.6 | 55 | | | | | |
| SMTSO | 832 | .062" Single Layer FR-4 | 672 | 3 | 47 | | | | | |
| SMTSOB | 832 | .062" Single Layer FR-4 | 672 | 3 | 76 | | | | | |
| SMTSO | 116 | .062" Single Layer FR-4 | – | – | 22 | | | | | |
| SMTSOB | 116 | .062" Single Layer FR-4 | – | – | 37 | | | | | |
| SMTSO | 143 | .062" Single Layer FR-4 | – | – | 33 | | | | | |
| SMTSOB | 143 | .062" Single Layer FR-4 | – | – | 55 | | | | | |
| SMTSO | M1 | .062" Single Layer FR-4 | 378.7 | 0.56 | 11 | | | | | |
| SMTSOB | M1 | .062" Single Layer FR-4 | 378.7 | 0.56 | – | | | | | |
| SMTSO | M1.2 | .062" Single Layer FR-4 | 378.7 | 0.56 | 10 | | | | | |
| SMTSOB | M1.2 | .062" Single Layer FR-4 | 378.7 | 0.56 | – | | | | | |
| SMTSO | M1.4 | .062" Single Layer FR-4 | 378.7 | 0.56 | 10 | | | | | |
| SMTSOB | M1.4 | .062" Single Layer FR-4 | 378.7 | 0.56 | – | | | | | |
| SMTSO | M1.6 | .062" Single Layer FR-4 | 378.7 | 0.56 | 10 | | | | | |
| SMTSOB | M1.6 | .062" Single Layer FR-4 | 378.7 | 0.56 | – | | | | | |
| SMTSO | M3 | .062" Single Layer FR-4 | 251 | 1 | 22 | | | | | |
| SMTSOB | M3 | .062" Single Layer FR-4 | 251 | 1 | 36 | | | | | |
| SMTSO | M3.5 | .062" Single Layer FR-4 | 416 | 1.6 | 34 | | | | | |
| SMTSOB | M3.5 | .062" Single Layer FR-4 | 416 | 1.6 | 55 | | | | | |
| SMTSO | M4 | .062" Single Layer FR-4 | 672 | 3 | 47 | | | | | |
| SMTSOB | M4 | .062" Single Layer FR-4 | 672 | 3 | 76 | | | | | |
| SMTSO | 3.1 | .062" Single Layer FR-4 | – | – | 22 | | | | | |
| SMTSOB | 3.1 | .062" Single Layer FR-4 | – | – | 36 | | | | | |
| SMTSO | 3.6 | .062" Single Layer FR-4 | – | – | 33 | | | | | |
| SMTSOB | 3.6 | .062" Single Layer FR-4 | – | – | 55 | | | | | |
| SMTSO | 4.2 | .062" Single Layer FR-4 | – | – | 46 | | | | | |
| SMTSOB | 4.2 | .062" Single Layer FR-4 | – | – | 75 | | | | | |
k-smtso-smtsob-fasteners-unified
| TYPE | THREAD/THRU-HOLE CODE | TEST SHEET MATERIAL & THICKNESS | PUSHOUT (lbs.) | TORQUE-OUT (in.lbs.) | RATED CURRENT AMPS | | | | | |
| --- | --- | --- | --- | --- | --- | --- | --- | --- | --- | --- |
| SMTSO | 080 | .062" Single Layer FR-4 | 85.1 | 4.94 | 11 | | | | | |
| SMTSOB | 080 | .062" Single Layer FR-4 | 85.1 | 4.94 | – | | | | | |
| SMTSO | 256 | .062" Single Layer FR-4 | 56.5 | 8.56 | 25 | | | | | |
| SMTSOB | 256 | .062" Single Layer FR-4 | 56.5 | 8.56 | 40 | | | | | |
| SMTSO | 440 | .062" Single Layer FR-4 | 56.5 | 8.56 | 22 | | | | | |
| SMTSOB | 440 | .062" Single Layer FR-4 | 56.5 | 8.56 | 36 | | | | | |
| SMTSO | 632 | .062" Single Layer FR-4 | 93.5 | 13.83 | 34 | | | | | |
| SMTSOB | 632 | .062" Single Layer FR-4 | 93.5 | 13.83 | 55 | | | | | |
| SMTSO | 832 | .062" Single Layer FR-4 | 151.1 | 26.96 | 47 | | | | | |
| SMTSOB | 832 | .062" Single Layer FR-4 | 151.1 | 26.96 | 76 | | | | | |
| SMTSO | 116 | .062" Single Layer FR-4 | – | – | 22 | | | | | |
| SMTSOB | 116 | .062" Single Layer FR-4 | – | – | 37 | | | | | |
| SMTSO | 143 | .062" Single Layer FR-4 | – | – | 33 | | | | | |
| SMTSOB | 143 | .062" Single Layer FR-4 | – | – | 55 | | | | | |
| SMTSO | M1 | .062" Single Layer FR-4 | 85.1 | 4.94 | 11 | | | | | |
| SMTSOB | M1 | .062" Single Layer FR-4 | 85.1 | 4.94 | – | | | | | |
| SMTSO | M1.2 | .062" Single Layer FR-4 | 85.1 | 4.94 | 10 | | | | | |
| SMTSOB | M1.2 | .062" Single Layer FR-4 | 85.1 | 4.94 | – | | | | | |
| SMTSO | M1.4 | .062" Single Layer FR-4 | 85.1 | 4.94 | 10 | | | | | |
| SMTSOB | M1.4 | .062" Single Layer FR-4 | 85.1 | 4.94 | – | | | | | |
| SMTSO | M1.6 | .062" Single Layer FR-4 | 85.1 | 4.94 | 10 | | | | | |
| SMTSOB | M1.6 | .062" Single Layer FR-4 | 85.1 | 4.94 | – | | | | | |
| SMTSO | M3 | .062" Single Layer FR-4 | 56.5 | 8.56 | 22 | | | | | |
| SMTSOB | M3 | .062" Single Layer FR-4 | 56.5 | 8.56 | 36 | | | | | |
| SMTSO | M3.5 | .062" Single Layer FR-4 | 93.5 | 13.83 | 34 | | | | | |
| SMTSOB | M3.5 | .062" Single Layer FR-4 | 93.5 | 13.83 | 55 | | | | | |
| SMTSO | M4 | .062" Single Layer FR-4 | 151.1 | 26.96 | 47 | | | | | |
| SMTSOB | M4 | .062" Single Layer FR-4 | 151.1 | 26.96 | 76 | | | | | |
| SMTSO | 3.1 | .062" Single Layer FR-4 | – | – | 22 | | | | | |
| SMTSOB | 3.1 | .062" Single Layer FR-4 | – | – | 36 | | | | | |
| SMTSO | 3.6 | .062" Single Layer FR-4 | – | – | 33 | | | | | |
| SMTSOB | 3.6 | .062" Single Layer FR-4 | – | – | 55 | | | | | |
| SMTSO | 4.2 | .062" Single Layer FR-4 | – | – | 46 | | | | | |
| SMTSOB | 4.2 | .062" Single Layer FR-4 | – | – | 75 | | | | | |
k-smtss-standoffs-metric
"TYPE
MATERIAL & SIZE"
PANEL 1 (BOTTOM) TEST SHEET MATERIAL
PANEL 1 (BOTTOM) PUSHOUT
PANEL 2 (TOP) MAX. SNAP-ON FORCE
SMTSSS-4MM
1.58 mm Single Layer FR-4
500 N
89 N
k-smtss-standoffs-unified
"TYPE
MATERIAL & SIZE"
PANEL 1 (BOTTOM) TEST SHEET MATERIAL
PANEL 1 (BOTTOM) PUSHOUT
PANEL 2 (TOP) MAX. SNAP-ON FORCE
SMTSSS-156
.062" Single Layer FR-4
113 lbs
20 lbs
Inventory
| Distributor | Quantity | Contact | Phone | Address | Locations |
| --- | --- | --- | --- | --- | --- |