TA-10-025
TYPE TA™ microPEM® TackPin® Fasteners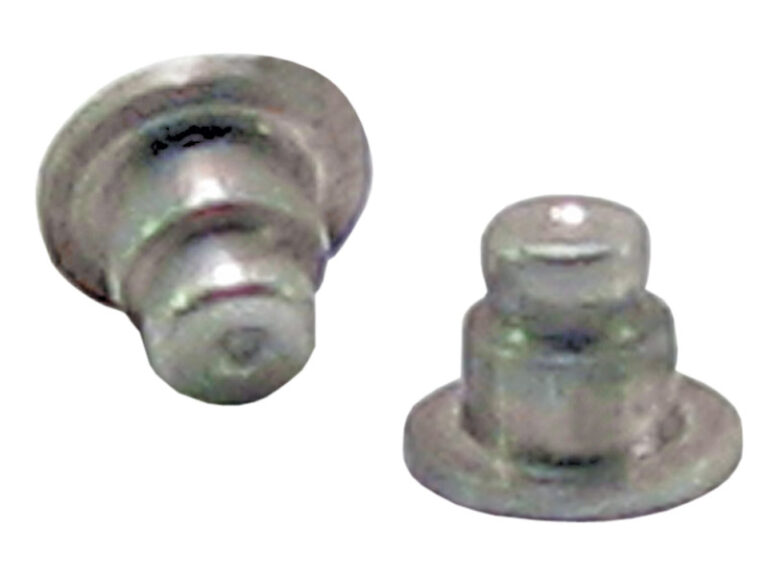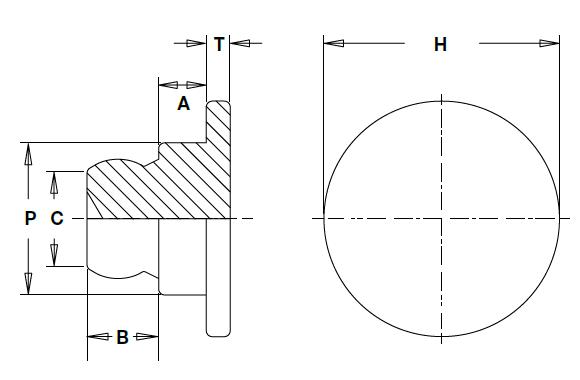 TA-10-025
TYPE TA™ microPEM® TackPin® Fasteners
New self-clinching microPEM® TackPin® (Type T™) fasteners for compact electronic assemblies enable sheet-to-sheet attachment, replacing costly screw installation in applications where disassembly is not required. TackPin fastener use eliminates typical screw-related issues (including tapping, cross-threading, torque control, and vibration backout) and ultimately promotes quick and easy installation with minimal hardware. TackPin fasteners can provide a good alternative to welds or adhesives.
Features and Benefits
Micro sized for fastening within very compact designs.
Attaches top sheets as thin as 0.2 mm / .008 in.
Clinches into base panels as hard as HRB 45 / HB 84.
Interference fit minimizes hole tolerance issues.
Tapered tip assists location.
Low-profile head provides cosmetic benefits.
Replaces screws: eliminating costly tapping, cross threading, torque control, vibration backout and installation time.
Ideal for today's compact electronics– Laptops
Notebooks / Ultrabook™ Devices
Tablet Computers
Cell/Smart Phones
Gaming / Hand Held Devices
Ultrabook™ is a trademark of Intel Corporation
Specifications
Fastener Material

Aluminum

Standard Finish

No Finish, Plain

For Use in Sheet Hardness

HRB 45 or Less (Hardness Rockwell "B" Scale)
HB 84 or Less (Hardness Brinell)

Product Category

PEM Type TA™ Self-clinching microPEM® TackPin®

CAD Supplier

PennEngineering® (PEM®)

CADPartID

106440

Application Type

Automotive Electronics, Consumer Electronics

Base Panel Material

Aluminum

Brand

PEM

Fastener Characteristics

Unthreaded

Industry

Automotive Electronics, Consumer Electronics

Installation Equipment/Method

C-Frame Manual Feed

PEM Product Family

MPF

Product Type

Pins

Technology Type

Self-Clinching
A ± 0.025mm/±.001in_in

.016in

A ± 0.025mm/±.001in_mm

0.406mm

B ± 0.075mm/±.003in_in

.024in

B ± 0.075mm/±.003in_mm

0.610mm

Base Panel Hole Size -0.05mm/ -.002in_in

.040in

Base Panel Hole Size -0.05mm/ -.002in_mm

1.02mm

Base Panel Hole Size Code

10

Base Panel Min. Sheet Thickness_in

.035in

Base Panel Min. Sheet Thickness_mm

0.89mm

H ± 0.10mm/±.004in_in

.079in

H ± 0.10mm/±.004in_mm

2mm

Min. Dist. Hole C/L to Edge_in

.039in

Min. Dist. Hole C/L to Edge_mm

1mm

C Max._in

.035in

C Max._mm

0.89mm

P ± 0.05mm/±.002in_in

.051in

P ± 0.05mm/±.002in_mm

1.3mm

T ± 0.10mm/±.004in_in

.008in

T ± 0.10mm/±.004in_mm

0.2mm

Top Sheet Hole Size ± 0.05mm/± .002in_in

.058in

Top Sheet Hole Size ± 0.05mm/± .002in_mm

1.47mm

Top Sheet Thickness Code

025

Top Sheet Thickness_in

.008 to .011in

Top Sheet Thickness_mm

0.2 to 0.28mm
Installation & Performance Data
mpf-cds-fasteners-metric
| TYPE | TEST PIN MATERIAL | INSTALLATION (kN) | PULL-OFF (N) | CLAMP LOAD (N) | | | | | | |
| --- | --- | --- | --- | --- | --- | --- | --- | --- | --- | --- |
| CDS-100 | 6061-T6 Aluminum | 0.33 | 18.1 | 7 | | | | | | |
mpf-mpp-pins-metric
| TYPE | PIN DIAMETER CODE | TEST SHEET THICKNESS | INSTALLATION (kN) | PUSHOUT (N) | | | | | | |
| --- | --- | --- | --- | --- | --- | --- | --- | --- | --- | --- |
| MPP | 1MM | 0.5mm Stainless Steel HRB 88 | 10 | 320 | | | | | | |
| MPP | 1.5MM | 0.5mm Stainless Steel HRB 88 | 12 | 760 | | | | | | |
| MPP | 2MM | 0.5mm Stainless Steel HRB 88 | 18 | 860 | | | | | | |
mpf-ms04-standoffs-metric
| TYPE | THREAD CODE | MAX. REC. TIGHTENING TORQUE FOR MATING SCREW (N•m)) | SHEET THICKNESS (mm) | TEST SHEET MATERIAL | INSTALLATION (kN) | PUSHOUT (N) | TORQUE-OUT (N•m) | PULL-THRU (N) | | |
| --- | --- | --- | --- | --- | --- | --- | --- | --- | --- | --- |
| MSO4 | M1 | 0.019 | 0.3 | 300 Series Stainless Steel | 11.1 | 150 | 0.15 | 350 | | |
| MSO4 | M1 | 0.019 | 0.43 | 300 Series Stainless Steel | 11.1 | 200 | 0.25 | 350 | | |
| MSO4 | M1.2 | 0.036 | 0.3 | 300 Series Stainless Steel | 11.1 | 150 | 0.15 | 350 | | |
| MSO4 | M1.2 | 0.036 | 0.43 | 300 Series Stainless Steel | 11.1 | 200 | 0.25 | 350 | | |
| MSO4 | M1.4 | 0.057 | 0.3 | 300 Series Stainless Steel | 11.1 | 150 | 0.15 | 350 | | |
| MSO4 | M1.4 | 0.057 | 0.43 | 300 Series Stainless Steel | 11.1 | 200 | 0.25 | 350 | | |
| MSO4 | M1.6 | 0.084 | 0.3 | 300 Series Stainless Steel | 11.1 | 150 | 0.15 | 350 | | |
| MSO4 | M1.6 | 0.084 | 0.43 | 300 Series Stainless Steel | 11.1 | 200 | 0.25 | 350 | | |
| MSO4 | M2 | 0.175 | 0.3 | 300 Series Stainless Steel | 11.1 | 150 | 0.25 | 500 | | |
| MSO4 | M2 | 0.175 | 0.43 | 300 Series Stainless Steel | 11.1 | 200 | 0.3 | 500 | | |
mpf-ms04-standoffs-unified
| TYPE | THREAD CODE | MAX. REC. TIGHTENING TORQUE FOR MATING SCREW (in. lbs.) | SHEET THICKNESS (in.) | TEST SHEET MATERIAL | INSTALLATION (lbs.) | PUSHOUT (lbs.) | TORQUE-OUT (in. lbs.) | PULL-THRU (lbs.) | | |
| --- | --- | --- | --- | --- | --- | --- | --- | --- | --- | --- |
| MSO4 | 080 | 0.65 | 0.013 | 300 Series Stainless Steel | 2500 | 33 | 1.3 | 78 | | |
| MSO4 | 080 | .65 | 0.017 | 300 Series Stainless Steel | 2500 | 45 | 2.2 | 78 | | |
| MSO4 | 256 | 1.3 | 0.013 | 300 Series Stainless Steel | 2500 | 33 | 2.2 | 110 | | |
| MSO4 | 256 | 1.3 | 0.017 | 300 Series Stainless Steel | 2500 | 45 | 2.6 | 110 | | |
mpf-msia-msib-inserts-metric
| TYPE | THREAD CODE | LENGTH CODE | TEST SHEET THICKNESS & MATERIAL | PULLOUT (N) | TORQUE-OUT (N•cm) | | | | | |
| --- | --- | --- | --- | --- | --- | --- | --- | --- | --- | --- |
| MSIA/MSIB | M1 | 100 | ABS | 50 | 3.5 | | | | | |
| MSIA/MSIB | M1 | 250 | ABS | 150 | 10 | | | | | |
| MSIA/MSIB | M1.2 | 100 | ABS | 50 | 3.5 | | | | | |
| MSIA/MSIB | M1.2 | 250 | ABS | 150 | 10 | | | | | |
| MSIA/MSIB | M1.4 | 150 | ABS | 100 | 15 | | | | | |
| MSIA/MSIB | M1.4 | 300 | ABS | 330 | 30 | | | | | |
| MSIA/MSIB | M1.6 | 150 | ABS | 100 | 15 | | | | | |
| MSIA/MSIB | M1.6 | 300 | ABS | 330 | 30 | | | | | |
| MSIA/MSIB | M2 | 300 | ABS | 335 | 35 | | | | | |
| MSIA/MSIB | M2 | 400 | ABS | 470 | 40 | | | | | |
| MSIA/MSIB | M1 | 100 | Polycarbonate | 50 | 4.5 | | | | | |
| MSIA/MSIB | M1 | 250 | Polycarbonate | 200 | 12 | | | | | |
| MSIA/MSIB | M1.2 | 100 | Polycarbonate | 50 | 4.5 | | | | | |
| MSIA/MSIB | M1.2 | 250 | Polycarbonate | 200 | 12 | | | | | |
| MSIA/MSIB | M1.4 | 150 | Polycarbonate | 140 | 15 | | | | | |
| MSIA/MSIB | M1.4 | 300 | Polycarbonate | 400 | 30 | | | | | |
| MSIA/MSIB | M1.6 | 150 | Polycarbonate | 140 | 15 | | | | | |
| MSIA/MSIB | M1.6 | 300 | Polycarbonate | 400 | 30 | | | | | |
| MSIA/MSIB | M2 | 300 | Polycarbonate | 410 | 33 | | | | | |
| MSIA/MSIB | M2 | 400 | Polycarbonate | 595 | 35 | | | | | |
mpf-msofs-standoffs-metric
| TYPE | THREAD CODE | MAX. REC. TIGHTENING TORQUE FOR MATING SCREW (N•m) | TEST SHEET THICKNESS & MATERIAL | INSTALLATION (kN) | PUSHOUT (N) | TORQUE-OUT (N•m) | | | | |
| --- | --- | --- | --- | --- | --- | --- | --- | --- | --- | --- |
| MSOFS | M1 | 0.019 | 0.2 mm 300 Series Stainless Steel | 6.67 | 311 | 0.146 | | | | |
| MSOFS | M1.2 | 0.036 | 0.2 mm 300 Series Stainless Steel | 6.67 | 311 | 0.146 | | | | |
| MSOFS | M1.4 | 0.057 | 0.2 mm 300 Series Stainless Steel | 6.67 | 311 | 0.146 | | | | |
| MSOFS | M1.6 | 0.084 | 0.2 mm 300 Series Stainless Steel | 8 | 406 | 0.146 | | | | |
| MSOFS | M2 | 0.175 | 0.2 mm 300 Series Stainless Steel | 8 | 406 | 0.146 | | | | |
mpf-msofs-standoffs-unified
| TYPE | THREAD CODE | MAX. REC. TIGHTENING TORQUE FOR MATING SCREW (in. lbs.) | TEST SHEET THICKNESS & MATERIAL | INSTALLATION (lbs.) | PUSHOUT (lbs.) | TORQUE-OUT (in. lbs.) | | | | |
| --- | --- | --- | --- | --- | --- | --- | --- | --- | --- | --- |
| MSOFS | 080 | 0.65 | .008" 300 Series Stainless Steel | 1500 | 69.8 | 1.29 | | | | |
| MSOFS | 256 | 1.3 | .008" 300 Series Stainless Steel | 1800 | 91.2 | 1.29 | | | | |
mpf-smtso-fasteners-metric
| TYPE | SHEET THICKNESS & MATERIAL | PUSHOUT (N) | TORQUE-OUT (N•m) | | | | | | | |
| --- | --- | --- | --- | --- | --- | --- | --- | --- | --- | --- |
| SMTSO-080 | .062" Single Layer RF-4 | 378.7 | 0.56 | | | | | | | |
| SMTSO-M1 | .062" Single Layer RF-4 | 378.7 | 0.56 | | | | | | | |
| SMTSO-M1.2 | .062" Single Layer RF-4 | 378.7 | 0.56 | | | | | | | |
| SMTSO-M1.4 | .062" Single Layer RF-4 | 378.7 | 0.56 | | | | | | | |
| SMTSO-M1.6 | .062" Single Layer RF-4 | 378.7 | 0.56 | | | | | | | |
mpf-smtso-fasteners-unified
| TYPE | SHEET THICKNESS & MATERIAL | PUSHOUT (lbs.) | TORQUE-OUT (in. lbs.) | | | | | | | |
| --- | --- | --- | --- | --- | --- | --- | --- | --- | --- | --- |
| SMTSO-080 | .062" Single Layer RF-4 | 85.1 | 4.94 | | | | | | | |
| SMTSO-M1 | .062" Single Layer RF-4 | 85.1 | 4.94 | | | | | | | |
| SMTSO-M1.2 | .062" Single Layer RF-4 | 85.1 | 4.94 | | | | | | | |
| SMTSO-M1.4 | .062" Single Layer RF-4 | 85.1 | 4.94 | | | | | | | |
| SMTSO-M1.6 | .062" Single Layer RF-4 | 85.1 | 4.94 | | | | | | | |
mpf-t4-fasteners-metric
| TYPE | SHEET MATERIAL | INSTALLATION (N) | PULLOUT (N) | | | | | | | |
| --- | --- | --- | --- | --- | --- | --- | --- | --- | --- | --- |
| T4-10-025 | 300 Series Stainless Steel | 2020 | 200 | | | | | | | |
| T4-10-050 | 300 Series Stainless Steel | 2020 | 200 | | | | | | | |
mpf-t4-fasteners-unified
| TYPE | SHEET MATERIAL | INSTALLATION (lbs.) | PULLOUT (lbs.) | | | | | | | |
| --- | --- | --- | --- | --- | --- | --- | --- | --- | --- | --- |
| T4-10-025 | 300 Series Stainless Steel | 455 | 45 | | | | | | | |
| T4-10-050 | 300 Series Stainless Steel | 455 | 45 | | | | | | | |
mpf-ta-fasteners-metric
| TYPE | SHEET MATERIAL | INSTALLATION (kN) | PULLOUT (N) | | | | | | | |
| --- | --- | --- | --- | --- | --- | --- | --- | --- | --- | --- |
| TA-10-025 | 5052-H34 Aluminum | 820 | 80 | | | | | | | |
| TA-10-050 | 5052-H34 Aluminum | 820 | 80 | | | | | | | |
| TA-10-075 | 5052-H34 Aluminum | 820 | 80 | | | | | | | |
mpf-ta-fasteners-unified
| TYPE | SHEET MATERIAL | INSTALLATION (lbs.) | PULLOUT (lbs.) | | | | | | | |
| --- | --- | --- | --- | --- | --- | --- | --- | --- | --- | --- |
| TA-10-025 | 5052-H34 Aluminum | 185 | 18 | | | | | | | |
| TA-10-050 | 5052-H34 Aluminum | 185 | 18 | | | | | | | |
| TA-10-075 | 5052-H34 Aluminum | 185 | 18 | | | | | | | |
mpf-tfa-fasteners-metric
| TYPE | SHEET MATERIAL | INSTALLATION (N) | PULLOUT (N) | | | | | | | |
| --- | --- | --- | --- | --- | --- | --- | --- | --- | --- | --- |
| TFA-10-025 | 5052-H34 Aluminum | 450 | 40 | | | | | | | |
| TFA-10-035 | 5052-H34 Aluminum | 450 | 40 | | | | | | | |
| TFA-10-045 | 5052-H34 Aluminum | 450 | 40 | | | | | | | |
| TFA-10-055 | 5052-H34 Aluminum | 450 | 40 | | | | | | | |
mpf-tfa-fasteners-unified
| TYPE | SHEET MATERIAL | INSTALLATION (lbs.) | PULLOUT (lbs.) | | | | | | | |
| --- | --- | --- | --- | --- | --- | --- | --- | --- | --- | --- |
| TFA-10-025 | 5052-H34 Aluminum | 101 | 9 | | | | | | | |
| TFA-10-035 | 5052-H34 Aluminum | 101 | 9 | | | | | | | |
| TFA-10-045 | 5052-H34 Aluminum | 101 | 9 | | | | | | | |
| TFA-10-055 | 5052-H34 Aluminum | 101 | 9 | | | | | | | |
mpf-tka-tk4-pins-metric
| TYPE | TEST BASE PANEL MATERIAL | DEPTH OF ENGAGEMENT (mm) | INSTALLATION (N) | PULLOUT (N) | | | | | | |
| --- | --- | --- | --- | --- | --- | --- | --- | --- | --- | --- |
| TKA-10 | ABS | 0.8 | 133 | 9 | | | | | | |
| TKA-10 | ABS | 1 | 133 | 14 | | | | | | |
| TKA-10 | ABS | 1.3 | 133 | 19 | | | | | | |
| TKA-10 | ABS | 1.5 | 178 | 24 | | | | | | |
| TKA-10 | ABS | 1.8 | 178 | 31 | | | | | | |
| TKA-10 | ABS | 2 | 222 | 35 | | | | | | |
| TKA-10 | ABS | 2.3 | 222 | 41 | | | | | | |
| TKA-10 | ABS | 2.8 | 245 | 53 | | | | | | |
| TKA-10 | Polycarbonate | 0.8 | 222 | 25 | | | | | | |
| TKA-10 | Polycarbonate | 1 | 267 | 37 | | | | | | |
| TKA-10 | Polycarbonate | 1.3 | 267 | 53 | | | | | | |
| TKA-10 | Polycarbonate | 1.5 | 311 | 68 | | | | | | |
| TKA-10 | Polycarbonate | 1.8 | 334 | 86 | | | | | | |
| TKA-10 | Polycarbonate | 2 | 378 | 98 | | | | | | |
| TKA-10 | Polycarbonate | 2.3 | 400 | 113 | | | | | | |
| TK4-10 | Polycarbonate | 2.8 | 423 | 146 | | | | | | |
| TK4-10 | Magnesium Casting (AZ91D) | 0.8 | 445 | 29 | | | | | | |
| TK4-10 | Magnesium Casting (AZ91D) | 1 | 489 | 43 | | | | | | |
| TK4-10 | Magnesium Casting (AZ91D) | 1.3 | 534 | 61 | | | | | | |
| TK4-10 | Magnesium Casting (AZ91D) | 1.5 | 578 | 78 | | | | | | |
| TK4-10 | Magnesium Casting (AZ91D) | 1.8 | 623 | 99 | | | | | | |
| TK4-10 | Magnesium Casting (AZ91D) | 2 | 667 | 113 | | | | | | |
| TK4-10 | Magnesium Casting (AZ91D) | 2.3 | 712 | 131 | | | | | | |
| TK4-10 | Magnesium Casting (AZ91D) | 2.8 | 801 | 169 | | | | | | |
mpf-tka-tk4-pins-unified
| TYPE | TEST BASE PANEL MATERIAL | DEPTH OF ENGAGEMENT (in.) | INSTALLATION (lbs.) | PULLOUT (lbs.) | | | | | | |
| --- | --- | --- | --- | --- | --- | --- | --- | --- | --- | --- |
| TKA-10 | ABS | 0.0315 | 30 | 2 | | | | | | |
| TKA-10 | ABS | 0.0394 | 30 | 3 | | | | | | |
| TKA-10 | ABS | 0.0492 | 30 | 4 | | | | | | |
| TKA-10 | ABS | 0.0590 | 40 | 6 | | | | | | |
| TKA-10 | ABS | 0.0708 | 40 | 7 | | | | | | |
| TKA-10 | ABS | 0.0787 | 50 | 8 | | | | | | |
| TKA-10 | ABS | 0.0886 | 50 | 9 | | | | | | |
| TKA-10 | ABS | 0.1102 | 55 | 12 | | | | | | |
| TKA-10 | Polycarbonate | 0.0315 | 50 | 6 | | | | | | |
| TKA-10 | Polycarbonate | 0.0394 | 60 | 8 | | | | | | |
| TKA-10 | Polycarbonate | 0.0492 | 60 | 12 | | | | | | |
| TKA-10 | Polycarbonate | 0.0590 | 70 | 15 | | | | | | |
| TKA-10 | Polycarbonate | 0.0708 | 75 | 19 | | | | | | |
| TKA-10 | Polycarbonate | 0.0787 | 85 | 22 | | | | | | |
| TKA-10 | Polycarbonate | 0.0886 | 90 | 25 | | | | | | |
| TK4-10 | Polycarbonate | 0.1102 | 95 | 33 | | | | | | |
| TK4-10 | Magnesium Casting (AZ91D) | 0.0315 | 100 | 7 | | | | | | |
| TK4-10 | Magnesium Casting (AZ91D) | 0.0394 | 110 | 10 | | | | | | |
| TK4-10 | Magnesium Casting (AZ91D) | 0.0492 | 120 | 14 | | | | | | |
| TK4-10 | Magnesium Casting (AZ91D) | 0.0590 | 130 | 18 | | | | | | |
| TK4-10 | Magnesium Casting (AZ91D) | 0.0708 | 140 | 22 | | | | | | |
| TK4-10 | Magnesium Casting (AZ91D) | 0.0787 | 150 | 25 | | | | | | |
| TK4-10 | Magnesium Casting (AZ91D) | 0.0886 | 160 | 29 | | | | | | |
| TK4-10 | Magnesium Casting (AZ91D) | 0.1102 | 180 | 38 | | | | | | |
mpf-ts4-fasteners-metric
| TYPE | TESTED TOP SHEET THICKNESS | SHEET MATERIAL | INSTALLATION (N) | PULLOUT (N) | TORQUE TO REMOVE (N•cm) | | | | | |
| --- | --- | --- | --- | --- | --- | --- | --- | --- | --- | --- |
| TS4-10-025 | 0.254 mm / .01" | 5052-H34 Aluminum HRB 63 / HB 114 | 556 | 80 | 3.3 | | | | | |
| TS4-10-050 | 0.533 mm / .021" | 5052-H34 Aluminum HRB 63 / HB 114 | 556 | 80 | 3.3 | | | | | |
| TS4-10-025 | 0.254 mm / .01" | 304 Stainless Steel HRB 89/HB 187 | 1423 | 125 | 4.6 | | | | | |
| TS4-10-050 | 0.533 mm / .021" | 304 Stainless Steel HRB 89/HB 187 | 1423 | 125 | 4.6 | | | | | |
mpf-ts4-fasteners-unified
| TYPE | TESTED TOP SHEET THICKNESS | SHEET MATERIAL | INSTALLATION (lbs.) | PULLOUT (lbs.) | TORQUE TO REMOVE (in. oz.) | | | | | |
| --- | --- | --- | --- | --- | --- | --- | --- | --- | --- | --- |
| TS4-10-025 | 0.254 mm / .01" | 5052-H34 Aluminum HRB 63 / HB 114 | 125 | 18 | 4.7 | | | | | |
| TS4-10-050 | 0.533 mm / .021" | 5052-H34 Aluminum HRB 63 / HB 114 | 125 | 18 | 4.7 | | | | | |
| TS4-10-025 | 0.254 mm / .01" | 304 Stainless Steel HRB 89/HB 187 | 320 | 28 | 6.5 | | | | | |
| TS4-10-050 | 0.533 mm / .021" | 304 Stainless Steel HRB 89/HB 187 | 320 | 28 | 6.5 | | | | | |
Inventory
| Distributor | Quantity | Contact | Phone | Address | Locations |
| --- | --- | --- | --- | --- | --- |