TS4-10-025
Type TS™ Self-clinching microPEM® TackScrew ™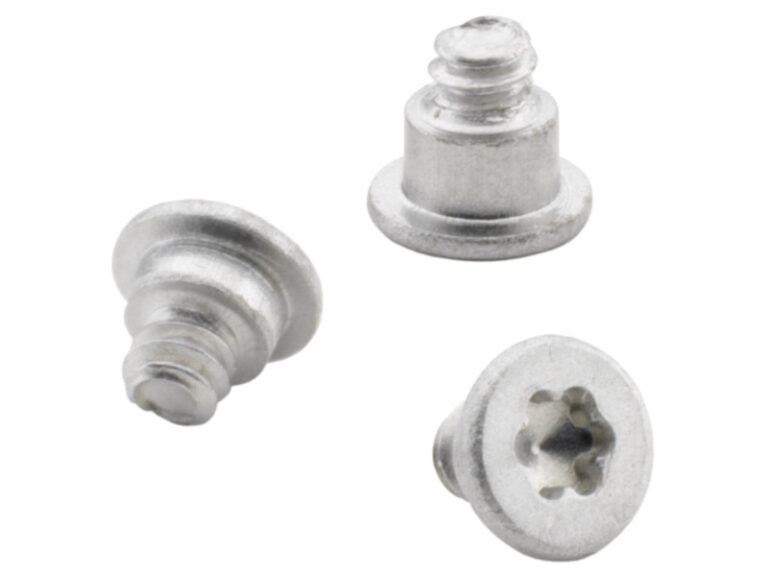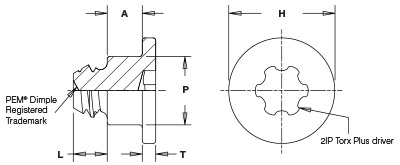 TS4-10-025
Type TS™ Self-clinching microPEM® TackScrew ™
New self-clinching, threaded microPEM® TackScrew™ (Type TS™) fasteners enable cost effective sheet-to-sheet attachment, by simply pressing into place. The TackScrew™ fastener securely attaches a top sheet or panel to the base material. TackScrew fasteners can be removed by simply unscrewing similar to other threaded fasteners.
Features and Benefits
Simple, press-in installation for secure attachment
Proven clinch technology resists vibrational loosening.
Replaces micro screws, eliminating installation issues including: – Cost of locking patch – Cost of threaded insert or tapped hole – Cost of driver bits – Cost of rework due to cross-threading and driver bit "cam-out"
Can be installed automatically for high volume application.
Twists out (unscrew) if removal is necessary.Can be reinstalled one time using a thread locking adhesive.
Ideal for today's compact electronics– Laptops
Notebooks
Tablet Computers
Cell/Smart Phones
Gaming / Hand Held Devices
Wearables
Automotive Electronics
Specifications
Fastener Material

400 Series Stainless Steel, Heat-treated 400 Series Stainless Steel

Standard Finish

Passivated and/or tested, Passivated and/or tested per ASTM A380

For Use in Sheet Hardness

HRB 89 or less (Hardness Rockwell "B" scale)
HB 187 or less (Hardness Brinell)

Product Category

Self-clinching microPEM® TackScrew™

CAD Supplier

PennEngineering® (PEM®)

CADPartID

110870

Application Type

Automotive Electronics, Consumer Electronics

Base Panel Material

Aluminum, Steel

Brand

microPEM

Fastener Characteristics

Micro, Threaded External

Industry

Automotive Electronics, Consumer Electronics

Installation Equipment/Method

C-Frame Manual Feed

PEM Product Family

MPF

Product Type

Micro Screws

Technology Type

Self-Clinching
A ± 0.05mm/±.002in_in

.016in

A ± 0.05mm/±.002in_mm

0.406mm

Base Panel Hole Size ±0.025mm/ ±.001in_in

.039in

Base Panel Hole Size ±0.025mm/ ±.001in_mm

0.99mm

Base Panel Hole Size Code

10

Base Panel Min. Sheet Thickness_in

.036in

Base Panel Min. Sheet Thickness_mm

0.91mm

H ± 0.1mm/±.004in_in

.079in

H ± 0.1mm/±.004in_mm

2mm

L ± 0.1mm/±.004in_in

.025in

L ± 0.1mm/±.004in_mm

0.64mm

Min. Dist. Hole C/L to Edge_in

.039in

Min. Dist. Hole C/L to Edge_mm

1mm

P ± 0.05mm/±.002in_in

.051in

P ± 0.05mm/±.002in_mm

1.3mm

T ± 0.1mm/±.004in_in

.010in

T ± 0.1mm/±.004in_mm

0.25mm

Top Sheet Hole Size ±0.05mm/ ±.002in_in

.058in

Top Sheet Hole Size ±0.05mm/ ±.002in_mm

1.47mm

Top Sheet Thickness Code

025

Top Sheet Thickness_in

.008 to .011in

Top Sheet Thickness_mm

0.2 to 0.28mm
Installation & Performance Data
mpf-cds-fasteners-metric
| TYPE | TEST PIN MATERIAL | INSTALLATION (kN) | PULL-OFF (N) | CLAMP LOAD (N) | | | | | | |
| --- | --- | --- | --- | --- | --- | --- | --- | --- | --- | --- |
| CDS-100 | 6061-T6 Aluminum | 0.33 | 18.1 | 7 | | | | | | |
mpf-mpp-pins-metric
| TYPE | PIN DIAMETER CODE | TEST SHEET THICKNESS | INSTALLATION (kN) | PUSHOUT (N) | | | | | | |
| --- | --- | --- | --- | --- | --- | --- | --- | --- | --- | --- |
| MPP | 1MM | 0.5mm Stainless Steel HRB 88 | 10 | 320 | | | | | | |
| MPP | 1.5MM | 0.5mm Stainless Steel HRB 88 | 12 | 760 | | | | | | |
| MPP | 2MM | 0.5mm Stainless Steel HRB 88 | 18 | 860 | | | | | | |
mpf-ms04-standoffs-metric
| TYPE | THREAD CODE | MAX. REC. TIGHTENING TORQUE FOR MATING SCREW (N•m)) | SHEET THICKNESS (mm) | TEST SHEET MATERIAL | INSTALLATION (kN) | PUSHOUT (N) | TORQUE-OUT (N•m) | PULL-THRU (N) | | |
| --- | --- | --- | --- | --- | --- | --- | --- | --- | --- | --- |
| MSO4 | M1 | 0.019 | 0.3 | 300 Series Stainless Steel | 11.1 | 150 | 0.15 | 350 | | |
| MSO4 | M1 | 0.019 | 0.43 | 300 Series Stainless Steel | 11.1 | 200 | 0.25 | 350 | | |
| MSO4 | M1.2 | 0.036 | 0.3 | 300 Series Stainless Steel | 11.1 | 150 | 0.15 | 350 | | |
| MSO4 | M1.2 | 0.036 | 0.43 | 300 Series Stainless Steel | 11.1 | 200 | 0.25 | 350 | | |
| MSO4 | M1.4 | 0.057 | 0.3 | 300 Series Stainless Steel | 11.1 | 150 | 0.15 | 350 | | |
| MSO4 | M1.4 | 0.057 | 0.43 | 300 Series Stainless Steel | 11.1 | 200 | 0.25 | 350 | | |
| MSO4 | M1.6 | 0.084 | 0.3 | 300 Series Stainless Steel | 11.1 | 150 | 0.15 | 350 | | |
| MSO4 | M1.6 | 0.084 | 0.43 | 300 Series Stainless Steel | 11.1 | 200 | 0.25 | 350 | | |
| MSO4 | M2 | 0.175 | 0.3 | 300 Series Stainless Steel | 11.1 | 150 | 0.25 | 500 | | |
| MSO4 | M2 | 0.175 | 0.43 | 300 Series Stainless Steel | 11.1 | 200 | 0.3 | 500 | | |
mpf-ms04-standoffs-unified
| TYPE | THREAD CODE | MAX. REC. TIGHTENING TORQUE FOR MATING SCREW (in. lbs.) | SHEET THICKNESS (in.) | TEST SHEET MATERIAL | INSTALLATION (lbs.) | PUSHOUT (lbs.) | TORQUE-OUT (in. lbs.) | PULL-THRU (lbs.) | | |
| --- | --- | --- | --- | --- | --- | --- | --- | --- | --- | --- |
| MSO4 | 080 | 0.65 | 0.013 | 300 Series Stainless Steel | 2500 | 33 | 1.3 | 78 | | |
| MSO4 | 080 | .65 | 0.017 | 300 Series Stainless Steel | 2500 | 45 | 2.2 | 78 | | |
| MSO4 | 256 | 1.3 | 0.013 | 300 Series Stainless Steel | 2500 | 33 | 2.2 | 110 | | |
| MSO4 | 256 | 1.3 | 0.017 | 300 Series Stainless Steel | 2500 | 45 | 2.6 | 110 | | |
mpf-msia-msib-inserts-metric
| TYPE | THREAD CODE | LENGTH CODE | TEST SHEET THICKNESS & MATERIAL | PULLOUT (N) | TORQUE-OUT (N•cm) | | | | | |
| --- | --- | --- | --- | --- | --- | --- | --- | --- | --- | --- |
| MSIA/MSIB | M1 | 100 | ABS | 50 | 3.5 | | | | | |
| MSIA/MSIB | M1 | 250 | ABS | 150 | 10 | | | | | |
| MSIA/MSIB | M1.2 | 100 | ABS | 50 | 3.5 | | | | | |
| MSIA/MSIB | M1.2 | 250 | ABS | 150 | 10 | | | | | |
| MSIA/MSIB | M1.4 | 150 | ABS | 100 | 15 | | | | | |
| MSIA/MSIB | M1.4 | 300 | ABS | 330 | 30 | | | | | |
| MSIA/MSIB | M1.6 | 150 | ABS | 100 | 15 | | | | | |
| MSIA/MSIB | M1.6 | 300 | ABS | 330 | 30 | | | | | |
| MSIA/MSIB | M2 | 300 | ABS | 335 | 35 | | | | | |
| MSIA/MSIB | M2 | 400 | ABS | 470 | 40 | | | | | |
| MSIA/MSIB | M1 | 100 | Polycarbonate | 50 | 4.5 | | | | | |
| MSIA/MSIB | M1 | 250 | Polycarbonate | 200 | 12 | | | | | |
| MSIA/MSIB | M1.2 | 100 | Polycarbonate | 50 | 4.5 | | | | | |
| MSIA/MSIB | M1.2 | 250 | Polycarbonate | 200 | 12 | | | | | |
| MSIA/MSIB | M1.4 | 150 | Polycarbonate | 140 | 15 | | | | | |
| MSIA/MSIB | M1.4 | 300 | Polycarbonate | 400 | 30 | | | | | |
| MSIA/MSIB | M1.6 | 150 | Polycarbonate | 140 | 15 | | | | | |
| MSIA/MSIB | M1.6 | 300 | Polycarbonate | 400 | 30 | | | | | |
| MSIA/MSIB | M2 | 300 | Polycarbonate | 410 | 33 | | | | | |
| MSIA/MSIB | M2 | 400 | Polycarbonate | 595 | 35 | | | | | |
mpf-msofs-standoffs-metric
| TYPE | THREAD CODE | MAX. REC. TIGHTENING TORQUE FOR MATING SCREW (N•m) | TEST SHEET THICKNESS & MATERIAL | INSTALLATION (kN) | PUSHOUT (N) | TORQUE-OUT (N•m) | | | | |
| --- | --- | --- | --- | --- | --- | --- | --- | --- | --- | --- |
| MSOFS | M1 | 0.019 | 0.2 mm 300 Series Stainless Steel | 6.67 | 311 | 0.146 | | | | |
| MSOFS | M1.2 | 0.036 | 0.2 mm 300 Series Stainless Steel | 6.67 | 311 | 0.146 | | | | |
| MSOFS | M1.4 | 0.057 | 0.2 mm 300 Series Stainless Steel | 6.67 | 311 | 0.146 | | | | |
| MSOFS | M1.6 | 0.084 | 0.2 mm 300 Series Stainless Steel | 8 | 406 | 0.146 | | | | |
| MSOFS | M2 | 0.175 | 0.2 mm 300 Series Stainless Steel | 8 | 406 | 0.146 | | | | |
mpf-msofs-standoffs-unified
| TYPE | THREAD CODE | MAX. REC. TIGHTENING TORQUE FOR MATING SCREW (in. lbs.) | TEST SHEET THICKNESS & MATERIAL | INSTALLATION (lbs.) | PUSHOUT (lbs.) | TORQUE-OUT (in. lbs.) | | | | |
| --- | --- | --- | --- | --- | --- | --- | --- | --- | --- | --- |
| MSOFS | 080 | 0.65 | .008" 300 Series Stainless Steel | 1500 | 69.8 | 1.29 | | | | |
| MSOFS | 256 | 1.3 | .008" 300 Series Stainless Steel | 1800 | 91.2 | 1.29 | | | | |
mpf-smtso-fasteners-metric
| TYPE | SHEET THICKNESS & MATERIAL | PUSHOUT (N) | TORQUE-OUT (N•m) | | | | | | | |
| --- | --- | --- | --- | --- | --- | --- | --- | --- | --- | --- |
| SMTSO-080 | .062" Single Layer RF-4 | 378.7 | 0.56 | | | | | | | |
| SMTSO-M1 | .062" Single Layer RF-4 | 378.7 | 0.56 | | | | | | | |
| SMTSO-M1.2 | .062" Single Layer RF-4 | 378.7 | 0.56 | | | | | | | |
| SMTSO-M1.4 | .062" Single Layer RF-4 | 378.7 | 0.56 | | | | | | | |
| SMTSO-M1.6 | .062" Single Layer RF-4 | 378.7 | 0.56 | | | | | | | |
mpf-smtso-fasteners-unified
| TYPE | SHEET THICKNESS & MATERIAL | PUSHOUT (lbs.) | TORQUE-OUT (in. lbs.) | | | | | | | |
| --- | --- | --- | --- | --- | --- | --- | --- | --- | --- | --- |
| SMTSO-080 | .062" Single Layer RF-4 | 85.1 | 4.94 | | | | | | | |
| SMTSO-M1 | .062" Single Layer RF-4 | 85.1 | 4.94 | | | | | | | |
| SMTSO-M1.2 | .062" Single Layer RF-4 | 85.1 | 4.94 | | | | | | | |
| SMTSO-M1.4 | .062" Single Layer RF-4 | 85.1 | 4.94 | | | | | | | |
| SMTSO-M1.6 | .062" Single Layer RF-4 | 85.1 | 4.94 | | | | | | | |
mpf-t4-fasteners-metric
| TYPE | SHEET MATERIAL | INSTALLATION (N) | PULLOUT (N) | | | | | | | |
| --- | --- | --- | --- | --- | --- | --- | --- | --- | --- | --- |
| T4-10-025 | 300 Series Stainless Steel | 2020 | 200 | | | | | | | |
| T4-10-050 | 300 Series Stainless Steel | 2020 | 200 | | | | | | | |
mpf-t4-fasteners-unified
| TYPE | SHEET MATERIAL | INSTALLATION (lbs.) | PULLOUT (lbs.) | | | | | | | |
| --- | --- | --- | --- | --- | --- | --- | --- | --- | --- | --- |
| T4-10-025 | 300 Series Stainless Steel | 455 | 45 | | | | | | | |
| T4-10-050 | 300 Series Stainless Steel | 455 | 45 | | | | | | | |
mpf-ta-fasteners-metric
| TYPE | SHEET MATERIAL | INSTALLATION (kN) | PULLOUT (N) | | | | | | | |
| --- | --- | --- | --- | --- | --- | --- | --- | --- | --- | --- |
| TA-10-025 | 5052-H34 Aluminum | 820 | 80 | | | | | | | |
| TA-10-050 | 5052-H34 Aluminum | 820 | 80 | | | | | | | |
| TA-10-075 | 5052-H34 Aluminum | 820 | 80 | | | | | | | |
mpf-ta-fasteners-unified
| TYPE | SHEET MATERIAL | INSTALLATION (lbs.) | PULLOUT (lbs.) | | | | | | | |
| --- | --- | --- | --- | --- | --- | --- | --- | --- | --- | --- |
| TA-10-025 | 5052-H34 Aluminum | 185 | 18 | | | | | | | |
| TA-10-050 | 5052-H34 Aluminum | 185 | 18 | | | | | | | |
| TA-10-075 | 5052-H34 Aluminum | 185 | 18 | | | | | | | |
mpf-tfa-fasteners-metric
| TYPE | SHEET MATERIAL | INSTALLATION (N) | PULLOUT (N) | | | | | | | |
| --- | --- | --- | --- | --- | --- | --- | --- | --- | --- | --- |
| TFA-10-025 | 5052-H34 Aluminum | 450 | 40 | | | | | | | |
| TFA-10-035 | 5052-H34 Aluminum | 450 | 40 | | | | | | | |
| TFA-10-045 | 5052-H34 Aluminum | 450 | 40 | | | | | | | |
| TFA-10-055 | 5052-H34 Aluminum | 450 | 40 | | | | | | | |
mpf-tfa-fasteners-unified
| TYPE | SHEET MATERIAL | INSTALLATION (lbs.) | PULLOUT (lbs.) | | | | | | | |
| --- | --- | --- | --- | --- | --- | --- | --- | --- | --- | --- |
| TFA-10-025 | 5052-H34 Aluminum | 101 | 9 | | | | | | | |
| TFA-10-035 | 5052-H34 Aluminum | 101 | 9 | | | | | | | |
| TFA-10-045 | 5052-H34 Aluminum | 101 | 9 | | | | | | | |
| TFA-10-055 | 5052-H34 Aluminum | 101 | 9 | | | | | | | |
mpf-tka-tk4-pins-metric
| TYPE | TEST BASE PANEL MATERIAL | DEPTH OF ENGAGEMENT (mm) | INSTALLATION (N) | PULLOUT (N) | | | | | | |
| --- | --- | --- | --- | --- | --- | --- | --- | --- | --- | --- |
| TKA-10 | ABS | 0.8 | 133 | 9 | | | | | | |
| TKA-10 | ABS | 1 | 133 | 14 | | | | | | |
| TKA-10 | ABS | 1.3 | 133 | 19 | | | | | | |
| TKA-10 | ABS | 1.5 | 178 | 24 | | | | | | |
| TKA-10 | ABS | 1.8 | 178 | 31 | | | | | | |
| TKA-10 | ABS | 2 | 222 | 35 | | | | | | |
| TKA-10 | ABS | 2.3 | 222 | 41 | | | | | | |
| TKA-10 | ABS | 2.8 | 245 | 53 | | | | | | |
| TKA-10 | Polycarbonate | 0.8 | 222 | 25 | | | | | | |
| TKA-10 | Polycarbonate | 1 | 267 | 37 | | | | | | |
| TKA-10 | Polycarbonate | 1.3 | 267 | 53 | | | | | | |
| TKA-10 | Polycarbonate | 1.5 | 311 | 68 | | | | | | |
| TKA-10 | Polycarbonate | 1.8 | 334 | 86 | | | | | | |
| TKA-10 | Polycarbonate | 2 | 378 | 98 | | | | | | |
| TKA-10 | Polycarbonate | 2.3 | 400 | 113 | | | | | | |
| TK4-10 | Polycarbonate | 2.8 | 423 | 146 | | | | | | |
| TK4-10 | Magnesium Casting (AZ91D) | 0.8 | 445 | 29 | | | | | | |
| TK4-10 | Magnesium Casting (AZ91D) | 1 | 489 | 43 | | | | | | |
| TK4-10 | Magnesium Casting (AZ91D) | 1.3 | 534 | 61 | | | | | | |
| TK4-10 | Magnesium Casting (AZ91D) | 1.5 | 578 | 78 | | | | | | |
| TK4-10 | Magnesium Casting (AZ91D) | 1.8 | 623 | 99 | | | | | | |
| TK4-10 | Magnesium Casting (AZ91D) | 2 | 667 | 113 | | | | | | |
| TK4-10 | Magnesium Casting (AZ91D) | 2.3 | 712 | 131 | | | | | | |
| TK4-10 | Magnesium Casting (AZ91D) | 2.8 | 801 | 169 | | | | | | |
mpf-tka-tk4-pins-unified
| TYPE | TEST BASE PANEL MATERIAL | DEPTH OF ENGAGEMENT (in.) | INSTALLATION (lbs.) | PULLOUT (lbs.) | | | | | | |
| --- | --- | --- | --- | --- | --- | --- | --- | --- | --- | --- |
| TKA-10 | ABS | 0.0315 | 30 | 2 | | | | | | |
| TKA-10 | ABS | 0.0394 | 30 | 3 | | | | | | |
| TKA-10 | ABS | 0.0492 | 30 | 4 | | | | | | |
| TKA-10 | ABS | 0.0590 | 40 | 6 | | | | | | |
| TKA-10 | ABS | 0.0708 | 40 | 7 | | | | | | |
| TKA-10 | ABS | 0.0787 | 50 | 8 | | | | | | |
| TKA-10 | ABS | 0.0886 | 50 | 9 | | | | | | |
| TKA-10 | ABS | 0.1102 | 55 | 12 | | | | | | |
| TKA-10 | Polycarbonate | 0.0315 | 50 | 6 | | | | | | |
| TKA-10 | Polycarbonate | 0.0394 | 60 | 8 | | | | | | |
| TKA-10 | Polycarbonate | 0.0492 | 60 | 12 | | | | | | |
| TKA-10 | Polycarbonate | 0.0590 | 70 | 15 | | | | | | |
| TKA-10 | Polycarbonate | 0.0708 | 75 | 19 | | | | | | |
| TKA-10 | Polycarbonate | 0.0787 | 85 | 22 | | | | | | |
| TKA-10 | Polycarbonate | 0.0886 | 90 | 25 | | | | | | |
| TK4-10 | Polycarbonate | 0.1102 | 95 | 33 | | | | | | |
| TK4-10 | Magnesium Casting (AZ91D) | 0.0315 | 100 | 7 | | | | | | |
| TK4-10 | Magnesium Casting (AZ91D) | 0.0394 | 110 | 10 | | | | | | |
| TK4-10 | Magnesium Casting (AZ91D) | 0.0492 | 120 | 14 | | | | | | |
| TK4-10 | Magnesium Casting (AZ91D) | 0.0590 | 130 | 18 | | | | | | |
| TK4-10 | Magnesium Casting (AZ91D) | 0.0708 | 140 | 22 | | | | | | |
| TK4-10 | Magnesium Casting (AZ91D) | 0.0787 | 150 | 25 | | | | | | |
| TK4-10 | Magnesium Casting (AZ91D) | 0.0886 | 160 | 29 | | | | | | |
| TK4-10 | Magnesium Casting (AZ91D) | 0.1102 | 180 | 38 | | | | | | |
mpf-ts4-fasteners-metric
| TYPE | TESTED TOP SHEET THICKNESS | SHEET MATERIAL | INSTALLATION (N) | PULLOUT (N) | TORQUE TO REMOVE (N•cm) | | | | | |
| --- | --- | --- | --- | --- | --- | --- | --- | --- | --- | --- |
| TS4-10-025 | 0.254 mm / .01" | 5052-H34 Aluminum HRB 63 / HB 114 | 556 | 80 | 3.3 | | | | | |
| TS4-10-050 | 0.533 mm / .021" | 5052-H34 Aluminum HRB 63 / HB 114 | 556 | 80 | 3.3 | | | | | |
| TS4-10-025 | 0.254 mm / .01" | 304 Stainless Steel HRB 89/HB 187 | 1423 | 125 | 4.6 | | | | | |
| TS4-10-050 | 0.533 mm / .021" | 304 Stainless Steel HRB 89/HB 187 | 1423 | 125 | 4.6 | | | | | |
mpf-ts4-fasteners-unified
| TYPE | TESTED TOP SHEET THICKNESS | SHEET MATERIAL | INSTALLATION (lbs.) | PULLOUT (lbs.) | TORQUE TO REMOVE (in. oz.) | | | | | |
| --- | --- | --- | --- | --- | --- | --- | --- | --- | --- | --- |
| TS4-10-025 | 0.254 mm / .01" | 5052-H34 Aluminum HRB 63 / HB 114 | 125 | 18 | 4.7 | | | | | |
| TS4-10-050 | 0.533 mm / .021" | 5052-H34 Aluminum HRB 63 / HB 114 | 125 | 18 | 4.7 | | | | | |
| TS4-10-025 | 0.254 mm / .01" | 304 Stainless Steel HRB 89/HB 187 | 320 | 28 | 6.5 | | | | | |
| TS4-10-050 | 0.533 mm / .021" | 304 Stainless Steel HRB 89/HB 187 | 320 | 28 | 6.5 | | | | | |
Inventory
| Distributor | Quantity | Contact | Phone | Address | Locations |
| --- | --- | --- | --- | --- | --- |